News
Go to our Twitter page for the latest news.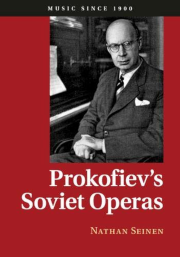 "Prokofiev considered himself to be primarily a composer of opera, and his return to Russia in the mid-1930s was partially motivated by the goal to renew his activity in this genre. His Soviet career coincided with the height of the Stalin era, when official interest and involvement in opera increased, leading to demands for nationalism and heroism to be represented on the stage to promote the Soviet Union and the Stalinist regime. Drawing on a wealth of primary source materials and engaging with recent scholarship in Slavonic studies, this book investigates encounters between Prokofiev's late operas and the aesthetics of socialist realism, contemporary culture (including literature, film, and theatre), political ideology, and the obstacles of bureaucratic interventions and historical events. This contextual approach is interwoven with critical interpretations of the operas in their original versions, providing a new account of their stylistic and formal features and connections to operatic traditions."
"The delicate balance between private and public communication, and the tension between art as self-expression and art as moral resolution were key concerns in Britten's music. Seymour examines ways in which Britten's operas explored and articulated the inherent ambiguity and latent sexuality of music, particularly song, and suggests that Britten's operas may illustrate his search for a public 'voice' which would embody, communicate, and perhaps resolve his private beliefs and anxieties.
Analyses of Britten's operas from Paul Bunyan to Death in Venice, the three Church Parables, and several of the 'children's operas' offer evidence that, for Britten, opera was the natural medium through which to explore, express and, paradoxically, repress his private concerns."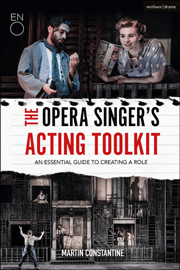 "Drawing upon the innovative approach to the training of young opera singers developed by Martin Constantine, Co-Director of ENO Opera Works, The Opera Singer's Acting Toolkit leads the singer through the process of bringing the libretto and score to life in order to create character. It draws on the work of practitioners such as Stanislavski, Lecoq, Laban and Cicely Berry to introduce the singer to the tools needed to create an interior and physical life for character. The book draws on operatic repertoire from Handel through Mozart to Britten to present practical techniques and exercises to help the singer develop their own individual dramatic toolbox."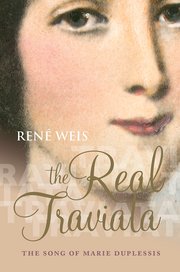 Weis's book constitutes the latest and most comprehensive outcome of the interest already surrounding the figure of Marie Duplessis for quite a number of years. As the title suggests, Marie (or, better, Alphonsine) embodies the rather rare case of a real-life character inspiring not only a major writer's work, but also what the author himself considers "probably the best loved opera in the world" (p. 1). In the case of an operatic work that has almost completely displaced its literary sources, the interest towards the real "fallen woman" has already produced quite significant fruits, both in English and, most notably, in French.
Stephen Langridge has been appointed Artistic Director of Glyndebourne. Stephen is currently Director for Opera and Drama at Gothenburg Opera, Sweden, a role he has occupied for five years. He will take up his new role at Glyndebourne in spring 2019. . . . [More]

From the University of Illinois Press:
From classic films like Carmen Jones to contemporary works like The Diary of Sally Hemmings and U-Carmen eKhayelitsa, American and South African artists and composers have used opera to reclaim black people's place in history.

Naomi André draws on the experiences of performers and audiences to explore this music's resonance with today's listeners. Interacting with creators and performers, as well as with the works themselves, André reveals how black opera unearths suppressed truths. These truths provoke complex, if uncomfortable, reconsideration of racial, gender, sexual, and other oppressive ideologies. Opera, in turn, operates as a cultural and political force that employs an immense, transformative power to represent or even liberate.

Viewing opera as a fertile site for critical inquiry, political activism, and social change, Black Opera lays the foundation for innovative new approaches to applied scholarship.
Opera Rara - How to Rescue a Lost Opera from Opera Rara on Vimeo.
Madness descends upon Welsh National Opera for its autumn 2015 season, with three new productions that will explore human turmoil through some of the finest musical expressions of madness and the human condition.
The season launches WNO's 70th birthday year which will see the company stage seven new productions over the course of the year — including two world premières — and a classic revival.
This month, Opera Rara embark on back-to-back recording projects — Donizetti's Le duc d'Albe and Gounod's La Colombe — with their Artistic Director Sir Mark Elder conducting the Hallé. Following last year's release of Donizetti's Rita which marked the company's 50th complete opera recording to date, this is Opera Rara's second collaboration with the Hallé. La Colombe will be released in November while Le duc d'Albe will be available next spring.
Click here for more information.
By Sean Martinfield [Huffington Post, 2 June 2015]
Mezzo-soprano Isabel Leonard appears with conductor Charles Dutoit and the San Francisco Symphony this week in Ravel's one-act comic opera, L'Heure espagnole. (The Spanish Hour). The program opens with Ravel's brief "morning song," Alborado del gracioso and concludes with Manuel de Falla's Nights in the Gardens of Spain featuring pianist Javier Perianes. The opera (not quite an hour) also features tenors Jean Paul Fouchécourt and John Mark Ainsley, along with baritones Jean-Luc Ballestra and David Wilson-Johnson. Isabel sings the role of Concepion, a clockmaker's wife with way-too-much time on her hands. And with three potential lovers in the shop - two of them hidden in tall standing clocks - each counting the minutes until her buffoon of a husband returns, Isabel says, "She's hysterical! A woman on the edge of a nervous breakdown."
By K. Young [Classicalite, 31 May 2015]
This summer, On Site Opera (OSO) will present a new production that personifies the company's mission to produce operas in non-traditional locations ideally suited to the stories they tell. This June (9-13), OSO will stage a site-specific production of The Barber of Seville at the opulent Fabbri Mansion (House of the Redeemer) on New York City's Upper East Side.
By Rupert Christiansen [The Telegraph, 29 May 2015]
La Bohème, Tosca, Madama Butterfly - and oh yes, "the one with 'Nessun dorma' in it", Turandot - make Puccini the world's most popular opera composer, and one who earns ever more admiration as a musical dramatist and expressive melodist. Is there still some residual snobbery about his genius? Thirty years ago, I remember being shocked to hear William Walton confess in a television interview that in old age, he had come to love Puccini's music even more than Verdi's. Now I begin to sympathise.