Venetian Phoenix Rises Operatically From the Ashes
By ALAN RIDING [NY Times]
VENICE, Nov. 14 – Destroyed by fire on the night of Jan. 29, 1996, and rebuilt during eight years of noisy scandals, lawsuits and delays, Venice's legendary Teatro La Fenice has finally restored drama to its proper place – on the stage, not in newspaper headlines. On Friday, after the curtain rose on a new production of "La Traviata," the city that Italians call La Serenissima could once again boast an opera house in keeping with its majestic surroundings.
Third time lucky?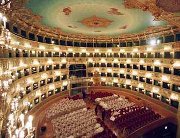 The first Fenice (pronounced feh-NEE-chay) opened in 1792 and burned down in 1836. On that occasion, at least, it was quickly rebuilt, reopening the following year on the same spot, squeezed among canals, Renaissance palaces and Baroque churches.
The third Fenice was completed 11 months ago and inaugurated with a concert, but the theater hierarchy wisely took time to test its backstage machinery. Now the building is back in the opera business – little wonder that "fenice" means phoenix – and in the view of many European critics in the audience, its updating of an age-old story of prostitution was a success.
With le tout Venice and more on hand, the operatic reopening was as much a political and social occasion as a musical moment. Special guests included King Albert and Queen Paola of Belgium; Romano Prodi, the outgoing president of the European Commission who is busily planning his return to Italian politics; and a host of ministers and officials. Venetians who simply wanted to be there paid the equivalent of $1,290 each for the privilege.
[Click *here* for remainder of article (free registration required).]
[Click *here* for related article.]