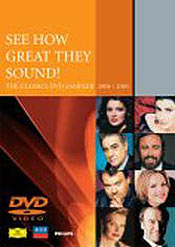 Universal Classics' 2005 DVD Releases
Can There Be Too Much of a Good 'Ring'?
By ANTHONY TOMMASINI [NY Times, 24 Apr 05]
WITH the cost of recording operas in a studio now almost prohibitive, we are witnessing a boom time for opera on DVD. Opera buffs can hardly keep pace with the number of releases in the last year. And in June alone, Universal Classics plans to put out 18 complete operas on DVD, most of them reissues of productions originally taped and released on video.
Click here for remainder of article.
---
A gentle conductor stirs up a romantic tragedy
Guest conductor Alberto Veronesi says the uniqueness of a Verdi opera, like Un Ballo in Maschera, lies in the composer's ability to depict a subject precisely.
BY ENRIQUE FERNANDEZ [Miami Herald, 24 Apr 05]
Ah, Verdi. He is synonymous with opera to everyone except perhaps Wagnerians. Even during a rehearsal in which singers are holding back just to learn the staging, the musical voice sweeps the listener.
Click here for remainder of article.
---
Opera's voices lift Verdi's 'Aida' in a tight space
By Scott Warfield [Orlando Sentinel, 24 Apr 05]
Few operas are as well known as Aida, a work that is virtually a cliché for the genre, and that familiarity breeds certain expectations. Thus there is a tendency in many productions to attempt to ensure that Giuseppe Verdi's masterwork really is the "grandest of the grand operas"–as Orlando Opera billed its new Aida — by packing the stage as fully as possible with visual elements.
Click here for remainder of article.
---
Opera chief's departure 'a political catastrophe'
WILLIAM LYONS [Scotsman, 24 Apr 05]
SIR Peter Jonas, the former English National Opera chief who advised the Scottish Executive four years ago to pump more funds into Scottish Opera, has described the departure of its chief executive as a political disaster.
Christopher Barron announced last week that he would step down to become chief executive of the Birmingham Royal Ballet in October. He is the second senior management figure to leave the company in a year.
Click here for remainder of article.