shot [noun]: an attempt to do or achieve something that you have not done before; an attempt to do or achieve something that is difficult, when success is uncertain; a photograph; a short piece in a film in which there is a single action or a short series of actions; a small amount of a strong alcoholic drink; the amount of a drug that is put into the body by a single injection; [idioms]: a shot in the dark, give it your best shot, like a shot.
There are many reasons why Irish National Opera's 20 Shots of Opera– an eclectic collection of newly commissioned short works, in collaboration with the RTÉ Concert Orchestra, and currently being broadcast free on the INO website – is both well-named and hugely welcome. It may feel as if the arts were pretty much shot in 2020, by a pandemic that we'd all like to be well shot of, but Artistic Director Fergus Sheil's ambitious creative project is a veritable shot in the arm for opera-lovers and the cultural curious alike. (No more puns, I promise.)
Irish National Opera was formed two years ago, in January 2018, when Wide Open Opera (which Fergus founded in 2012 with Gavin O'Sullivan, who is INO's Head of Production) merged with Opera Theatre Company to form the nation's first ever truly national opera company.  In its first 24 months INO produced 72 performances of fourteen operas in 24 Irish venues.  But, we all know what happened next.  The pandemic scuppered planned projects but did not stifle Fergus's innovative vision or energy.  When it became clear that a planned production of Mozart's Die Entführung aus dem Serail was not going to be possible, rather than put the production into storage, Fergus decided to re-adapt it as an online mini-series of eight five-minute episodes which were directed by Caitriona McLaughlin and filmed by the full cast (headed by soprano Claudia Boyle) and chorus in their own homes, on their mobile 'phones.  The Irish Chamber Orchestra under Peter Whelan provided the accompaniment.  The result is somewhat irreverent – a sort of Classical soap opera (in both senses of the word) meets graphic novel hybrid – and has an air of spontaneity.  Things did develop and change as they went along, Fergus explains; if they'd taken their time, it could quickly have become out of date, and so the company pushed to tight time-lines to get the project completed.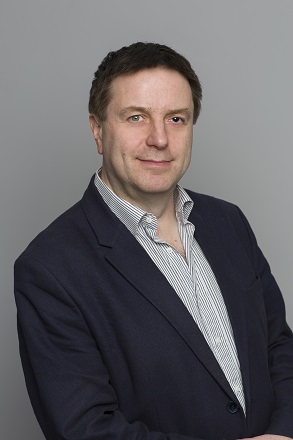 Fergus seems most frustrated and upset by the disruptions that the pandemic inflicted on the company's plans to stage the first production of Rossini's Guillaume Tell in Ireland since the 1870s. What does he find so special about this particular opera? "I remember playing it as a student in the National Youth Orchestra of Ireland and when I heard the section in the Prelude for scored for five solo cellos accompanied by double basses, I thought it was overwhelmingly beautiful – like chocolate and velvet." Fergus points out that there are many works that are central to the opera repertory that have not been heard in Irish theatres for decades. He rattles off what is presumably an oft-lamented list, including Pelléas and Mélisande (last staged in 1948) and Der Rosenkavalier (1984); when he conducted Wide Open Opera's inaugural production of Tristan und Isolde at the Bord Gáis Energy Theatre as part of the 2012 Dublin Theatre Festival, it had been fifty years since Irish opera audiences had enjoyed Wagner's interpretation of the Celtic myth. Opera companies have to respond to their audiences, but they have to lead as well, remarks Fergus. So, he hopes that the rescheduled production of Guillaume Tell at the Gaiety Theatre in 2022 will have a strong impact on Irish opera audiences.
In the meantime, 20 Shots has enabled Irish National Opera to make new work, commissioned from twenty Irish composers, and performed by 28 singers (with one singer appearing in two works), and to form new artistic relationships with many composers and directors. A few of those composers approached were unavailable, but Fergus was surprised how eager everyone was to step up to the challenge. Composers were given few instructions or limitations, other than a very tight schedule. They were allowed to choose their own subjects and texts, and were offered two alternative instrumental groups of up to eleven musicians, one string-based and the other more varied, comprising flute, clarinet, trumpet, horn, trombone, some strings and piano. The finished products – in terms of both production values and performance standards – are polished. After staged rehearsals with piano accompaniment, each Shot was then recorded in the Gaiety Theatre over a period of just four days, with Fergus and Elaine Kelly (a member of the company's artistic development programme, ABL Aviation Opera Studio), dividing the conducting duties. 162 people were involved in total, working in carefully controlled small groups, with singers placed behind Perspex screens.
Fergus seems to have been phlegmatic about the prospect that not all twenty projects might avoid a 'Covid cancellation': "We knew that if someone fell ill, we'd still have eighteen or nineteen productions," he says cheerfully. Travel restrictions, rather than presenting yet another obstacle, proved a hidden blessing, for Fergus was able to engage world-class Irish singers – such as Orla Boylan, Claudia Boyle, Sinéad Campbell Wallace and Gavan Ring and rising newcomers such as Andrew Gavin and Rachel Goode – who might at other times been scattered across international stages but who in 2020 found themselves forced to stay closer to home.
The names of those who composed new work for 20 Shots of Opera form an impressive roll call of Irish contemporary creative talent: Gerald Barry, Éna Brennan, Irene Buckley, Linda Buckley, Robert Coleman, David Coonan, Alex Dowling, Peter Fahey, Michael Gallen, Andrew Hamilton, Jenn Kirby, Conor Linehan, Conor Mitchell, Gráinne Mulvey, Emma O'Halloran, Hannah Peel, Karen Power, Evangelia Rigaki, Benedict Schlepper-Connolly and Jennifer Walshe.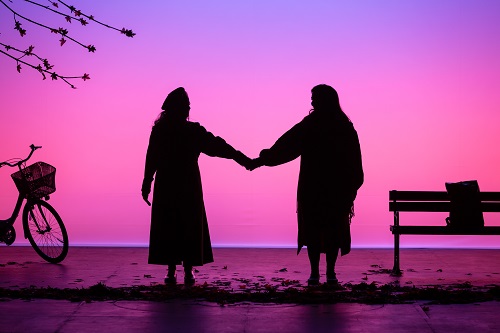 Certain subjects recur.  Inevitably some composers were drawn to the challenge of capturing the experience of the present pandemic, when we are all very much living 'in the present'.  Hannah Peel's Close sets Stella Feehily's dramatization of the first meeting of Sam (soprano Rachel Croash) and Andi (mezzo-soprano Raphaela Mangan) following their lockdown Zoom-romance, in a Shot directed by Sarah Baxter and conducted by Kelly.  The autumnal lilacs and oranges infuse a warmth into an encounter which begins tentatively and grows into a 'real' and uplifting human connection, courtesy of two pairs of non-latex, medium-sized gloves.  In eight minutes, Close moves from nervousness and vulnerability – a carefully measured ten-foot gap is a microcosm of the absence and alienation of lockdown – to a cathartic quasi-consummation.  Hope, fear, surprise, conflict, relief and joy tumble after one another, as the folky minimalism of the opening piano repetitions expands into a Technicolour celebration, the strings' initial pedal notes exploding into vibrant tremolos.  There's both humour – in the form of musical mimicry of the repetitive scales of a neighbour's beginner-violin practice, and an anxiety attack brought on by the fear that a passion for John Wayne westerns might signal a mania for a certain megaphonic MAGA proponent – and pathos.
Close is traditionally 'staged'. In contrast, Andrew Hamilton's Erthe Upon Erthe, which sets an anonymous medieval text, throws the viewer-listener into an expressionist nightmare, confronting them with an image-sound fusion of human fear and exposure. We stare deep into a pair of wide-open, flickering, twitching eyes as a jungle of sound assaults: a piercing vocal siren-scream, whistling shrieks, raucous trilling and trumpet blares, percussive thumps and rolls. The high-pitched intensity mounts as the white light brightens and blinds. When the eyes screw up self-protectively, we emphasise: "Earth has gotten upon earth a dignity of naught." As cacophony and register subside, a face is revealed, and a more lyrical medium accompanies further visual revelations: a medical gown, a morgue. Finally, the concordant warmth of a brass chorale offers some assuagement, but the funereal rumbles and slides slip into silence, leaving just a body on a trolley, alone, forgotten. Directed by Jo Mangan, Hamilton's response to a terrifying walk through a Covid Hot Zone in a Birmingham hospital in April last year is disturbing, and it is powerfully performed by soprano Sinéad Campbell Wallace.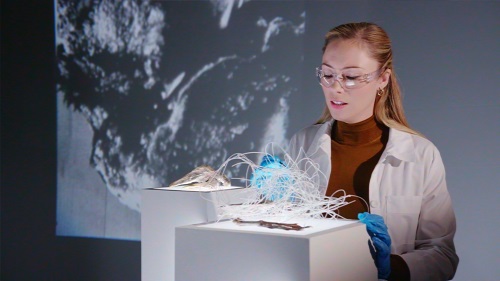 Environmental and scientific concerns crop up several times too. In Ghost Apples by Irene Buckley (directed by Conor Hanratty), a scientist studies the Great Pacific Garbage Patch, a 1.26 million square kilometre floating mass of discarded plastic. Above relentless and abrasive string repetitions and percussive pulsing soprano Kelli-Ann Masterson combines declamation and lyricism in an affecting narration of ecological disaster made more eloquent by Jessica Traynor's touching images: "Ghost apples – leave behind its autumn's shape held in winter's glass", "Skeletons of birds, fleshed with twine and fishing line", "A sea as sterile as a teardrop on a lab slide." Mankind's imprint on the planet is toxic and indelible, she warns, "the data tells us that on the oceans float two hundred and seventy thousand tonnes of wastes", as the pounding score propels us, and all on Earth, towards apocalypse: "Gannet, puffin, albatross, the shape of all our loss."
Benedict Schlepper-Connolly's Dust is a quieter but no less haunting ballad of extinction. "I have not seen … I have not heard … I have not held …" laments mezzo-soprano Michelle O'Rourke, listing the victims of ecological ruin and evoking a moral and natural wasteland.  Stephanie Dufresne's direction is poetic.  Men in hazmat suits remove the last emblems of biodiversity which surround the chaise longue upon which O'Rourke sits, her wedding veil like a protective cage, until she too is divested of her Miss Havisham-gown.  Dust puts me in mind of Sam Taylor-Johnson's evocative 2001 video piece, Still Life, a visceral display of decay and death but one which has a bittersweet beauty.  From the ashes comes new life.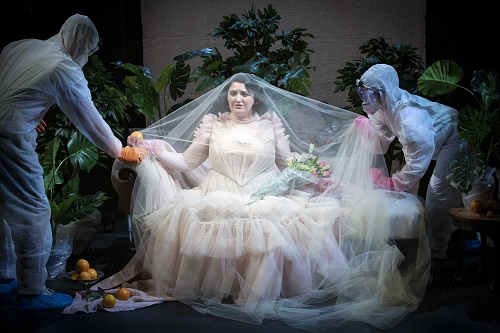 Naturally, the 20 Shots are not all equally successful in meeting the challenges of the brief. Some seem to me to tackle human issues too vast to be coherently grasped within the brief canvas available; others are more or less imaginative in considering the load-bearing role of image and sound within this medium; some engage less with the 'dramatic' aspect of opera. Gerald Barry's Mrs Streicher, for example, sets letters that Beethoven wrote to Nannette Streicher in which he bemoans his domestic situation, beset as he is by laundry, food and servant crises. Tenor Gavan Ring delivers Beethoven's hyperbolic ranting with precisely focused, excoriating fury, punctuated by a few gruff blasts from Stephen Irvine's tuba, but with Ring's Beethoven seated behind a desk impotently flinging his excessive complaints directly at the camera, its more paranoid monologue than 'opera'.
Those Shots that seem to me to be most compelling are those that explore universal human experiences and emotions through specific situations or narratives.  Jo Mangan's direction of Evangelia Rigaki's The Gift skilfully suggests the distance, literal and figurative, between a dying father (actor Sean McGinley) and his estranged daughter (mezzo-soprano Doreen Curran), a distance emphasised by the fierce bitterness of the father's spoken reminiscences and the declamatory purity of the daughter's reflections.  The evolving musical language and textures marks the journey from separation to reparation, a tolling bell foretelling loss but also bringing closure.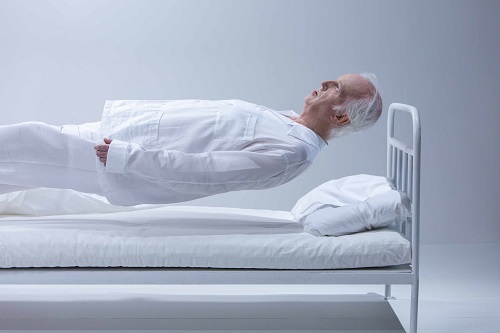 In Her Name by Alex Dowling (and directed by Hugh O'Conor) a schoolboy at boarding-school mourns the loss of his mother. In a drab school vestry, Seán Hayden tucks his mobile 'phone into a pocket beneath his surplice, as the school Dean enquiries whether he is okay, whether he'd like to talk. As if borne forward by the Pärt-like, shimmering instrumental wave, the young boy walks towards the chapel where he sings each evening, dragging and scouring his hand along white-washed brick corridor walls. Bathed in angelic beams, his red robe patterned with stained glass reflections, he sings, his voice climbing ever higher, the string chords tense and static as if, by sheer force of will and glorious sound, the harmony can reverse loss: "And I bring her to mind and I hold her there for as long as I can." Mark O'Halloran simple, naturalistic text is as unadorned, direct and raw as Dowling's beautifully gentle melodic fragments: "I can't say her name, but I still ring her voicemail just to hear her answer."
Fergus hopes that the very diversity of the Shots will make them appealing to new audiences, showing them that "all these things are opera", and thus develop the audience for opera in Ireland more generally. Making new creative work offers the company an opportunity to connect with audiences and Fergus explains that contemporary opera draws a quite distinct audience, "different to that for Verdi, for example". Some of the Shots were commissioned and supported by individuals and Fergus hopes that the whole project will have a what he describes as a "long tail". There are ambitions to show the Shots in cinemas, and at arts festivals, in the future. And, in February Opera Vision will broadcast five Shots each week.
I wonder if Fergus imagines that some of the Shots will be further developed by their creators into more extended projects. "Yes, certainly," he concurs. As he speaks of his ambitions for not just this project but for opera in Ireland more generally, his passion and vision are infectious and persuasive. Irish National Opera, defined by its artistic choices and identity, aims to develop the necessary infrastructure in Ireland, create new Irish operas, involve Irish artists and practitioners, and build up knowledge and passion in order that Irish talent can thrive.
We're obviously at a crossroads moment, and Fergus acknowledges that it's impossible to make concrete plans for first six months of 2021.  By the second half of the year, he hopes to be back in theatres, performing live and presenting new work.  Then, in 2022 Guillaume Tell will finally return to Ireland, and INO will also stage a co-production of Carmen with Opera Philadelphia and Seattle Opera, directed by Paul Curran, one of the company's most ambitious ventures to date, and one which was also put on hold by Covid.
And, if and when we reach a time when one no longer has to factor viruses and lockdowns into seasonal planning, what next? Fergus doesn't hesitate: "The Ring, definitely."
20 Shots of Opera can be viewed free of charge on Irish National Opera's website at https://www.irishnationalopera.ie/
Claire Seymour
ABOVE: Seán Hayden in Her Name