"Spring won't let me stay in this house any longer! I must get out and breathe the air deeply again" (Mahler)

As the world blossoms and stretches around us, the Live from London Spring Festival opens your metaphorical door to a cornucopia of concert treats celebrating love, new life and hope.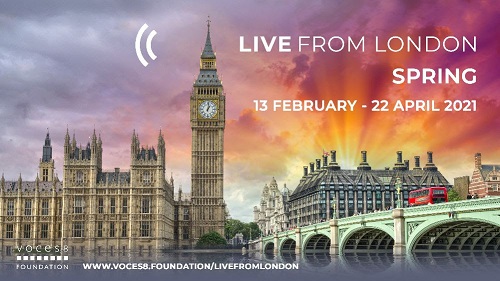 Blossoming from Valentine's Day through Passiontide, International Women's Day, Mother's Day, and culminating in a flourishing of creativity for Earth Day, the festival sows seeds for a summer of re-growth.
From The Passing of the Year with Jonathan Dove and VOCES8, Paul Smith's family concert creation The Winter House with Stephen Fry and the Academy of Ancient Music, to I Fagiolini's Re-Wilding The Waste Land, the festival features a stunning line-up of ensembles and soloists opening vistas to fresh, new landscapes whilst also treading the much-loved paths of works such as Bach B Minor Mass, Barber Dover Beach, Allegri Miserere and Fauré Requiem. Including Stile Antico, Dame Emma Kirkby, the English Chamber Orchestra, the Jason Max Ferdinand Singers, VOCES8, Rachel Podger, Apollo5, Academy of Ancient Music and I Fagiolini; additions to the festival family include star pianist Joanna MacGregor in her new programme Soul of a Woman, the Carducci Quartet, Jonathan Dove and a host of superb soloists including Carolyn Sampson, Iestyn Davies, Helen Charlston, Jeremy Budd, Matthew Brook and Frederick Long.

'LIVE From London Spring' celebrates young talent, community and diversity and includes the world premieres of new commissions by Joanna Marsh, Shruthi Rajasekar and Ben Rowarth, and new arrangements of Nina Simone, Eleanor Alberga and Mary Lou Williams by Joanna MacGregor. Joanna MacGregor will play the VOCES8 Centre's new Bluthner piano on Sunday 7 March in a programme celebrating International Women's Day.
A Special Offer for Ticket Holders
As existing LIVE From London viewers, you have played a big part in the success of the previous festivals. To thank you for supporting us we would like to offer you an exclusive chance, in advance of the public announcement on Wednesday, to buy tickets at a special discounted rate. Simply enter the voucher code LFLSPRING10ST at the checkout for 10% off Season Tickets. This offer is only for Season Ticket purchases (individual concert tickets will be on sale from Wednesday) and is valid until the end of the day tomorrow, Tuesday 19 January.