ne year on from the initial LIVE From London, The VOCES8 Foundation presents a festival exploring cycles of renewal and regeneration in nature and spirit.
A first for LIVE From London, VOCES8 appears in every performance. New invitees include The King's Singers, Chineke!, ORA Singers, the London Contemporary Orchestra and Rob Ames, a star quartet of Jack Liebeck, Sheku Kanneh-Mason, Julian Bliss and Katya Apekisheva, Mary Bevan and Zeb Soanes.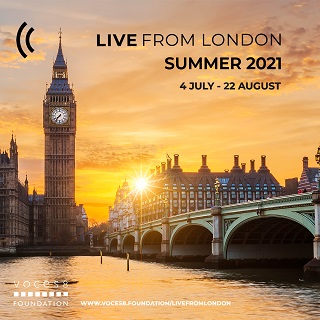 A limited live audience will be in attendance, with preference given to VOCES8 Foundation education attendees and Decca Bursary members.
The festival will broadcast 14 concerts, including 'LIVE From Haarlem' across the Summerbeginning 4th July and ending 22nd August. Available On-Demand until 31st August, the festival isfilmed live in VOCES8's stunning church in the heart of the city and international venues.
Core festival tickets covering the 10 main concerts are £80 and for the souped-up summer experience of 14 concerts, the 'LIVE From London – Summer Extra' ticket is £110. Single concert tickets throughout the whole festival are available for £12.50. Concessions have been crafted for students and choirs across the world, as well as special deals for promoters and venues. The concerts will be available on-demand until 31st August.