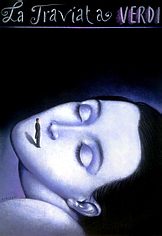 La Traviata by Rafal Olbinski
La Traviata
Rian Evans [The Guardian, 21 Feb 05]
Welsh National Opera's first performance in its new home could so easily have been a disaster. But nowhere was the return of its former musical director Carlo Rizzi more crucial than in this revival, as he transformed the shoddy Traviata of last May into an emphatic restatement of the musical values that have traditionally been at the core of the WNO. Rizzi conducted with authority and passion, and with such care for his singers that where terminal decline had beckoned, he seemed to have effected a miracle cure.
Click here for remainder of article.