English Choral Music
Choir of St. Johns College, Cambridge
Christopher Robinson
Naxos 8.557557-58 [2CDs]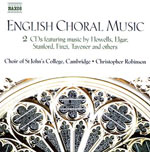 One has to wonder if the number of recordings of English choirs singing English choral music will ever reach a saturation point. This Naxos double disc by the Choir of St. Johns College, Cambridge, may very well signify such a moment through its attempt to chronicle the succession of English choral music from the 19th century to the present. The choir of men and boys sings gloriously, nearly equaling their more famous sister choir at King's College, yet the musical montage is rather unusual.
The set progresses chronologically, from Charles Stanford through eleven of the greatest English composers of the last one hundred and fifty years. Selected from previous recordings devoted to each individual composer, the tracks are assembled haphazardly. The representative works do not follow a single unifying thread. Most are purely liturgical, reflecting the overwhelming majority of English choral music. However, mixed in with settings of the Magnificat and Nunc Dimittis by C. V. Stanford or the Coronation Te Deum of William Walton are famous anthems not intended for use in service. Benjamin Britten's monumental Hymn to St. Cecilia, a setting of W. H. Auden's surrealist poem, feels out of place. Herbert Howells' haunting elegy to the slain John F. Kennedy, Take Him Earth for Cherishing, also feels awkward following his settings of the Magnificat and Nunc Dimittis for the St. Paul's service.
Another peculiarity of this compilation is reflected in the type and frequency of works of certain composers. Ralph Vaughan Williams, who was instrumental in shaping the modern English choral sound, has only one piece included. "The Call," is not a true choral anthem but comes from the song cycle Five Mystical Songs. The baritone solo is sung by a boy treble creating a nice, albeit highly atypical, effect. The lesser-known composers Edmund Rubbra and Lennox Berkeley provide four and three pieces respectively. Their compositional voices are unique, but nonetheless less satisfying than their more famous counterparts. In addition, works by the contemporary composer John Tavener are included on the final disc. An argument can be made for including him because of the profound contribution he has made to western church music, but his presence seems nevertheless incongruous due to his break with Anglicanism and subsequent devout Eastern Orthodox faith[1].
Despite its programmatic peculiarities, this disc excels musically. The Choir of St. John's College, Cambridge sings with wonderful warmth often absent from many English choirs' stark and hollow sound. The boy trebles, led by the marvelous Oliver Lepage-Dean who is highlighted with several solos, sing with a strong ringing head voice, and also with a pleasant richness in their lower register. Director Christopher Robinson has fashioned a fabulous ensemble with brilliant clarity, precise intonation, and a striking pure tone. But if you're picky about the anthems on your disc, perhaps the choirs' individual recordings of works by these composers would be a better choice than this clumsy compilation.
Adam Luebke
fn1. Click *here* for developments in this regard.