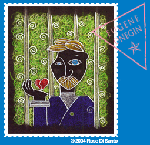 Boston Lyric's 'Onegin' sings
Strong orchestra, bold voices carry Tchaikovsky gem
Richard Dyer [Boston Globe. 31 Mar 05]
Most operas are about love, but Tchaikovsky's "Eugene Onegin" is a special case because the composer took the subject so personally. Tchaikovsky's own life was tracing the plot of Pushkin's verse novel, with catastrophic consequences, and the music is full of yearning, passion, pain, and regret.
It's a tricky, intimate piece to bring off and Tchaikovsky was terrified of what opera companies would inflict on it. The Boston Lyric Opera's version is a bold, brave effort, and much of it is compelling.
Click here for remainder of article.
---
`Onegin,' off-again love springs to life at Lyric
By T.J. Medrek [Boston Herald, 1 Apr 05]
Love can be all in the timing. Just ask the would-be lovers in Tchaikovsky's opera "Eugene Onegin," which opened — with a Boston Lyric Opera performance as close to perfection as you could want — at the Shubert Theatre on Wednesday.
The innocent young Tatyana (soprano Maria Kanyova) is crushed when the worldly Onegin (baritone Mel Ulrich) condescendingly rejects her love. Years later, after she's moved on to a successful marriage and life as a St. Petersburg aristocrat, Onegin decides he loves Tatyana after all. Her response? Too late, pal.
Click here for remainder of article.