Lotte Lehmann: "Frauenliebe und Leben" — Works by Schumann, Brahms, Schubert and Sacred Songs
Living Voices Series
Hänssler Classic 94.508 [CD]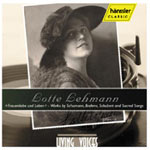 Of all the singing geniuses of the 20th century, Lotte Lehmann is among the forefront. Though not blessed with the most beautiful voice or impressive technique, Lehmann knew how to reach her audience through unmatched musical interpretation and expression. She was able to win the love of her audience, and now, almost a century from the start of her career, the world continues to sing her praises.
Lehmann began as an "ugly duckling", a student told that she would never earn a penny with her voice; and then, after finding a teacher who uncovered the beauty of her instrument, she was told that she could never act. Yet she matured into a beautiful swan, becoming the most highly acclaimed and beloved singer in Europe and America.
Her first success at the Hamburg Municipal Theater was as Elsa in Lohengrin. She put technical insecurities behind her and became the part she was playing. Her most memorable success was her work with Richard Strauss, premiering the role[1] of the Composer (Komponist) in Ariadne auf Naxos. A leading critic wrote: "last night at 7:40 all Vienna knew who Lotte Lehmann is." Lehmann's mark on America, however, was introducing the intimate beauties of German song. Her expressive singing transcended any language barrier; she made you see what she was seeing, feel what she was feeling.
Hänssler Classic has chosen recordings of Lotte Lehmann performing with salon orchestra accompaniment, which adds a sense of excitement to the songs and cycles. Lehmann is able to apply her dramatic intuition to each song, creating a character and scene that complement the colors of the orchestra. Brahms' "Von ewiger Liebe" is a fantastic re-interpretation with orchestra, painting the contrasting characters with more depth and beauty than the original piano accompaniment. The orchestra also supports the warmth and line of the voice, particularly in Schubert's long lines of "An die Musik."
All recordings included on this disc are from Lehmann's height of her European career, spanning from 1927-1932. Hänssler Classic has done much to clean up these very old recordings, but there is much artistry and nuance that has not survived the recording due to its age. Despite the aged quality, this is a fantastic addition to anyone's collection for those interested in enjoying a voice that so influenced Richard Strauss.
Sarah Hoffman
fn1. She also performed in the premieres of Intermezzo and Frau ohne Schatten, as well as the Vienna premiere of Arabella. Click *here* for a short biography of Lotte Lehmann.