The 17 scenes in this opera, succeeding at a very tense pace,
profited by the Liceuís sophisticated machinery and lighting equipments to
turn the whole into a motion picture, if one unrelated to Luchino
Viscontiís award-winning masterpiece Morte a Venezia.
Incidentally, the opera and the film share both the same year of first
release (1973) and the ominous fame of swan songs of their respective
creators, neither of these having survived 1976. At that time, the openly
homoerotic charge of Thomas Mannís original novel (1913) still worked as a
stumbling block for mainstream opera-goers, but nowadays the coming-out of
respectable old professor von Aschenbach is probably perceived as no big news
and definitely not worth such a tragic punishment as death by cholera or,
arguably, a ìpassiveî suicide.
Guilt and punishment are such stuff as tragedy is made of. Since the shift
in current morals caused feeling of guilt to disappear from the Western
public discourse on homosexuality (even less so in Spain, where gay couples
are legally allowed to marry), tragicism is no longer an option for staging
Death in Venice. Thus director Willy Decker felt bound to pepper the
story a bit by adding such hypes as Aschenbach kissing the boy Tadzio on a
megascreen or desperately waltzing with him around the stage. True, all that
happens as if in a dream, but when the agonizing scholar gets overwhelmed by
a heap of naked male bodies choking him to death, one cannot help wondering
how counter-heroically all that display of flesh can work, irrespective of
the viewerís sexual leanings. Letís stop it here, lest both the director
and this reviewer be exposed as homophobics in disguiseÖ
The tribute to postmodern commonsense having been paid, Decker felt free
to follow the libretto as literally as librettist Myfanwy Piper had done with
Mannís novel. His Venice is a disquieting city peopled by ruffians,
gondoliers, porters, whores and peddlers of dubious goods and services, their
faces and clothes painted with garish clown-like colors. The hollow
cosmopolitan socialites assembling in the Grand HÙtel des Bains at the Lido
are their victims, yet Aschenbach cannot sympathize with them either. All he
is after is ideal beauty, whether in a Caravaggio painting on display at a
museum or in Tadzioís angelic face. In the end, both images morph in front
of his eyes into one nightmarish obsession, while the Gods of Greece ó
Apollo and Bacchus ó fight over his soul with contrasting messages from
heaven, as in a mystery play. The sets are gorgeous, with blue skies
recalling Magritte and pitch-black waters in realistic movie projections.
left: Uli Kirsch (Tadzio) [with Aschenbach's Doppleg‰nger], right: Hans Schˆpflin (Aschenbach)
The same struggle between life and death breathed from the orchestral pit,
mirroring the shifts of wind and tide from the iodine scent of the open sea
to the heavy stench of the Lagoon in Summer and back ó a common experience
for Venice visitors, cleverly described in the libretto. Under Sebastian
Weigleís baton, the taxing score emerged in a glory of harmonies and
colors: full-tone scales alternating with polytonalism, piano with Java-style
gamelan and far-away echoes of the Baroque. Also the singing company
was top-level. The German tenor Hans Schˆpflin spun his exquisite mezza
voce over the stream of inner monologues and extatic flourishes devised
by Britten for his aging mate Peter Pears. Aschenbachís protean opponent,
tempter, flatterer, was the Texan baritone Scott Hendrick, always magnetic
throughout his seven so diverse roles. Countertenor Carlos Mena, a reputed
Baroque specialist, lent his sunny and mellow alto range to Apolloís
oracles. Within the swarm of cameo roles, particular praise was deserved by
the sanguine BegoÒa Alberdi in the double bill of Strawberry Seller /
Newspaper Seller, and by Leigh Melrose, a New Yorker, whose extended
narrative solo as The English Clerk in the travel bureau (ìIn these last
years/ The Asiatic cholera has spread/ from the Delta of the Gangesî)
conveyed a thrill of Doomsday.
Carlo Vitali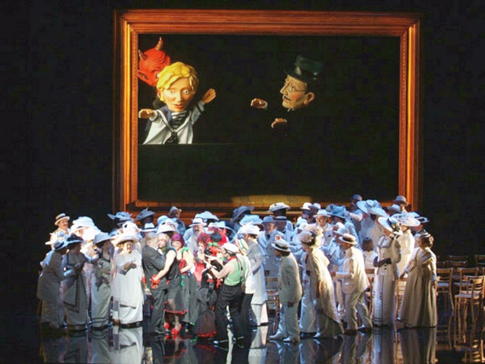 Death in Venice, Act 2, sc. 10 (The strolling players)

image=http://www.operatoday.com/Death_venice.png
image_description=Death in Venice
product=yes
product_title=Benjamin Britten: Death in Venice
product_by=Gran Teatre del Liceu, Barcelona
A new co-production with Teatro Real, Madrid
Performance of 30 May 2008
product_id=Above: Waltraut Meier (Sieglinde), Pl·cido Domingo (Siegmund)
All photos © Antoni Bofill