Or, as Mark Twain said about Wagner,
it's better than it sounds – a line Twain could get away with
because Wagner was already too big a cultural cheese to worry about
wisecracks by that time, and because Twain was famous for curmudgeonry, not
for his music criticism. (Quick: name a composer Twain ever praised.) But we
have to insist, if we want to defend ThaÔs, that it's better
than it sounds, because it doesn't sound very impressive.
There's the famous MÈditation, of course – I've been
told it brings tears to the eyes of the Japanese, because it is always played
on the radio whenever an emperor dies, but only two emperors have died since
the invention of radio, so I'm not sure how they can have developed
such an association. It brings tears to my eyes only after a performance of
ThaÔs, when that damned saxophone player performs it atrociously on the
subway platform below Lincoln Center. (Don't give him any money –
it won't make him stop.)
The trouble is that Massenet's gift for melody and characterization
and pathos, while ideal for the story of the shallow waif who is Manon or the
self-romanticizing Werther, is way out its depth when trying to handle the
story of ThaÔs, in which two supposedly serious figures undergo serious
religious self-questioning – ThaÔs in renouncing the goddess
of love for Christianity, AthanaÎl in renouncing Christian mortification of
the flesh for human passion. The MÈditation in the background (as it pretty
much always is, from the time we first hear it between the scenes of Act II)
does not give the impression Massenet intended of Wagnerian
"motivation," of musical reflection of poetic and ecstatic states
of feeling; it is just repetitious underscoring, movie music composed before
pictures moved.
Mary Garden as ThaÔs
Ironically, though, the most persuasive case for ThaÔs that
I've ever seen was the silent 1917 film starring Mary Garden, long a
major singer of the role, but more of a singing (and dancing) actress than a
Voice. She was 43 by the time she filmed it, and she doesn't look like
a sexy young vamp (how did she perform Salome at that age? In French, and at
a great distance from her audience), but she is invariably
interesting – the inward, haunted look of her eyes giving us
many a lingering glimpse (all we need, really) of the emotional conflict at
the heart of her story but hardly to be found in Massenet's score. And
the pianist who accompanied the film (there was also a violin for the
MÈditation, of course) knew his Massenet. Between reels of this splendid
artifact from a gilded age, L'OpÈra FranÁais de New York presented
scenes from the opera itself, sung by soprano Caroline Worra and baritone
Stephen Powell. They made a far better case for ThaÔs, were far more
effective as music-drama, than the recent run at the Met or the
ghastly previous one in 1978.
There's no point to the debate: ThaÔs is what it is; it
appeals to you or it doesn't. Image helps. ThaÔs is a vehicle
– unlike Wagner's works, it does not succeed even when performers
do not bewitch; ThaÔs makes any effect at all only if the diva is
sexy and the baritone ardent and the production visually opulent. Take the
music by itself, and it fades like a desert mirage or the visions of a
mystic. Was it really there at all?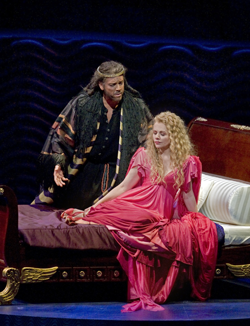 RenÈe Fleming as ThaÔs and Thomas Hampson as AthanaÎl [Photo by Ken Howard courtesy of The Metropolitan Opera]
The current Met production, hand-me-down (with leads) from the Lyric Opera
of Chicago, is being presented because RenÈe Fleming wished to sing it, and
Fleming pretty much guarantees a sellout (as few divas do, these days), so
that's an excellent argument – especially if you can borrow the
production ready made, not waste too much company money on it, and need never
bring it back again. Miss Fleming is a pretty woman (prettier than Mary
Garden, and with far more voice), and glamour is currently at a premium at
the Met. Designers compete for the chance to dress the Diva of the Moment, as
once they did when Geraldine Farrar and Lina Cavalieri ruled that particular
roost (they both sang ThaÔs). But such glamour is not easily faked,
and I never get the feeling Fleming cares whether her image dazzles or not
– it's not the highest rung for her – which, frankly, is to
her credit. She's a more serious musician than that. Still, in a role
like ThaÔs, when she must play the glamour card, Fleming never convinces us
that she is in form, that she has a link, a private line, to the
goddess Venus who, we notice in the famous mirror scene in Act II, does not
seem to be taking her calls. And as for the fluffy Christian Lacroix
costumes, diaphanous pink seldom flatters anyone over twelve, and a costumier
should notice that long, crimped blond locks and an off-one-shoulder gown are
not the ideal desert look for an aspirant nun. These things can be as
important as the singing in so gauzy a work as ThaÔs – they
certainly were for Garden, Cavalieri and Farrar, if not for Fleming. Fleming
is sending sexy back – with the receipt – for a credit.
I admit to being puzzled, to working hard to understand my own unease with
the way Fleming produces sound, and the sort of sound she produces. The voice
has always been lovely, but years and years of affectation have made it less
so. When I hear her, I keep trying to find a core to it – it is like a
thick velvet cover too thick to penetrate. The plush has a late-Victorian
shimmer to it, but I'm never sure anything firm exists below. Too, the
register break between this velvety body and the upper register is startling
– the upper octave or so, especially when coloratura is called for (or,
in Massenet, high emotion of any sort) is a thin, shrill sound with no
connection to the rest of the voice. I found her varying of the line, her
wandering from clear singing to punctuations, to almost spoken notes, to
disembodied head voice in the middle of a phrase, distracting, unbeautiful,
and not particularly dramatic. Such affectations are why I try to avoid
Fleming in any Italian role, but her French roles are similarly dishonest;
she only seems to favor the notes of the part clearly and honestly in German
and Russian works. She applies herself to the composer's intention at
such times. Otherwise, she relies on the basic prettiness of the sound to win
over all hearers no matter how she abuses it.
One reason I regard these things as affectations is because Fleming tends
to drop them and fall back on honest singing whenever she must duet with
another artist. Her plea to Venus went for naught but, immediately
afterwards, her debate with Thomas Hampson, the dredlocked AthanaÎl, and the
brief duet in the desert outside the convent in Act III (at the one and only
time in their acquaintance when the characters agree about anything) were the
vocal moments worth remembering from this performance. She was pumping out
voice in an artless style here, and one could suspect a woman, and real
music, existed behind the velvet shimmer. But neither Fleming nor Massenet
offers enough of such meat in ThaÔs to fill an entire evening
satisfactorily.
Hampson's once too-confident, even boring instrument was showing its
age or the weather in Act I, when his self-lacerating doubts were
ineffective, but he too warmed up in confrontation for some impassioned
duetting. Michael Schade gave a handsome account of Nicias, the party-boy
friend to all parties, and the orchestra played if anything too
sweetly for Jes˙s LÛpez-Cobos, not least David Chan's violin solo for
the MÈditation. John Cox's sets depicted a gorgeous blue desert sky and
a glitzy art deco mansion (so right for the fifth century A.D.), but
the final tableau in which ThaÔs, dying in an odor of Christian sanctity and
self-deprivation, is presented as a goddess enthroned on an altar, was a bit
startling – though to this writer, rather a winsome touch.
John Yohalem

image=http://www.operatoday.com/THAIS_Fleming_as_Thais_5583.png
image_description=RenÈe Fleming as Thais [Photo by Ken Howard courtesy of The Metropolitan Opera]
product=yes
product_title=J. Massenet: ThaÔs
product_by=ThaÔs (RenÈe Fleming); Nicias (Michael Schade); AthanaÎl (Thomas Hampso); PalÈmon (Alain Vernhes); Crobyle (Alyson Cambridge); Myrtale (Ginger Costa-Jackson); La Charmeuse (Leah Partridge); Albine (Maria Zifchak). The Metropolitan Opera. David Chan, concert master. Jes˙s LÛpez-Cobos, conducting.
product_id=Above: RenÈe Fleming as Thais [Photo by Ken Howard courtesy of The Metropolitan Opera]