Someone spent
money on this thing, which originated at Covent Garden. Gustav Klimt at his
grandest has evidently muraled Magda's intimate salon (probably while
seducing Magda and her maid, if I know Gustav), the casual student
cafÈ of Act II is suitable to some grand hotel on the Place VendÙme, and the
Riviera inn where Ruggero and Magda hole up in Act III has become an art
nouveau orangerie of stained glass grape arbor three stories high.
Overproduction adds undeniable pleasure to the Met experience, however it may
undercut the small-scale work at hand by raising expectations that will not
be fulfilled.
La Rondine is often called Puccini's Viennese operetta. The
inspiration was, indeed, a Viennese libretto, set in sophisticated France,
dealing with sophisticated emotions — none of its lovers would think of
picking up a dagger or making a public scene; they're not into
"drama" — which is pretty funny for characters in a Puccini
opera. A rich man's elegant mistress feels restless, takes up with a
young lover, realizes settling down with him to a bourgeois life is not her
style, and returns — like the swallow of the title — to her nest.
True love won't keep you in Klimts or emeralds, honey. Regrets. The
road not taken. No call for the undertaker or the priest.
The scale is intimate, the emotions internal, and the musical setting is
intimate too, lilting and sensuous and utterly beguiling. (This is
opera in the twentieth century?) It works sublimely on the small screen
— my first experience of La Rondine was a television movie
starring Teresa Stratas. Angela Gheorghiu compares well to Stratas as a
beauty and as an actress (high compliments, these). I suspect her intimate
looks and sighs will play even better in HDTV, and that her detailed acting
was designed for Covent Garden, which is half the size of the Met. She had
not warmed up properly to possess "Che il bel sogno di Doretta,"
the opera's one big aria, but that's Puccini's fault for
putting it two minutes after curtain rise so he can go on recollecting it all
evening. For the quartet in Act II and the love duet in Act III, Gheorghiu
was more than prepared. It is not a voice of Tebaldi or Price size, but she
has her own polished way with a Puccini phrase, and his bloom suits hers much
better than, say, Donizetti, where (with fewer instruments to conceal her?)
she can sound arch and stretched.
Angela Gheorghiu as Magda and Roberto Alagna as Ruggero
Her partner is Roberto Alagna, of course, and they certainly play
and sing lovers convincingly together. But Ruggero offers the tenor so little
that you wonder why Gigli bothered with it — the standout tenor part is
the secondo uomo, the poet Prunier, and here Marius Brenciu, in his
first Met appearances, was light and suave with a very pleasing run up to
head voice when called for. His amie of the night was Lisette
Oropesa, a Met Young Artist alumna, who played Magda's chirpy maid,
having an affair with the poet, going for a big break in cabaret and,
failing, returning to her old nest — no Adele audition for
this gal. Oropesa has personality but her voice, on this brief exposure, did
not. The quartet for the paired and (as we do not yet know) ill-fated lovers
was delicious, and their story has that fragrant pessimism that afflicts late
Lehar (whose librettists drafted this story too). Love excuses everything in
Act I, but let's be real — it always dissipates before the final
curtain.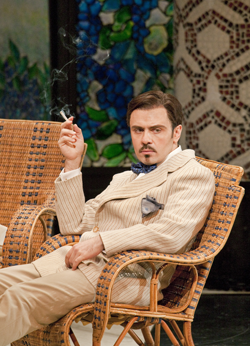 Marius Brenciu as Prunier
What the world wants now is a new Puccini opera. La Rondine is
not new, of course, but the brand is right, and it's never
been popular, so it's ripe for discovery. Singers of Magda and Ruggero
need fear no comparison with the interpretations of Callas and Pavarotti,
because they never sang it, and hardly anyone alive remembers Bori or Gigli.
The opera contains little familiar music — though, in a sense, all of
it is familiar — aside from "Il sogno di Doretta," which no
lyric soprano worth her salt can resist. (When Gheorghiu sings it, it is
difficult not to sigh for Leontyne Price, but she had time to warm
up, as she never sang the entire opera.)
No one living is going to write two hours of new Puccini (though heaven
knows Andrew Lloyd-Webber and several movie composers would if they could),
and that is really what the new audience discovering opera (and eagerly
courted by Peter Gelb) wants: a Puccini opera to discover for themselves.
There have even been productions of Edgar, which hasn't even
got a great showpiece tune to commend itself. My advice to opera companies
courting this crowd is the great number of neglected but lovely works by
Puccini's contemporaries and rivals, just waiting for the right singers
and a production like this one. Okay, there are howlers like Francesca da
Rimini or Sly or Cyrano, which even a Scotto or a
Domingo couldn't save, but there are also fascinating scores like
Cristoforo Colombo (Franchetti), Cassandra (Gnecchi),
La Fiamma (Respighi), L'Oracolo (Leoni), Il
Piccolo Marat (Mascagni), L'Amore dei Tre Re
(Montemezzi). Take a chance. (It would help if there were a proper verismo
soprano around to sing them, I grant you — no, I can't think of
one either.)
Lisette Oropesa as Lisette (foreground) in a scene from Act I
But I never leave La Rondine, even a performance as glamorous and
charming as this one, without feeling unsatisfied, shortchanged — as if
there has not been enough feeling, enough melodious anguish, as if the
company should complete the evening somehow, with Il
Tabarro, say, or scenes from Tosca or Manon Lescaut
— something to fulfill the expectations raised by Puccinian melody from
the very first chord.
La Rondine is an appetizer, or tapas perhaps —
it's not a full entrÈe, never mind dessert.
John Yohalem

image=http://www.operatoday.com/RONDINE_Gheorghiu_as_Magda_.png
image_description=Angela Gheorghiu as Magda [Photo by Ken Howard courtesy of The Metropolitan Opera]
product=yes
product_title=G. Puccini: La Rondine
product_by=Magda: Angela Gheorghiu; Lisette: Lisette Oropesa; Ruggero: Roberto Alagna; Prunier: Marius Brenciu. Conducted by Marco Armiliato. Metropolitan Opera. Performance of January 3.
product_id=Above: Angela Gheorghiu as Magda
All photos by Ken Howard courtesy of The Metropolitan Opera.