In the interests of context I would always favour five acts, not only for the background to Carlos's meeting with Elisabeth, but for a fuller introduction to the character of Elisabeth who can be reduced almost to a cipher in the shorter version. But the four-act version is the tauter piece, and in the right hands has the potential to create the greater dramatic impact.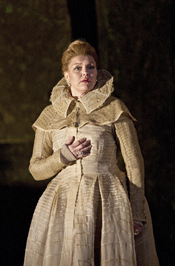 Janice Watson as Elisabeth
Hildegard Bechtler's sets are austere and claustrophobic, the stage dominated by vast stone walls; even the sun-filled garden outside the cloister is hemmed in and inescapable. When the stage is dark, it is really dark: in the opening and closing scenes at San Giuste, there are times when unmoving figures are barely discernible. A pale grey curtain with a square aperture allows every scene to begin with a framed 'thumbnail', a trick which proves effective in clarifying and distilling each dramatic situation. Although the frequent and prolonged scene changes (the vast walls take some time to reconfigure) break up the pace somewhat, the intensity of each scene was such that I welcomed the opportunity to recover. Nothing here is empty spectacle – it is all cleanly focused, and there is no fat on the bones.
There was one particular bone upon which a little more fat would have been welcome. While the theatre's superb acoustic enhances the volume of the orchestra and soloists, the start of the auto-da-fÈ scene should be a grand ensemble, and Opera North's chorus simply sounded as if they would have benefited from a few more extras.
Julian Gavin sang the title role in the 1998 revival, and 11 years on he is no less credible as the young prince. His voice still has that urgent quality which captures Carlos's angst, but now it's combined with an open-throated evenness of tone which is really exciting to listen to.
From the start, Brindley Sherratt's Philip II always seems rather cowed by the burden of responsibility, pale-faced and worn in the plain black costume which makes him look rather small and all too human. His dryish bass, too, captures well a disillusioned monarch who is comparatively easily overcome by the Grand Inquisitor – Clive Bayley, another returner from the 1998 revival, doesn't really have the deep bass weight one might ideally wish for, but he projects real menace in his bearing.

Janice Watson as Elisabeth [left] and Jane Dutton as Eboli [right]
In her company debut, Janice Watson was a graceful and dignified Elisabeth. Not a natural Verdian, she sang very beautifully up until the last act, but was running out of steam during her aria and struggled to maintain the line in her subsequent duet with Carlos. William Dazeley was hugely impressive as Posa – he is unquestionably slightly on the light side, but he has an intelligent command of the music and is entirely convincing in this role which is so central to the opera. Jane Dutton's Eboli was alluring and magnetic, with visceral power in 'O don fatale'.

William Dazeley as Rodrigo [left] and Julian Gavin as Don Carlos [right]
Particularly impressive among the smaller roles was the monk of Robert Winslade Anderson, a dark-toned and focussed young bass who is surely a Philip-in-waiting. Julia SporsÈn was a pert and courtly Thibault, and chorus member Kathryn McGuckin was a lyrical and secure Voice from Heaven, standing in for Rebecca Ryan (who, thanks to a visa problem, was stuck on the other side of the world).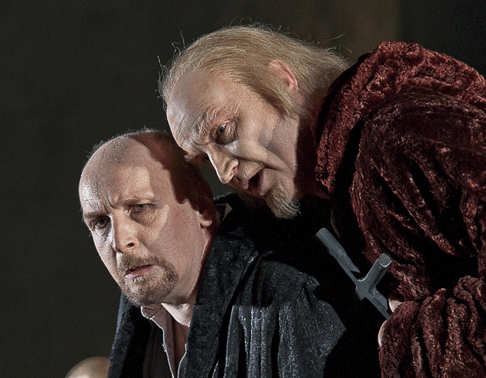 Brindley Sherratt at King Philip II [left] and Clive Bayley as The Grand Inquisitor [right]
Conductor Richard Farnes really has the measure of the piece, throwing the score's many bursts of passion or urgency into relief against the measured pace of the more intimate moments of intrigue. The word-setting in Andrew Porter's superior translation is intelligent and natural-sounding, and it is delivered with clarity by every member of the cast. A recording is imminent in the Chandos Opera in English series, with most of the same performers; a welcome opportunity to keep for posterity a performance which presents as strong an argument for Verdi in English as we are ever likely to hear.
Ruth Elleson © 2009

image=http://www.operatoday.com/Don-Carlos01.gif
image_description=Julian Gavin as Don Carlos [Photo by Clive Barda courtesy of Opera North]
product=yes
product_title=G. Verdi: Don Carlos
product_by=Don Carlos: Julian Gavin; Elisabeth: Janice Watson (ex 17, 20, 24 June), Susannah Glanville (17, 20, 24 June); Monk: Robert Winslade Anderson; Rodrigo: William Dazeley; King Philip: Robert Winslade Anderson (13 May), Alastair Miles (23 May; 3, 13, 17, 20, 24 June); Eboli: Jane Dutton; Thibault: Julia SporsÈn; Grand Inquisitor: Clive Bayley. Conductor: Richard Farnes. Director: Tim Albery. Set Designer: Hildegard Bechtler. Original Costume Designer: Nicky Gillibrand.
product_id=Above: Julian Gavin as Don Carlos
All photos by Clive Barda courtesy of Opera North