For a great many in the audience at the Royal Opera House on this occasion, it probably didn't matter. Opera going is a great experience and La traviata is great theatre. I've never seen so many cameras popping, or people texting on their mobiles, even during the performance. Routine applause, for the sake of applause, deserved or not, inhibiting the flow of the drama. Opera has always been a social experience. Now it's audience participation.
On the other hand, this performance was less than gripping musically. Since 1994, some of the greatest singers of our time have graced this production. Last year's revival, with RenÈe Fleming, Joseph Calleja and Thomas Hampson, was magnificent. Courageous as they are, this year's cast, with some exceptions, cannot help but seem eclipsed in comparison.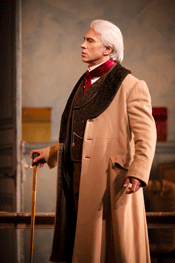 Dmitri Hvorostovsky as Giorgio Germont
Perhaps it was first night syndrome that the First Act didn't quite ignite — even the "champagne corks" didn't pop as brightly as they might. The Royal Opera House chorus, usually one of the best in the business, sounded curiously unfestive, though later they redeemed themselves in the tightly executed scene at the gambling party at Flora's House. Brisk, well-paced interplay between singers and dancers. The gypsies and matadors embody the life-force that's ebbing away from Violetta. The shadows of the Carnival that loom over her deathbed are a poignant reminder of what might have been.
The Royal Opera House Orchestra is very good too, so Yves Abel was able to get strong playing. Indeed, some individual soloists were so good that they drew attention away from the singing. Abel seems to have a feel for the flow in longer instrumental passages, so it will be interesting to hear him conduct La traviata again in July.
Ermonela Jaho covered as Violetta for Anna Netrebko in 2008. She's charming, but Violetta is a strong, complex role. She's the kind of woman who can drive men to fight duels, yet has the nobility of character to impress Germont. Jabo sings pleasantly, and looks good, but needs greater depth.
Dimitri Hvorostovsky's Germont has vocal authority, honed through experience in the role. Yet, when he sings "Pura siccome un angelo", his timbre softens and glows. In "Di Provenza il mar", Hvorostovsky captures the lilting melody so cannily that he creates the impression of a distant, happier world far removed from Parisian artifice. .Hvorostovsky fills the role, not just the costume. His Germont is a fully realized personality, more interesting, perhaps, than his son. Hvorostovsky's "Dove'e' mio figlio?" makes the confrontation feel intensely profound, his voice colouring expressively.

Saimir Pirgu as Alfredo Germont and Ermonela Jaho as Violetta ValÈry
Alfredo is a big part for a singer still under 30, so if Saimir Pingu impresses with youthful freshness, that's no demerit. He has a future ahead of him. Robert Lloyd, as Dr Grenvil, has an illustrious past, but remains in excellent form at 70. Subsidiary roles were well cast, many of whom will also appear in the July series, with Angela Gheorghiu, James Valenti and Zeljko Lucic as principals.
Anne Ozorio

image=http://www.operatoday.com/TRAV-2010_00243-JAHO-AS-VIO.gif
image_description=Ermonela Jaho as Violetta ValÈry [Photo by Johan Persson courtesy of The Royal Opera]
product=yes
product_title=Giuseppi Verdi: La traviata
product_by=Ermonela Jaho : Violetta ValÈry, Kai R¸¸tel :Flora Bervoix, Changhan Lim : Marquis D'Obigny, Eddie Wade ; Baron Douphol, Robert Lloyd : Dr Grenvil, Robert Anthony Gardiner : Gastone de LetoriËres, Saimir Pirgu : Alfredo Germont, Sarah Pring : Annina, Neil Gillespie : Giuseppe, Dmitri Hvorostovsky : Giorgio Germont, Charbel Mattar : Messenger, Jonathan Coad : Servant. Royal Opera Chorus, Royal Opera House Orchestra, Yves Abel : Conductor. Richard Eyres : Director, Paul Higgins: Revival director, Bob Crowley: Designs, Jean Kalman : Lighting, Jane Gibson : Movement
Royal Opera House, London, 11th May, 2010.
product_id=Above: Ermonela Jaho as Violetta ValÈry
All photos by Johan Persson courtesy of The Royal Opera