Handel's little-performed Tolomeo was treated to an endlessly
witty, constantly surprising — aw hell, let me say it — smasheroo
production by the one of opera's most imaginative directors, Chas
Rader-Shieber. Sometimes he can be a bit too imaginative, it is true, as in St.
Louis's fussy Una Cosa Rara, where he seemed to be mistrustful
of the material and hence created endless distraction from it.
Not so here, where Mr. R-S's inventions not only underscored the
characters' emotional states and complemented the dramatic situation, but
masterfully fleshed out a very very very (did I say 'very'?) lean
plot, rife with convoluted masquerades. Purists will carp that this serious
(seriously boring?) dramatic material is not the basis for humorous
interpretation. I say Chas has upended the static piece to its own benefit, and
thrown the heart-aching moments into even higher relief.
Anthony Roth Costanzo as Tolomeo and Julie Boulianne as Elisa [Photo by Karli Cadel courtesy of Glimmerglass Opera]
That Glimmerglass has been challenged by the financial climate is evidenced
by the pleading recorded pre-show announcement in which music director David
Angus not only silences cellphones but solicits donations. Practically,
enforced austerity required that all the operas share the same basic scenic
environment, a big textured gray box in which doors, windows and structural
elements could be swapped out. In the case of Tolomeo set designer
Donald Eastman and the director turned this into a springboard for simple, well
chosen visual delights.
At rise, Tolomeo sings of the sea, but is contemplating the waters…in
a fishbowl on a stand. As he sings of maritime perils, a stuffed shark descend
from the flies. The director concocts a true star entrance for our hero by
having him crouched behind the bowl, face distorted by the water until a
musical swell occasions his standing upright so we can take full measure of our
leading man. The shipwrecked Alessandro staggers on with half of a
'destroyed' toy boat in each hand, before he faints as the plot
requires. Boat pieces get passed to Tolomeo and, in short order, to Elisa who
takes charge of the situation by fusing the halves back together, re-appearing
with the boat as an adornment incorporated into her wild henna wig (the
excellent hair and make-up were by Anne Ford-Coates). This is not only clever
entertainment, but underscored Elisa's character in her entrance aria.
Carefully selected set pieces from an upper crust home of Handel's
time provided apt images and visual clarity: a richly set dining table; an
armoire that contained appropriately changing images and, in one goof, a piece
of colorful topiary that got unceremoniously schlepped out to
decorate/punctuate a 'garden' moment; and a bed-cum-funeral-bier
for Tolomeo. Chas added three extras to the ensemble in the form of mute,
slightly doddering old men (Desmond V. and Julian A. Gialanella, Jack
Loewenguth) who were almost omnipresent as they constantly adapted the
environment by moving around various furniture elements. I will not soon forget
the image of the 'dying' Tolomeo in his great aria, being drawn to,
and languishing on the constantly circling bed. The image of serene repose
achieved as the supers inched it into its final resting place just as the music
concluded was stunning.
The lustful sexiness was heightened, too, with more leering machinations
than on an average episode of The Bachelorette. The inspired finale
found everyone getting prepped for a good tumble by stripping down to their
skivvies, with even the villainous Araspe suddenly redeemed as he is overtaken
by randy urges to shuck his red suit and join the partying. There were so many
telling moments that it is impossible to include them all, but surely one of
the loveliest effects was the placement of ordinary (period) oscillating room
fans down stage to create the 'breeze' of which Seleuce sings, and
which carried her scattered white tissue paper messages about the playing
space. This theme was carried through with a small shower of red tissue paper
as Tolomeo subsequently sings of his longing, and shortly thereafter, a
cascading profusion of red from the flies as accompaniment to Seleuce's
haunting aria.
JoÈlle Harvey as Seleuce and Steven LaBrie as Araspe [Photo by Karli Cadel courtesy of Glimmerglass Opera]
Lest I imply that clever effects were all there was, Mr.Rader-Shieber also
showed a deft hand at creating meaningful subtext for his performers, and he
beautifully judged interaction between the characters. It did not hurt that he
had a superlative lot of singers at his disposal.
It is so gratifying to see how counter tenor Anthony Roth Costanzo has
developed in only the two years since his Nireno in Julius Caesar
here. Already then an artist of great promise, Mr. Costanzo had matured into an
assured star on the verge of a major international career. He is possessed of
an exceptionally clear, incisive timbre and his sure-fire, take-no-prisoners
way with even the trickiest coloratura was thrilling. He does not shy away from
some aggressively butch singing in the lower register, but it is in the upper
reaches that he truly shines. His nuanced, deeply felt reading of his death
aria held us spell bound. Although slight of stature, he nevertheless commands
the stage with his committed physicality.
JoÈlle Harvey, too, has progressed remarkably since last I encountered her
in Orpheus in the Underworld. On this occasion she was giving the kind
of controlled, ethereal, affecting performance that had the intermission crowd
asking "who is that fabulous soprano?" She has a limpid and
technically secure lyric instrument which gives over easily to the plangent
outpourings Handel asks of her. Ms. Harvey's spot-on performance was the
heart of the production, the emotional rock that grounded the proceedings. The
celebrated echo section and duet with Tolomeo was a standout. although in one
of the show's only minor miscalculations, I wished the supers had butted
out for the duration of that gorgeous set piece so we could have just reveled
in its musical perfection.
I quite liked Julie Boulianne in last year's Cenerentola but
nothing about that performance prepared me for the brilliance of her Elisa. Ms.
Boulianne still displayed a bit of covered vocal production and (just) decent
fioriture in her first appearance, but immediately thereafter she caught fire
and lavished us with sizzling vocal pyrotechnics all night. Moreover, she
displayed a fiery and comically savvy stage presence throughout, greatly
assisted by a wonderfully daffy costume — part tutu, part vamp, all Lady
Gaga — from the talented costume designer Andrea Hood. Ms. Hood scored
big with all of her ingenious creations, but Seleuce's distressed,
wilting, catty-wompers hoop skirt also greatly illuminated the character. And
while I am on 'illumination,' Kelley Rourke's diverse
lighting design perfectly enhanced the scenic effects.
Young American Artists Steven LaBrie and Karin Mushegain more than held
their own up against these three masterful portrayals. As the evil Araspe, Mr.
LaBrie cut a handsome figure and is possessed of a ringing, rich lyric
baritone. His assured portrayal never descended into cliche and he mined much
humor from his chicanery. Ms. Mushegain has an ideal, dusky mezzo for the
trousers role of Alessandro, and she reveled in her florid singing. Her stage
demeanor was sympathetic and appealing.
The musical proceedings were masterfully helmed by conductor Christian
Curnyn, who brought out much subtlety in Handel's writing, phrased with
his soloists as one, and displayed admirable pacing and theatrical drive. He
was ably abetted by the sensitive playing from Ruth Berry (Continuo), Michael
Leopold (Theorbo) and especially David Moody (Harpsichord).
Tolomeo was truly 'Festival' opera, a performance and
production that would be at home on any world stage. Very close behind was a
wholly engaging new production of Copland's The Tender Land. If
the all-Young Artist cast is any gauge, the future of operatic singing is very,
very bright.
L to R: Joseph Barron as Grandpa Moss, Mark Diamond as Top and Andrew Stenson as Martin in The Tender Land [Photo by Karli Cadel courtesy of Glimmerglass Opera]
Let us immediately discount the fact that for the several character roles,
the apprentices are simply and unavoidably too young. That said, I found
Stephanie Foley Davis not only able to suggest a couple of decades of life
experiences as Ma Moss, but also to sing it with a knowing richness of tone and
musical authority that belie her years. This was a secure and memorable role
assumption. Almost as successful was Joseph Barron in the (let's face it)
unsympathetic role of Grandpa Moss. Although the company wisely eschewed cheesy
age make-up, the burly Mr. Barron nevertheless conveyed ample gravitas and
seniority, and used his secure, authoritative bass-baritone to good effect. Mr.
Splinters made the most of his crucial moments thanks to the pleasing baritone
of Chris Lysack. In the small role of Beth Moss, Rebecca Jo Loeb made a fine
impression with her totally committed, always consistent take on the young
girl.
The Tender Land is Laurie's journey of course, and who
wouldn't want to to make the trip with immensely gifted young soprano
Lindsay Russell. Ms. Russell has all the goods for this deceptively simple
role. She has the 'heart' in her ample lyric voice for the simple
longings of "The World So Wide", to be sure. But she also has the
'ping' and the moxie for the determined pronouncements in the
opera's climactic scena. Her instrument is uniform throughout, her
musicianship is natural and clean, and her technique easily accommodates the
often angular Copland writing. If she does not yet float a pianissimo quite as
effortlessly as Dawn or Renee, rest assured, she will. Lindsay Russell is
poised on the fast track to the major league.
Andrew Stenson's pleasing tenor has just enough heft for the
under-written role of the drifter Martin. He did all that was required
dramatically, although somehow I felt there was more complexity to the role
than could be found in Mr. Stenson's hale-fellow-well-met approach.
Still, it is not every day we enjoy a young artist with such a beautiful tone
and with a reliable technique that is hooked up so well.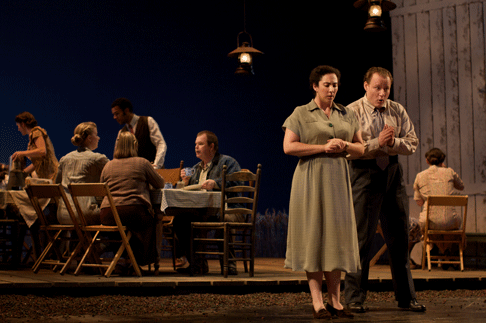 Stephanie Foley Davis as Ma Moss and Chris Lysack as Mr. Splinters (right) in The Tender Land [Photo by Claire McAdams courtesy of Glimmerglass Opera]
My bet on The-One-To-Watch is young Mark Diamond whose virile, buzzy
baritone brought his every phrase as Top to vivid life, and whose intense,
prowling stage demeanor was marked by a concentrated arc of dramatic
conviction. From the moment Mr. Diamond appeared he commanded attention and
admiration. Watch for him soon at an opera house near you.
Conductor Stewart Robinson not only conveyed his affection for the score in
his pre-show talk, but more important he conducted it lovingly in the pit. The
orchestra responded with secure, vibrant, sensitive Copland of the highest
order. The Maestro ably supported his young artists, and he shepherded the
great ensembles with elan that was tempered by clean control. I confess I am a
sap for the unfolding tune and steady crescendo of "The Promise of
Living" and the addition of the chorus to the soloists (with the Copland
estate's permission) was an affecting choice that should become the
'standard.' Most impressively, Robinson also guided the assembled
forces through a tight and propulsive reading of "Stomp Your Foot",
never missing a beat even though the actors were simultaneously cleanly
executing some simple but effective (and uncredited) choreography.
L to R: Rebecca Jo Loeb as Beth Moss, Lindsay Russell as Laurie Moss and Stephanie Foley Davis as Ma Moss in The Tender Land [Photo by Claire McAdams courtesy of Glimmerglass Opera]
Perhaps the dance steps were just another part of the successful staging
devised by director Tazewell Thompson, who served the naÔvetÈ of the homey
story and the folksiness of the score with the creation of uncomplicated,
straight-forward, clean-as-a whistle blocking that made for charming stage
pictures as well as well-pointed confrontations. The 'basic box'
set was somewhat adorned by the addition of two white clapboard walls fronting
the sides and a ladder propped up stage right that afforded some use of levels
as Top and others variously scrambled up and down. Otherwise, well-chosen set
pieces and props, and imaginative directorial re-definitions of the playing
space provided all that was required for The Tender Land to make its
gentle points.
Smaller companies are usually at a disadvantage taking on a bread-and-butter
staple such as Tosca. First of all, it is the stomping ground for very
the biggest stars. We cannot help but come to the piece with echos of Caballe
and Verrett and Nilsson and Pavarotti and Domingo and Milnes and MacNeill in
our ears. On top of that, we have the 'real-famous-Roman-sites'
visuals of Zeffirelli and Visconti and Pizzi in our eyes. And then there are
the over-sized passions of the story and the thundering musical punctuations
required from the sizable orchestration. Is there any opera in the repertoire
that is laden with quite so many expectations? Given all that, it surprising
that the competent Glimmerglass production succeeds as well as it does.
Adam Diegel as Cavaradossi and Lise Lindstrom in the title role of Tosca [Photo by Karli Cadel courtesy of Glimmerglass Opera]
Certainly, Lise Lindstrom is a polished singer who has a good touch of steel
in her well-schooled soprano, which is admirably 'present' at all
extremes of the range. Ms. Lindstrom also commands some of the most secure,
laser-like high notes I have ever heard. She never
misses…B-flat…B…C…she could probably keep zinging
them out to the point only dogs can hear. What Lise does not yet have is an
Italianate delivery, rather seeming to be a very admirable Straussian caught in
the wrong opera. Nor is she helped by Matthew Pachtman's beautifully
tailored but wrong-headed 1920's gowns in silver, white and black. I
mean, Floria is not a black-grey kinda gal. She (and the production) cried out
for color, not only to mirror the seething emotional situations but also to
evoke the turmoil of a politically unsettled Rome. The diva would never ever
wear a white evening gown to sing a cantata in a chapel. Never. Here, Mr.
Eastman's multi-use sets showed their limitations, functional to a point
but evoking neither time nor place, although Jeff Harris's varied
lighting made some amends.
I wanted to love Adam Diegel's Cavaradossi as much as the rest of the
public seemed to, for his is an often thrilling pushed lyric sound with spinto
leanings. However, I confess I feared for him in a way that I feared for
Carrerras when I heard him do it — thrilling yes, but at his limit and,
it turned out, at his peril. Mr. Diegel has a troubling way of often clinging
hard to a forte sustained top note and releasing it with a slight catch that
veers just sharp of the pitch. I couldn't help but think he is just
getting through it…for now. "E Lucevan le Stelle" was
arguably his best moment all night, his soft singing heartfelt (albeit crooned)
and his final descending anguished portamento enthusiastically over-stated
enough to give Franco Corelli pause. But effective? You betcha.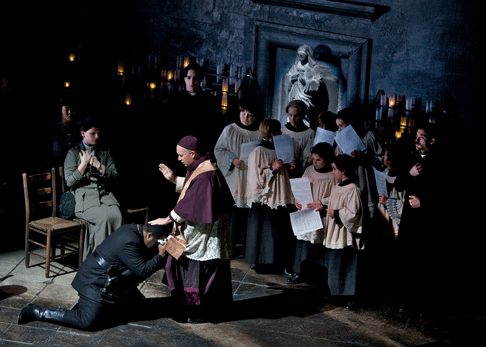 Lester Lynch as Scarpia and Glimmerglass Opera Chorus Member Paul Griswold in Tosca [Photo by Claire McAdams courtesy of Glimmerglass Opera]
It was booming baritone Lester Lynch who served notice that he is now in
consideration for admittance to the Scarpia Preferred Pantheon. Mr. Lynch sang
much of the night with exceptionally controlled suavity and mellifluous rolling
tone, but when he needed to pour it on he had the Puccinian fire power and the
dramatic heat to raise the hair on the back of your neck. And
'heat' was otherwise sorely missing from the night's
activities. Much of the blame must be placed on Ned Canty's generalized
direction. In a scenario where the action springs from jealousy, sexual
attraction, manipulation, and political intrigue, the characters too seldom
even looked at each other. As our hero and heroine sung much of their first
encounter straight out to the audience side by side or separated, they could as
easily have been Rodolfo and Mimi, so non-specific were their dramatic
intentions, so unremarkable the communication of their needs and opinions.
David Angus did not bring much more to the mix by way of support from the
pit, the orchestra sounding reduced in size and with a significant lack of
presence in the lower voices. The opening chords didn't thunder, the
unison horns at the top of Three sounded puny (and punky), and little refined
orchestral detail made it as far as my seat. You know who did fare very well
indeed? The Young American Artists! Again. Although they were appearing in
roles always played by seasoned older comprimarios, Robert Kerr was a splendid
Sacristan, Aaron Sorenson an orotund Angelotti, Zachary Nelson a solid
Sciarrone, and Dominick Rodriguez offered the best-sung Spoleto of my
experience. Xi Wang intoned the Shepherd with her lovely (if too womanly)
soprano.
James Sohre
Cast Lists
Tolomeo — Tolomeo: Anthony Roth Costanzo; Allessandro: Karin
Mushegain; Elisa: Julie Boulianne; Seleuce: JoÈlle Harvey; Araspe: Steven
LaBrie; Supernumeraries: Desmond V. Gialanella, Julian A. Gialanella, Jack
Loewenguth. Continuo, Baroque Cello: Ruth Berry. Theorbo and archlute: Michael
Leopold. Harpsichord: David Moody. Conductor: Christian Curnyn. Director: Chas
Rader-Shieber. Set Design: Donald Eastman. Costume Design: Andrea Hood.
Lighting Design: Robert Wierzel. Hair and Make-up: Anne Ford-Coates.
The Tender Land — Beth Moss: Rebecca Jo Loeb; Ma Moss:
Stephanie Foley Davis; Mr. Splinters: Chris Lysack; Laurie Moss: Lindsay
Russell; Top: Mark Diamond; Martin: Andrew Stenson; Grandpa Moss: Joseph
Barron; Mrs. Jenks: Jamilyn Manning-White; Mr. Jenks: Will Liverman. Conductor:
Stewart Robinson. Director: Tazewell Thompson. Set Design: Donald Eastman.
Costume Design: Andrea Hood. Lighting Design: Robert Wierzel. Hair &
Make-up: Anne Ford-Coates.
Tosca — Cesare Angelotti: Aaron Sorenson; Sacristan: Robert
Kerr; Mario Cavaradossi: Adam Diegel; Floria Tosca: Lise Lindstrom; Baron
Scarpia: Lester Lynch; Spoletta: Dominick Rodriguez; Sciarrone: Zachary Nelson;
Shepherd: Xi Wang; Jailer: Jonathon Lasch. Conductor: David Angus. Director:
Ned Canty. Set Design: Donald Eastman. Costume Design: Matthew Pachtman.
Lighting Design: Jeff Harris. Hair & Make-up: Anne Ford-Coates.

image=http://www.operatoday.com/Tolomeo-Press-CMcAdams-006.gif
image_description=JoÈlle Harvey as Seleuce [Photo by Claire McAdams/Glimmerglass Opera]
product=yes
product_title=Glimmerglass Rarities Out-Score Hall of Famer
product_by=
product_id=Above: JoÈlle Harvey as Seleuce (Tolomeo) [Photo by Claire McAdams courtesy of Glimmerglass Opera]