The program booklet credits include her various hair colors ("bright green later changed to a spectacular pink, sometimes radiant red"). Mme. Zandra, approximately 70 years of age according to the program booklet, was aided by British stage director Jo Davis whose credits include Chitty Chitty Bang Bang in the West End.

Marcello Giordani as Radames
These ladies are nothing if not clever. They dealt with Verdi's problematic three-ringer in a very business like fashion (among Mme. Rhodes listed credits is her successful retail outlet in fashionable Fulham Road). More often than not Verdi's delicate masterpiece is crushed by its own weight (six big singers working out a sordid political mess caused by some runaway passions and a great big military victory, the situation finally resolved by sheer fatigue — that of the lovers themselves and invariably of the audience too).
The fatigue factor was very nearly solved by mesdames Rhodes and Davis who kept things moving right along by a pyramid shape that expanded and contracted according to moods and situations (the shutters closed completely, finally, on the dying lovers). Sometimes one of the triangle of lovers was left alone on the apron against blank, dark scenery to tell us a few things in private, and once the stage was opened up totally in blank white in stark contrast to the bright greens, spectacular pinks and radiant reds of an unusually flamboyant, 1960's sensibility Egypt.
All this slick theatricality was unfettered by concept save the presence of the wrathful eye of Horus that oversaw much of the action and cleverly doubled as decoration too. The lower portion of Horus' priests were covered by wide gold lamÈ skirts leaving the priests naked from the waist up (and that was a sight to see), coiffed by the appropriate falcon headdress. The Ethiopians and particularly Aida's father Amonasro were spectacularly savage ‡ la American indian or maybe Australian aboriginal, comically light years away from tall, proud, black Ethiopians who might have seemed actually threatening.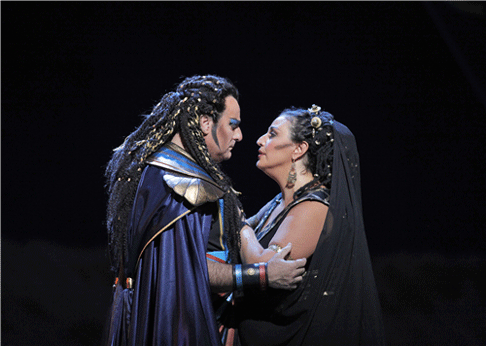 Marcello Giordani as Radames and Micaela Carosi as Aida
All this was overseen by San Francisco Opera's extraordinary music director, Nicola Luisotti who probably saw nothing of the above having maneuvered his singers out onto the stage apron where alone, in pairs, trios, etc., he vindicated the idea of the traditional Italian "numbers" opera and reinvented the idea of the "costume" opera (characters are identified by their costumes rather than by what they do). This positioning was ideal for Mo. Luisotti to commune with Verdi and with great big voices, and to create as much effect as possible. Suffice to say that the effect was in fact very nearly maximum, held back only by the fuzzy acoustic of the War Memorial Opera House.
So it was a great evening that teased critical sensibility, seamlessly morphing in and out of tongue-in-cheek caricature of spectacle opera to just plain big, thrilling opera like opera once was, or so we are told.

Dolora Zajick as Amneris
Diva Dolora Zajick spat and soared in fine voice as Amneris, upholding her by now very long held reputation as the Amneris of our day. She was in ideal concert with the big musical and vocal ideas of the maestro and perfectly at home in the costume opera concept (a big blue dress with a huge sphinx like headdress). Mme. Zajick in fact and against all odds almost succeeded in making Amneris a living, feeling character, this achievement the magic of a true artist.
Likewise tenor Marcello Giordani and soprano Micaela Carosi, the ill-fated lovers, held their own with the maestro, Mr. Giordani bravely donning a truly ridiculous, unflattering warrior skirt while traversing the tenorial tessitura with ease and stylistic aplomb. Mme. Carosi soared to some beautiful pianissimos in the upper-most soprano registers, often the undoing of lesser singers, and otherwise exploited all Italianate mannerisms with conviction. Neither Mme. Carosi nor Mr. Giordani approached the vulnerability or sympathy of their characters, leaving the stage to Mme. Zajick.

Marco Vratogna as Amonasro
Baritone Marco Vratogna was puzzling as Amonasro. In his peculiar way-over-the-top costume he was inherently silly, and he delivered his role in a complementary fashion. He proved himself an excellent artist last season as Iago, thus the question remains whether he was directed into this strange histrionic performance or if he came up with it himself. The King of Egypt and the priest Ramfis were well sung respectively by Christian Van Horn and Hao Jiang Tian and were less controversial.
No account of an Aida production can avoid the triumphal scene. It moved quickly thanks to Mo. Luisotti and the mesdames Rhodes and Davis. They went for pure circus, complete with acrobats, a family dancing act and even the de rigueur elephant, here a whimsical, gossamer blue concoction that crowned the wit and fun of these clever ladies. The usual hundreds of supernumeraries had been reduced to a mere thirty-three, and there were no cuts. The scene flew by.
Michael Milenski
Click here for a photo gallery and video excerpts.

image=http://www.operatoday.com/Carosi.gif
image_description=Micaela Carosi as Aida [Photo courtesy of San Francisco Opera]
product=yes
product_title=Giuseppe Verdi: Aida
product_by=Aida: Micaela Carosi; Amneris: Dolora Zajick; Radames: Marcello Giordani; Amonasro: Marco Vratogna; Ramfis: Hao Jiang Tian; The King of Egypt: Christian Van Horn; Priestess: Leah Crocetto; Messenger: David LomelÌ. Conductor: Nicola Luisotti. Director: Jo Davies. Production Designer: Zandra Rhodes. Lighting Designer: Christopher Maravich. Original Choreographer: Jonathan Lunn. Revival Choreographer: Lawrence Pech.
product_id=Above: Micaela Carosi as Aida
br/>All photos courtesy of San Francisco Opera