Puccini's Tosca has
everything: passionate love, consuming jealousy, undisguised lust, evil deceit,
even murder and suicide. Manitoba Opera's (MO) mostly Canadian cast rose
to the occasion, leaving the audience emotionally spent but invigorated.
Conductor Tyrone Paterson led the Winnipeg Symphony Orchestra from the pit
in Puccini's marvellously dramatic score that foreshadows much of the
onstage action. Vigorous playing and superb solo section work throughout
provided exactly the added finesse required, making this a first-rate
performance.
Veteran director Val Kuinka worked her magic with the help of an exemplary
cast. Wendy Nielsen as Tosca and Richard Margison as artist Cavaradossi outdid
themselves, portraying the tragic figures with realism and relish. Margison
hasn't lost a step as his extensive career continues. With a tenor voice
that's easy to listen to, he floated effortlessly to his upper range in
"Recondita armonia."
His wistful rendition of the celebrated aria "E lucevan le
stelle" in the final act almost broke our hearts, his powerful voice
aching with love for his adored Tosca. Totally convincing and touching,
Margison crafted this into a real tearjerker and the clarinet solo introducing
it was splendidly sensitive, enhancing our anticipation of this favourite.
Talk about art imitating life! Nielsen was outstanding as Tosca — a
great actress, putting her entire being into the demanding role of the opera
singer title character. With her lovely, refined soprano, she lent her full
vibrato and flexible style to the twists and turns of the plot, moving fluidly
from jealous lover to desperate murderess. In "Non la sospiri, la nostra
casetta," she showed a diaphanous lightness to her voice, barely
alighting on each note before flitting to the next.
Rich phrasing and fervent zeal highlighted her "Visse d'arte,
vissi d'amore," as she sang, collapsed on the floor, disconsolate
and despairing, beseeching God for deserting her despite her lifelong piety and
humanity. Nielsen is the consummate opera star, with a reliable, mature voice
that is completely satisfying. Powerful beyond belief, her dramatic cries of
pain reached right into the audience's hearts.
Wendy Nielsen as Tosca and Richard Margison as Cavaradossi [Photo by R. Tinker courtesy of Manitoba Opera]
Baritone GaÈtan LaperriËre returned to MO in the role of villainous chief of
police Baron Scarpia. Dressed to the nines in black with gold braiding and
trim, he looked every inch a self-indulgent scoundrel bent on getting his way.
Yet LaperriËre's first entry was soft – barely discernible. His "Va
Tosca!" was overly subtle, lacking power. And while his voice had
agreeable resonance and flow, one wanted him to boom a little more, and strike
fear into our hearts. LaperriËre's actions and words were suitably
despicable, but his delivery belied his villainy. Frequent wooden movements
were also questionable.
Peter Strummer's droll Sacristan, on the other hand, was completely
endearing. Announcing his arrival onstage with several healthy sneezes, he was
a natural in this comic role. His bass-baritone made "E sempre
lava!" a breath of fresh air before the drama to come. He has his
gestures down to an art and gave us the only laughs of the evening.
Supporting roles by David Watson (Angelotti/Sciarrone), Keith Klassen
(Spoletto) and Howard Rempel (jailer) were all solid and credible and Carson
Milberg was a sweet-voice shepherd boy offstage. Acoustics can be tricky with
offstage singing and it may be wise to station Milberg closer to the curtain to
ensure the audience can fully appreciate this musical lad's talents.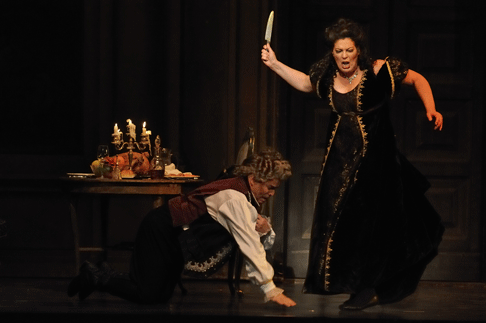 Wendy Nielsen as Tosca and GaÈtan LaperriËre as Scarpia [Photo by R. Tinker courtesy of Manitoba Opera]
The chorus is not especially busy in Tosca but certainly came
through well when called upon and costuming was truly impressive.
The three sets were amazingly ornate and detailed, transporting us easily to
19th century Rome, and but for some shaky spotlighting, Bill Williams lighting
was mood-setting splendour.

image=http://www.operatoday.com/Tosca_tall_ManitobaOpera.gif
image_description=Tosca poster [Manitoba Opera]
product=yes
product_title=Giacomo Puccini: Tosca
product_by=Scarpia: GaÈtan LaperriËre; Cavaradossi: Richard Margison; Tosca: Wendy Nielsen; Sacristan: Peter Strummer. Director: Valerie Kuinka. Conductor: Tyrone Paterson.
product_id=