From ENO's printed brochure this season it would appear that one director, Christopher Alden, helpfully worked out his Midsummer Night's Dream concept far enough in advance to enable ENO's marketing team to outline it in advance, in the hope of ensuring that the terminally conservative did not part with money they would later wish they hadn't. This Dream, we were told, would be transplanted to 'the hormonal hothouse of a 1960s school'.
I love seeing opera re-imagined well. Richard Jones's comprehensive rethink of Pagliacci for the same company a couple of years ago was a superlative example of the genre, with every detail worked into a comprehensive theatrical whole. Alden's school setting was a promising viewpoint, given Britten's preoccupation with the theme of innocence corrupted, his extensive writing for treble chorus and soloists, an undercurrent of power games and spite, and a plot involving young couples falling in and out of lust/love with one another. And such is the eerie charm of the music that it should be robust enough to survive removal from anything remotely resembling an enchanted wood. In intelligent hands, it really ought to work.
Alden's vision is that of a man attempting to exorcise childhood demons. The shadows of his past unfold with clarity: a schoolmaster once exerted a hold over him to the point that he became emotionally dependent on that relationship. Cast aside at puberty in favour of a younger and fresher favourite, the rejected victim reached adulthood mired in confusion. Now, on the eve of his wedding, these events flash through his mind in a dream as he attempts to make sense of their legacy. In the midst of a company of almost zombified fellow pupils, he imagines himself as an adolescent Puck (Jamie Manton), rejected by Latin-master Oberon in favour of the Indian Boy but unable to escape his power.
So far, so conceptually complete, and the power with which dark thoughts can haunt the subconscious was vividly portrayed from the moment one entered the auditorium, as there was no curtain and the dark grey school-exterior set was oppressively huge (full stage height, and wide enough to breach the proscenium at one side). The malevolent undercurrent of much of the music was brilliantly brought into focus. And herein lay one of the staging's massive problems — it concentrated on the opera's dark recesses at the expense of every other plot strand, and it became difficult to recognise as A Midsummer Night's Dream.
Tytania, here the music-mistress, was complicit in Oberon's abuse of power, but why? The best analogy I can think of is a 'Turn of the Screw' in which there had never been any sexual thrall exerted by Quint over Miss Jessel. This Tytania was robotic in her movements and almost sexless, an idea which works in the context of the production (the unconscious thoughts of a man whose first sexual experiences were homosexual, now being involved with a woman and not quite knowing how to relate to her) but goes quite against the strong and voluptuous melismatic vocal lines of Britten's writing for her. For Bottom she took her blouse off at least, but it remained a curiously asexual seduction.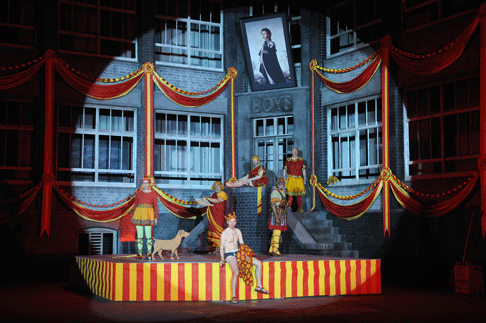 Scene from A Midsummer Night's Dream
Bottom, too, removed his shirt when 'translated' — the choreography during those few moments suggested that he was turning into a powerful, sexually voracious animal — but there was no further visual suggestion that he had been transformed into an object of ridicule (at 64, Willard White remains a fine figure of a man) never mind an ass. What a waste of all the donkey-jokes in both the text and the music. It was moments like this that brought home the arrogance of a production which assumes that its audience will be familiar with the piece, or at least its source, in advance; it must have been baffling to the first-time viewer.
The other massive issue I had was the lazy assumption that practical non-sequiturs — for example the presence of two girls (Helena and Hermia) in a school otherwise populated entirely by boys — could be explained away by it all being a dream. Later, the dreamer turned out to be Theseus (on the eve of his marriage to Hippolyta) and it thus became perfectly credible that friends he was due to see the next day might pop up abstractly in his dream alongside its main plotline, but this revelation wasn't really made until Act 3, by which time a number of audience members had already given up and left. In both the opera and Shakespeare's original, the three strands of the cast — fairies, Athenians and rustics — are a balanced, structural feature, keeping the action fresh by alternating the groups scene by scene, while exploring the dramatic possibilities of members of different groups coming into contact with one another. Here, the sole theme was Theseus's projection of his own thoughts into the 'fairy' world, with the four lovers a sideline and the rustics an afterthought. The lovers and rustics were thus neglected directorially, the former lacking the opportunity for passion (in both the loving and argumentative sense) and the latter for light relief and comedy.

Willard White as Bottom and Anna Christy as Tytania
All of which brings me to the performers. It's unfortunate when a principal is sick, especially on the opening night, and on this occasion it was Iestyn Davies who had to mime (owing to his understudy also being indisposed) to the voice of the saturnine William Towers, star of the Royal Opera/Linbury Studio Theatre production a couple of years ago, singing from one of the boxes. I trust Davies will be back to vocal health soon, but he could barely have had a more accomplished stand-in than Towers. Anna Christy's sharply focused coloratura can be rather colourless but was thus ideal for the staging's unalluring portrayal of Tytania. The four lovers — Kate Valentine, Tamara Gura, Allan Clayton and Benedict Nelson — were well-matched and would have been believable if only the production had allowed them to be.
Heading up the mechanicals, as I previously mentioned, was Willard White, a Bottom of great vocal beauty but absolutely no comic instinct. While it was gratifying to see the play-rehearsal scenes played straight rather than as unfunny and caricatured farce, the play itself was presented as shambolic and overtly lewd am-dram played for the odd belly-laugh (a drunken Snout, Peter van Hulle, swearing at his audience when invited to 'curse again'). I longed for the comedy to be allowed to blossom for a few moments. We should not be, at this point, still inside the dream — even though very soon afterward, Alden has Puck reappearing among the players to reawaken Theseus's memories.
Leo Hussain's musical direction was to my mind faultless; instrumental lines emerged crisply from the texture when required, and tension always remained high. The boys' chorus had clearly been directed to sing with a weighty, forward-projected sound and crisp diction; it was a powerful and sinister effect, and frankly put the adults to shame because most of the diction elsewhere was poor. The episode when the fairies entertain Bottom with nursery-tunes played on pipes and drums was malevolent and terrifying.
All in all, I found it musically brilliant and dramatically deeply frustrating. With two entire acts of the drama developed through the mind of one single dreamer, there were very few characters who were allowed to be important or interesting or to behave like human beings towards one another. Shakespeare's text and Britten's music are laden with disturbing themes ripe for exploration, but I wished with all my heart that Alden had not lost sight of the fact that they are also full of tenderness, wit, and beauty.
Ruth Elleson © 2011

image=http://www.operatoday.com/ENO-MND-03.gif
image_description=Iestyn Davies as Oberon and Anna Christy as Tytania [Photo by Alastair Muir courtesy of English National Opera]
product=yes
product_title=Benjamin Britten: A Midsummer Night's Dream
product_by=Oberon: Iestyn Davies (sung by William Towers due to Davies's indisposition); Tytania: Anna Christy; Theseus: Paul Whelan; Puck: Jamie Manton; Hippolyta: Catherine Young; Lysander: Allan Clayton; Demetrius: Benedict Nelson; Hermia: Tamara Gura; Helena: Kate Valentine; Bottom: Willard White; Quince: Jonathan Veira; Flute: Michael Colvin; Snug: Graham Danby; Snout: Peter van Hulle; Starveling: Simon Butteriss. Orchestra of the English National Opera. Conductor: Leo Hussain. Director: Christopher Alden. Set designer: Charles Edwards. Costume designer: Sue Wilmington. Lighting designer: Adam Silverman. Staff Directors: Elaine Tyler Hall, Rob Kearley. English National Opera, London Coliseum, May 2011.
product_id=Above: Iestyn Davies as Oberon and Anna Christy as Tytania
All photos by Alastair Muir courtesy of English National Opera