Omnipresent at last weekend's musical and (casually) glam social offerings, Ms. Zambello was busy networking, building bridges, and charming sponsors and subscribers alike with a personal touch, an upbeat message and an infectious enthusiasm for her new job as General Director. Whether attending one (or all) of the opera performances, taking in a celebrity concert with the likes of Nathan Gunn or Deborah Voigt, or checking out a cabaret event or lecture with composers John Musto or Jeanine Tesori, one fact was clear — this new attitude and one-on-one promotion has put noticeably more happy patrons in the seats. But all that would be for naught if the shows were not good, and for the most part, Glimmerglass happily delivered with creative productions and high musical quality.
Anne Bogart is one of the country's pre-eminent directors, and her take on Carmen coupled some inventive effects with a relatively traditional staging framed by an intriguing physical production. James Schuette has devised a multi-purpose box of a set design that makes no pretense at realism with the theatre's back wall and rigging at all times visible. The piece opens with the cast assembling ad libitum in a waiting room with multiple doors in…where? The barracks? The station? No matter. Clearly these varied personages are going to enact a story for us, and in a trice, the room is transformed into the town square. With addition of tables and chairs, and a simple muslin drop that halves the stage, it becomes Lillas Pastia's tavern. The upstage walls split and strike completely to become the mountain pass, oil drums providing a glow of fire, and mounded furniture suggesting rocks.
By the time the walls are restored for Act Four, we are back to the same visual as the opening. In a chilling visual coup, while the revelers are singing the praises of the bullfighting entourage, Don Jose appeared menacingly outside one of the open doors, slowly closing it. This was repeated in the three remaining single doors as the crowds dispersed, until finally he came through the double doors up center and oh-so-slowly pulled them closed, trapping his prey within the now-enclosed room. Masterful imagery from designer and director.
Ginger Costa-Jackson as Carmen and Adam Diegel as Don JosÈ in Carmen [Photo by Julieta Cervantes]
Ms. Bogart's crowd management was particularly impressive, nowhere more so than in the last act's parade in which she devised some incredibly varied focal changes simply by having the entire cast jump into a new position and alter our plane of reference. The clever fight choreography for Jose and Escamillo was, for once, exciting and acrobatic, complete with backward somersaults (Domingo never did that!). Alas, in spite of the presence of four experienced dancers, Barney O'Hanlon's simplistic choreographed moves never quite caught fire.
Mr. Schuette also provided an array of appropriate 1920's era costumes. Military uniforms, factory work dresses, period street wear, all were beautifully realized. Escamillo's sparkling matador garb and Carmen's dazzling wine-colored gown were especially noteworthy. Only Escamillo's entrance costume seemed less well considered, its black cape and wide-brimmed hat looking more apt for a Fado singer than a celebrity bullfighter.
Ginger Costa-Jackson already delivers star power and a very well-sung Carmen. With careful development I could see her becoming the world's gypsy-of-choice in short order. Physically, she is slim, beautiful, and muy caliente. Her dark-toned mezzo is able to suggests a sexy huskiness in the low range all the while retaining a cleanly focused placement, witness her ringing, zinging top notes. She is already skilled at using her sound technique to negotiate all the perils of Bizet's varied demands. And Ms. C-J has been able to invest each line she sings with an inner dramatic life. Even that over-familiar "Habanera" is freshly treated to a personalized dramatic journey. I did wish she would swing her hips and spread her legs somewhat less. And perhaps she shouldn't flop quite so easily onto a waiting chair like a bored Valley Girl. Nevertheless, Ginger has not only offered a true crowd-pleasing star turn with her Carmen, but has raised expectations of a very bright future.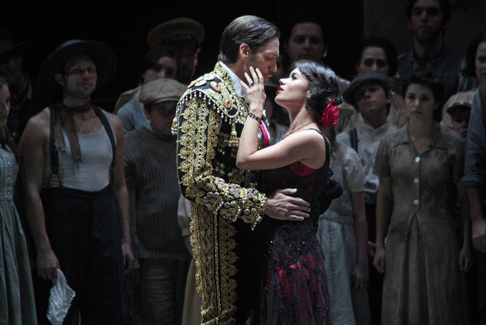 Michael Todd Simpson as Escamillo and Ginger Costa-Jackson as Carmen in Carmen [Photo by Julieta Cervantes]
On the audience approval meter, she was matched by her Don Jose, Adam Diegel, who seems to have grown substantially as an artist since last summer's Cavaradossi. While I still worry for Mr. Diegel's long term vocal health when he pushes volume more than needed (and 'just' at his limit), there is no doubting that his best impassioned spinto moments are about as exciting as they come. Some of this polish as a performer likely came from Ms. Bogart's direction, for here he seemed to have a good understanding of not only the arc of this character, but also the internal meaning of Jose's dramatic mile posts. He served the score well with many wonderfully turned phrases, however, after almost cracking on a penultimate phrase, we held our collective breath to see whether he could manage the final outburst. (He did, and he nailed it.) I would only encourage Adam to take care to keep his vocalizing always just within his considerable means.
Anya Matanovi? was a delectable Micaela, with a throbbing, slightly steely lyric soprano that conveyed more starchy resolve than is often encountered with this simple character. Michael Todd Simpson worked effectively as Escamillo and certainly commanded our attention as the tallest person on stage, but I thought that the role was a half step too high for his pleasant, straight-forward bass. He got all climactic 'F's' to be sure, but they never quite turned over. Lindsay Russell was a genuine treat with her vibrantly sung Frasquita, and she was paired well by Cynthia Hanna's direct, solid mezzo as Mercedes. The breathless smugglers' quintet was made all the more enjoyable by the addition of Alex Lawrence's virile baritone (Dancairo) and Juan JosÈ de LeÛn's well-schooled tenor (Remendado). Wes Mason offered a more individualized Morales than usual, showing off a resonant, mature lyric baritone. Aaron Sorenson put his dark-voiced instrument to good use as a moody Zuniga.
David Angus conducted with a spontaneity and vitality that belied the fact that this is one of the most well-known (and over-exposed works in the repertoire. His orchestra and cast responded in kind, as if discovering Bizet's masterpiece for the first time. Maestro Angus brought equal enthusiasm and expertise to one of the world's newest operas, Later the Same Evening by composer John Musto and librettist Mark Campbell.
Campbell's witty text is fabricated from imagined character relationships based on personages featured in five well-known Edward Hopper paintings. Designer Erhard Rom has devised an elegant, silvery setting with a large window frame in a stage right wall (sort of a false proscenium); five rotating upstage panels (each hung with one of the painting reproductions); with the whole backed by a pleated silver drape. As part of Mark McCullough's inspired lighting design, each framed oil is individually lit as its "story" comes to life in the stage action. David O. Roberts' elegant costumes mirrored Hopper's images. In a short piece that introduces many characters in rapid succession and links them together, director Leon Major did yeoman's work in presenting clear impressions and clarifying the inter-relationships.
Kyle Albertson as Gus O'Neill and Andrea Arias Martin as Elaine O'Neill in Later the Same Evening [Photo by Julieta Cervantes]
Set in Hopper's New York, Elaine (Andrea Arias Martin) and Gus O'Neill (Kyle Albertson) are a couple whose marriage is in trouble. Ms. Martin's full-voiced portrayal sometimes gets a little tremulous at forte, but as she gamely plays out tunes on the (air) piano in an attempt to quell her loneliness, she creates a sympathetic figure. Mr. Albertson's baritone seems a little colorless but perhaps it is merely to evoke the wearied Gus, who heads to an assignation at a bar after he begs off going to the theatre with his wife. In overlapping imagery, veteran soprano Patricia Schuman, in well-controlled voice, has emulated another painting by taking her place on the opposite side of the stage as she gazes out the window and awaits her escort. Concurrently, Lauren Snouffer knocks our socks off with a smashing lyric display in her mini-drama as a failed Broadway dancer Ruth Baldwin. Ruth is retreating back to Indianapolis, leaving a note in vain hope that her boyfriend will follow. Ms. Snouffer, just in her early twenties, is an exciting talent whose star is sure to rise as high as the stratospheric heights of her arioso outpourings. World traveler Ronaldo Cabral, portrayed by the reliable Jake Gardner, joins Ms. Ogelthorpe to accompany her to the theatre. Gardner delights with his seasoned baritone, stage acumen, and European accent.
As several characters assemble at the 'theatre' to partake of a mindless musical entertainment, they are joined by the remaining cast members:
Bickering, co-dependent married couple Sheldon and Rose Segal (Neal Ferreira and Andrea Carroll fine as the opera's least well drawn caricatures); Thelma Yablonski, the stressed usher who ends up having a more interesting background than we expected (nicely impersonated by Carin Gilfry with her pure soprano); Valentina Scarcella, the iconic Hopper lady in the box seat (Lacy Sauter, making a good impression in a short but complex role); Joe Harland, the boyfriend stood up at the theater by the Indiana-bound dancer (John Boehr, his smooth singing eliciting enormous sympathy); and best of all, Jimmy O'Keefe, the beneficiary of Elaine's husband's unused ticket. As this fey, star-struck Broadway novice, Andrew Stenson sang Jimmy with an unerring, clear tenor and was delightfully infectious as he animatedly reacted to the 'show' they were collectively watching.
Andrew Stenson (right) as Jimmy O'Keefe with members of the cast in Later the Same Evening [Photo by Julieta Cervantes]
Musically, the piece owes more than a passing debt to the musical vocabulary of Phillip Glass, or perhaps more accurately to the hybrid Broadway-Classical sensibilities of Stephen Sondheim. There are echoes of the Pointillism theme from Sunday in the Park. . . as well as the uncanny ability to blend angular vocal lines with sudden lyricism. Mr. Musto successfully creates individual vocal identities for the principals by blending modern classical sound with jazz, Broadway, and even quasi-urban riffs to provide a pleasingly accessible score. Dramatically, I was longing for more of a tidy-up by the close that united the disparate stories as the puzzle pieces converged in some final surging revelation. Still, this was a cleverly constructed, beautifully performed new work that deserves further stagings. It would seem to be a natural for University opera workshops with its diverse casting opportunities.
On this occasion, it was paired with another interesting new short piece, A Blizzard at Marblehead Neck by composer Jeanine Tesori and librettist Anthony Kushner. Based on the known real-life conflicts between playwright Eugene O'Neill and his wife Carlotta, this piece imagines the argument that compelled O'Neill to flee his house and nearly perish as he got lost on a snowy night. Mr. Kushner has crafted a taut, yet rich confrontation and a poetic denouement.
Ms. Tesori has largely a Broadway pedigree and her work here most recalls her through-composed musical, Caroline, or Change. But while Caroline did not seem to light on any satisfying tunes often enough or long enough, Blizzard is another matter. Here Jeanine not only uses popular song, but also writes personalized roles for her two adversaries, incorporating not only crackling prose exchanges but also aching, arching poetic lines of substantial beauty. The great monologue for O'Neill (superbly sing by the flawless baritone David Pittsinger) was wonderfully varied, by turns demonstrative and introspective, chock full of diverse colors like the haunting ukulele chords that recurred when he sang of a tropical island.
L to R: Stephanie Foley Davis as Mary McCarthy and Patricia Schuman as Carlotta Monterey in A Blizzard On Marblehead Neck [Photo by William Brown]
There was nothing wrong with the firebrand bitchery Tesori created for Carlotta, merely that it seemed written for the arsenal of a full voiced ranter like Lauren Flanigan rather than the gentler gifts of Patricia Schuman, who, it has to be said, hurled herself fearlessly into the part But Ms. Schuman too often lost the volume battle with baritone and band, and the words of her rapid patter were usually only discernible by reading the surtitles. In the small roles of the offending critics, Carin Gilfry (Louis Kronenberger), Aleksey Bogdanov (Bernard DeVoto) and especially Stephanie Foley Davis (Mary McCarthy) sang persuasively and blended well. The accomplished Lindsay Russell was haunting in her brief appearance as a mysterious Young Woman who appears to O'Neill in his moment of peril; and Jeffrey Gwaltney (Officer Christopher Snow) did everything needed to successfully tie everything up in the opera's chatty final scene.
Francesca Zambello staged the piece with skillful economy within Mr. Rom's surreal, evocative, snow-bound revolving house, with its one side an austere stylized grey/white winter landscape, the other a claustrophobic, icy interior in which the warring duet seemed fatally trapped. When the diaphanous curtain obscured the house to cut off O'Neill from reality, Mr. McCullough's icy lighting effects made the magic complete, especially as a giant moon (for the Misbegotten?) descended from the flies. A Blizzard at Marblehead Neck deserves many more hearings in major houses. The rapt audience rewarded both new operas with a most enthusiastic reception.
Cherubini's Medea is celebrated more by discerning aficionados than the subscriber base, and at that, more for a passing (or intense) acquaintance with Maria Callas"s recording than any live performance. I recall Maralin Niska as being quite fine in the New York City Opera mounting in the Seventies but since then…? Glimmerglass is to be commended for not only affording its public the opportunity to experience this rarity, but also for locating a suitable soprano willing to tackle the title role's rigorous challenges.
Alexandra Deshorties as Medea with the Argonauts in Cherubini's Medea [Photo by Julieta Cervantes]
First, Joe Vanek's startling, solid architectural sets and characterful, colorful costumes were arguably the design achievement of the festival. Using a snake pattern as the unifying motif, here was an exceptionally detailed and dramatically inspired visual accomplishment. Everyone looked exactly like who they should be, and in the case of Medea, her shifting emotional state (not to mention sanity) was reflected with a series of well-considered attire. Perhaps her final Esther Williams peek-a-boo swimsuit and beach cape look was a bit over the top, but it did allow her to be copiously bloodied for the child killer's final, unhinged moments. Robert Wierzel finished it all off with a complex lighting plot that had a prominent sun projection on the cyc as its defining statement. At times diffuse, then sharply focused; colored golden, then white-hot, this was a highly effective dramatic device. At opera's end, when the blood red orb was eclipsed by the black moon, the effect was dazzling. As in all five festival operas, Anne Ford-Coates proved herself a company treasure for her exemplary make-up and wigs.
Alexandra Deshorties has the myriad vocal skills to succeed as Cherubini's titular soprano, including scorching high notes, good stamina, and an even production to include a rather meaty chest voice. She also has evident intellect and fine musical instincts, although she sometimes muttered softer phrasings with a result that suggested 'marking.' What this conscientious artist does not yet have is sufficient natural dramatic stature, and a well enough stocked catalogue of stage business that can fill out the lengthy stage time and volatile moods of this spurned nut-job. That is partly the fault of her director Michael Barker-Craven, who has not collaborated thoroughly enough with his star to devise a meaningful scenario for her, especially when left on stage virtually alone for the last third of the opera. Too, Ms. Deshorties' sensibilities seemed more 'contemporary Wiccan' than 'legendary sorceress.' At one point, she actually did a gesture straight to the audience of "Well…du-uh…" which got (hopefully unintentional) laughter as her rival was writhing her way to an excruciating death. Her finest moments came at the start of the second half, when her many gifts suddenly coalesced, her focus was unwavering, her voice was freed of careful couching, and she took the stage like an unbridled tigress. If she could apply this freedom to the rest of the part, Alexandra Deshorties could become an even greater force to be reckoned with in this Everest of a role.
Mr. Barker-Craven showed more success moving the rest of the cast around the stage, with decently motivated blocking, and clean traffic patterns for the choral forces. I wanted to like Jeffrey Gwaltney's Jason as much as the rest of the audience seemed to, but as in Blizzard, I found his tenor curiously unsteady in the upper middle register. Lower reaches were secure enough, and the top was loudly reliable (if bit pushed). Overall the voice lacked brightness in the tone which sounded placed well back from the mask. Although young Mr. Gwaltney's engaging presence and natural instrument are currently pleasing his fans, I wonder if grounding his technique a bit more on the speaking voice might not have even better long-term benefits.
Alexandra Deshorties in the title role of Cherubini's Medea [Photo by Julieta Cervantes]
David Pittsinger was once again sublime as the tortured Creon. But the show's most affecting performance was delivered by Sarah Larsen who, as Neris, touched our hearts with her deeply felt aria. Ms. Larsen has a plummy, ripe mezzo that rang out with secure, plangent tones. Jessica Stavros was full-voiced and straight-forward as the hapless Glauce, looking lovely and acting with sincerity. She did miss a bit of the vocal delicacy of the role, and did not provide as good a contrast with Medea as other lyric sopranos might (think Scotto and Lorengar). As the First and Second Handmaidens, Young Artists Meredith Lustig and Emily Lorini made fine impressions.
Conductor Daniele Rustioni commanded the proceedings with stylistic accuracy and unbridled enthusiasm for the work. From the first downbeat, the Maestro elicited dramatically committed playing and singing from his assembled forces. He worked as one with his soloists in crafting the best possible musical case for Cherubini's masterpiece.
Deborah Voigt as Annie Oakley in Annie Get Your Gun [Photo by Julieta Cervantes]
I must confess that when I first heard Glimmerglass was mounting a popular Irving Berlin musical starring a Wagnerian soprano, my first thought was "Annie, get your gun. . .and please shoot me." However, Deborah Voigt seems to be having the time of her life in the title role, landing all her jokes, and securely negotiating her way around the songs written in the chest register for the Queen of Belt, Ethel Merman. But the most oft overheard question among the intermission crowd was "why?" Why, indeed, when there are so many more appropriate interpreters? And how long will it take the invaluable Ms. Voigt to get Wagner back in her voice after months of singing in the cellar? Lord knows I love me some Debbie (she remains the most luminous Ariadne I will ever likely experience), but it if she was interested in a Glimmerglass star vehicle, why not, say, Die Aegyptische Helena? Just askin'.
Rod Gilfry looks handsome, sings oh-so-operatically, and is oddly detached as her love interest, Frank Butler. Oh, they banter collegially, but there is not an ounce of romantic chemistry between them. To no one's surprise, Broadway pros fare well. Drew Taylor brings musical comedy sparkle to Charlie Davenport and Klea Blackhurst is successfully channeling Dody Goodman with her spunky Dolly Tate. Jake Gardner is on hand to deliver the best sung Buffalo Bill of my experience, Nick Santa Maria got his laughs as Chief Sitting Bull, and Peter Macklin doubled as a suitably hysterical Foster Wilson and obnoxious Pawnee Bill. Annie's siblings were portrayed with skill and talent by Richard Pittsinger, Maria Pittsinger, Addy Schneider and Young Artist Lauren Snouffer.
Kristen Blodgette conducted with consummate Èlan. Court Watson has provided a marvel of a modular set design, all blues and oranges and featuring the kind of gorgeously painted drops you rarely see any more. Mr. Watson's clever mix of rolling crates, stairs, and specialty insets keeps the action moving fluidly. His colorful, apt costumes were a joy. Francesca Zambello has directed with a sure hand, the pace excellent, the stage space used creatively. The same cannot be said of Eric Sean Vogel's bland choreography. The Indian induction number was a half-hearted shadow screen affair; Frank's "Bad Bad Man," a clunking staged number; and "I Got the Sun in the Morning," an opportunity missed to really feature the sprightly Young Artists' chorus with a far more dynamic eleven o'clock number.
Rod Gilfry (center) as Frank Butler with members of the ensemble in Annie Get Your Gun [Photo by Julieta Cervantes]
Nathan Gunn, accompanied by his pianist wife Julie, generously gifted Glimmerglass with a benefit recital. Drawn partly from his cross-over CD and their subsequent Cafe Carlyle cabaret appearances, the program was long on American popular songs, beautifully prepared. However, when the duo ventured into Rorem songs, or the Bolcom cabaret set, the performance stopped merely 'singing' and virtually soared as the interpreters' awesome skill set was matched by the materials' greater demands. And, shades of Horne's heart-stopping "I Dream of Jeannie," when Nathan voiced an utterly simple, utterly apt, utterly breath-taking rendition of "Home on the Range," well, you knew you were at the right address.
All in all, a fresh direction and numerous significant artistic achievements have resulted in a Glimmerglass Festival at its considerable best, with much promise for upcoming seasons.
James Sohre
---
Carmen
Morales: Wes Mason; Micaela: Anya Matanovi?; Don Jose: Adam Diegel; Zuniga: Aaron Sorenson; Carmen: Ginger Costa-Jackson; Frasquita: Lindsay Russell; Mercedes: Cynthia Hanna; Escamillo: Michael Todd Simpson; El Dancairo: Alex Lawrence; El Remendado: Juan JosÈ de LeÛn; Lillas Pastia: Peter Macklin; A Guide: Neal Ferreira. Conductor: David Angus. Director: Anne Bogart. Sets and Costumes: James Schuette. Lighting: Robert Wierzel. Choreographer: Barney O'Hanlon. Hair and Make-up: Anne Ford-Coates.
Later the Same Evening
Elaine O'Neill: Andrea Arias Martin; Gus O'Neill: Kyle Albertson; Estelle Oglethorpe: Patricia Schuman; Ruth Baldwin: Lauren Snouffer; Ronaldo Cabral: Jake Gardner; Sheldon Segal: Neal Ferreira; Rose Segal: Andrea Carroll; Thelma Yablonski: Carin Gilfry; Jimmy O'Keefe: Andrew Stenson; Valentina Scarcella: Lacy Sauter; Joe Harland: John Boehr. Conductor: David Angus. Director: Leon Major. Sets: Erhard Rom. Costumes: David O. Roberts. Lighting: Mark McCullough. Hair and Make-up: Anne Ford-Coates.
A Blizzard on Marblehead Neck
Carlotta Monterey: Patricia Schuman; Eugene O'Neill: David Pittsinger; Three Critics: Louis Kronenberger (Carin Gilfry), Bernard DeVoto (Aleksey Bogdanov) and Mary McCarthy (Stephanie Foley Davis); A Young Woman: Lindsay Russell; Officer Christopher Snow: Jeffrey Gwaltney. Conductor: Jeanine Tesori. Director: Francesca Zambello. Sets: Erhard Rom. Costumes: Court Watson. Lighting: Mark McCullough. Hair and Make-up: Anne Ford-Coates.
Medea
First Handmaiden: Meredith Lustig; Second Handmaiden: Emily Lorini; Glauce: Jessica Stavros; Creon: David Pittsinger; Jason: Jeffrey Gwaltney; Captain of the Guard: Kyle Albertson; Medea: Alexandra Deshorties; Neris: Sarah Larsen; Children: Max Horvath, Mia Horvath. Conductor: Daniele Rustioni. Director: Michael Barker-Caven. Sets and Costumes: Joe Vanek. Lighting: Robert Wierzel. Hair and Make-up: Anne Ford-Coates.
Annie, Get Your Gun
Charlie Davenport: Drew Taylor; Dolly Tate: Klea Blackhurst; Mac: Wes Mason; Foster Wilson/Pawnee Bill: Peter Macklin; Frank Butler: Rodney Gilfrey; Annie Oakley: Deborah Voigt; Little Jake: Richard Pittsinger; Nellie: Maria Pittsinger; Jessie: Addy Schneider; Minnie: Lauren Snouffer; Buffalo Bill Cody: Jake Gardner; Chief Sitting Bull: Nick Santa Maria; Mrs. Sylvia Potter-Porter: Jessica Stavros. Conductor: Kristen Blodgette. Director: Francesca Zambello. Sets and Costumes: Court Watson. Lighting: Mark McCullough. Choreographer: Eric Sean Fogel. Hair and Make-up: Anne Ford-Coates.

image=http://www.operatoday.com/FrancescaZambello-CMcAdams-.gif
image_description=Francesca Zambello, Glimmerglass Festival Artistic & General Director [Photo by Claire McAdams/Glimmerglass Festival]
product=yes
product_title=The Glimmerglass Festival 2011
product_by=See body of review for production and cast information
product_id=Above: Francesca Zambello, Glimmerglass Festival Artistic & General Director [Photo by Claire McAdams/Glimmerglass Festival]