Noel Goodwin's observation is as topical today as it was
in the early 1990's: L'elisir shared the rank of sixth
most produced opera in 2010 according to records compiled by Opera
America; another resource that is gaining more credibility from opera
scholars, OperaBase, finds that Donizetti's bel canto comedy
placed 12th on the list of most performed operas in the world from 2005-2010.
In the recording (audio and video) annuls, L'elisir has a steady hold as
each new generation of star singers commits their artistry to posterity in the
work.
David Pereira
Note that Goodwin ascribes credit for L'elisir 's hold
in the repertoire to Romani's text. Felice Romani was a
librettist's librettist. He wrote nearly 100, collaborating most notably
with Bellini, Rossini, and Donizetti. L'elisir , with a musical
surface — from its melodies — best described as lightweight and a
base — from Donizetti's chords — best described as solemn,
will transmit its meanings best through words. Perhaps more than in any other
opera, the means of its exposition can confuse —
L'elisir's story is primed to be misunderstood. That said,
it's a good thing that Romani's text for L'elisir is
playful, sarcastic and worldly. And, it's a good thing that supertitles
are up and running at Colony Theater for Miami Lyric Opera.
Individual performances brought this L'elisir to life despite
listless stage action and sets (by Carlos Arditti) that did little, and indeed
this is often the case in this opera's productions, to lift la
commedia. Belcore probably just pulled the weeds he so sloppily shoved in
Adina's hands; she, taking one look at the dry shrubs and, with some
annoyance delivered her, "well, isn't he modest"; Nemorino,
packing a few extra pounds after his drinking binge, was a nicely engorged
fellow that seemed genuinely altered pitching the line, "I've had
plenty of this elixir"; the blueprints for laughter were sketched but the
whole performance was missing jocular bite in the theater.
On its own, Donizetti's music for L'elisir is peppered
with "shiny happy people" quality, but the feel of the music can
suggest a graver situation as it did on the night of August 13th, MLO's
second and final showing of L'elisir. It is not surprising that
the orchestra sounded as polished as it did given that MLO music director and
conductor Dr. Beverly Coulter was at the baton. A staunch promoter of and
regular fixture in the classical music scene in south Florida, maestra
Coulter is a musician's musician. Coulter is the head of an opera program
at a small university, having had the likes of soprano Elizabeth Caballero in
her studio. Soprano Coulter has a singing CV herself; for MLO, she will repeat
the lead in Marina (the Arrieta zarzuela) in a free
outdoor concert presented by the company in November.
David Pereira (Nemorino), Susana Diaz (Adina), and Belcore (Daniel Snodgrass)
Coulter's approach leans toward the technical, and she keeps a close
watch over the stage; L'elisir's many ensembles were
models in keeping time with singers. The volume produced from instrumentalists
was heavy (so much so that crescendos were hard to come by), the orchestral
mechanics were tight. The playing included lustrous solo flute (Robert
Billington) and harp (Ana Maria Bolivar) playing in the overture. Secco
recitatives came from an electronic harpsichord behind the stage.
One factor that helped this evening was the chemistry that built up between
principals Susana Diaz (Adina) and David Pereira (Nemorino). Diaz the distant
"realist," Pereira the defocused naÔve — they became more
involved, more comfortable, and by the end of the first act their teaming
turned pleasing. In Adina, Romani created a wily fox. Though easier sung than
portrayed, Daiz managed a bit of that in scoffing at Nemorino's one-woman
ways, "try my way, change lovers every day." Program posters like
the exotic good looks that Diaz has and, on the vocal front, she displayed
control up to and over high C in a sweet "Prendi, per me sei libero."
Pereira began the night with a shaky "Quanto Ë bella, quanto Ë cara." Before long
though, the light lyric tenor's timbre warmed and his singing was more
secure, although pinched acuti hung about. Lighting specialist Kevin Roman put a spotlight on Pereira to an otherwise darkened stage for "Una furtiva lagrima;"
the tenor was hesitant through the first few bars, then getting a hold of the familiar aria, gave it with personal touch.
Belcore (Daniel Snodgrass and Adina (Susana Diaz)
MLO sported a good singing Belcore and a strong singing-actor as Dulcamara
— done spiritedly, either of these roles can easily run away with this
show because of the rhyming verse that Romani supplies them. "A woman is
a creature who defies understanding," bemoaned Daniel Snodgrass, whose
sound might be confused for a tenor's. Not a problem for Belcore, whose
music Snodgrass sings with strict passage work. Snodgrass gets much work in
this area and has been with MLO since its first season. Of all the performers
this evening, Oscar Martinez (Dulcamara) appeared to enjoy himself most. His
knowledge of the role, and with the buffo aesthetic, is firm. Gianetta sets the
tone early in this opera with her words, "what's so funny?" A
past MLO contributor, Daisy Su as Gianetta — Adina's close friend
— did well in her moments at center stage.
Another strength of this L'elisir was the MLO chorus —
they sang clearly and strongly and took advantage of their conspicuous presence
in the Donizetti opera. Entranced with Adina, they sang out Romani's
Italian for, "let us hear what you are reading." Congratulations
chorus master Pablo Hernandez.
A recent high school graduate with operatic aspirations, Jesus Gonzalez came
off as a parody of the notary — the costume (by Pamela De Vercelly), and
moustache, hung over Gonzalez a few sizes large. Chorus member Jared Peroune
was an high-spirited fez-wearing spotter for Dulcamara.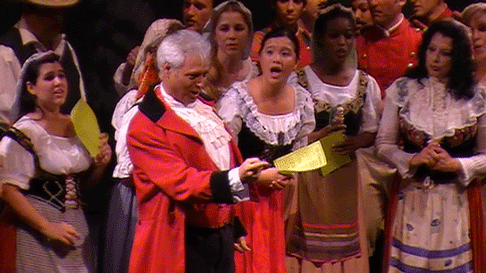 Dulcamara (Oscar Martinez)
If Donizetti's part in L'elisir leaves listeners
puzzled vis a vis the point of the story, Romani's libretto activates the
morals to be extracted. That charlatano, that slippery-wise Dulcamara
brings you a big one: "It is risky business to try to buy or sell
love."
Robert Carreras

image=http://www.operatoday.com/SusanaDiazPublicityColor.gif
image_description=Susana Diaz [Photo courtesy of Daroca Artists International]
product=yes
product_title=Gaetano Donizetti: L'elisir d'amore
product_by=Adina: Jessica Slatkoff Arteaga / Susana Diaz; Nemorino: David Pereira; Dulcamara: Oscar Martinez; Belcore: Daniel Snodgrass; Gianetta: Rebekah Diaz / Daisy Su; Notaro: Jesus Gonzalez. Miami Lyric Opera. Conductor: Beverly Coulter. Director: Raffaele Cardone. Chorus Master: Pablo Hernandez.
product_id=Above: Susana Diaz [Photo courtesy of Daroca Artists International]
All other photos courtesy of Miami Lyric Opera