The lovely Ekaterina Siurina can always be counted upon to sing sublimely and act meaningfully, but on this occasion she raised the bar past even her own high standard. Ms. Siurina embodied Giulietta with complete immersion in the heroine's emotional state. There was nary a false move nor a wasted gesture, and the soprano managed a fully-rounded traversal of the heroine that was one moment stunningly economical, and the next extravagantly abandoned.
What a joy that her singing is not only faultlessly produced, but seems to emanate from the very soul of the doomed girl. Her shimmering, secure soprano is ample enough to fill the house at all volumes and throughout the extensive range of Bellini's demands. Within the scope of her lyric instrument, Ekaterina skillfully suggests an amazing palette of vocal colors, witness the hollow, despairing reading of her opening phrases that inform the character's mental state, and portend her eventual fate. Her meticulously sung, completely rendered theatrical portrayal had all the elements of Sills at her finest (and her slimmest!).
Miss S. had a worthy partner indeed in the Romeo of Vesselina Kasarova, arguably the starriest name in the cast. The Bulgarian mezzo has all the assets to triumph in the part: a heldentenorial timbre in the chest voice, a well-knitted passage into the lower middle, searing top notes, and an often jaw-dropping way with the fiendish fioriture. Ms. Kasarova is also blessed with a distinctive, dark vocal presence that is uniquely her own, making her uncommonly well suited to trouser roles.
Too, she has an unaffected swagger and such a fierce commitment that her confrontational moments suggested a lion about to claim its lunch. That said, this seasoned artist seemed to begin the evening a little off form. Her opening aria was punctuated by uncharacteristic gulps and glottal attacks, and the cabaletta was a bit hysterical and mannered (she firmly slowed the pace down with her first phrase). Thereafter, however, this house favorite settled into a riveting, and heartfelt impersonation, perhaps spurred on by her sublime Giulietta. Their extended duet passage work in thirds was breath-taking, their dissimilar vocal production providing a delectable musical texture.
Young tenor Dimitri Pittas's straight-forward, solidly vocalized Tebaldo demonstrated just why his star is rising. The substantial, straight forward tone has good squillo and an engaging aural presence. Mr. Pittas also has some of the sweetest tones to be experienced at the top of the staff, and he bends and shapes phrases with tenderness and musicality. He decisively delivers robust outbursts in the upper voice although at the very fullest throttle, the warm tone loses a little of its pleasant spin. The high profile duet with Romeo fairly crackled with intensity, and staked its claim as one of the evening's high points.
Carlo Cigni offered an unusually youthful Lorenzo, so persuasively served by his rolling, well-modulated bass-baritone that the role seemed larger than it was. Very impressive singing. Rounding out the principals, Ante Jerkunica deployed his soft-grained bass to fine effect as the paternally misguided Capellio.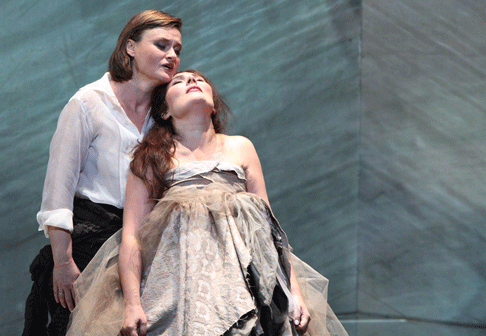 Vesselina Kasarova as Romeo and Ekaterina Siurina as Giulietta [Photo: Wilfried Hˆsl / Bayerische Staatsoper]
The captivating staging and design was anything but slavishly representational, opting rather to created a spiritual and emotional environment in which the performers played out the intent of a story we know by heart. Instead of being confusing, it was almost wholly intriguing. Set designer Vincent Lemaire has devised a singer friendly box of sorts, with Batik-like patterns that had the curious ability to be soothing or disturbing. This was partly owing to Guido Levi's ambitious multi-colored lighting design which was long on imagination, but short on subtlety with the many abrupt cross fades. I might urge Mr. Levi to smooth out the edges a bit.
Mr. Lemaire, however, has created some highly charged images suggesting escape, emotional instability, and inevitably fatal choices. From the rows of saddles and stirrups hanging ominously over the courtiers in the opening scene, to the floating sculpture of two lovers suspended in flight in Juliet's chamber, to the eternal staircase at the party that rises from the bowels of the basement and is framed like a giant painting, these were dramatically powerful visual statements.
Legendary Christian Lecroix has greatly advanced the production concept with his lavish, character specific, intentionally anachronistic costumes. The men's chorus sports Dickensian stove-pipe hats and frock coats; Giulietta is dressed in designer white undies, a teddy-ish creation with short puffy culottes, not unlike like those paper lamb cutlet dress-ups at finer restaurants. Thus semi-clothed, she desperately clutches to her torso, then drops, then retrieves a gorgeous diaphanous dress-up gown, thereby symbolizing her ambivalence to duty, gender roles, and obedience. The women's party dresses were a riotously colored mix of Carnevale inspirations.
Director Vincent Broussard has drawn highly charged performances from his principals. The blocking is decidedly moody, frequently menacing, yet when required, effusively romantic. Perhaps he repeats certain devices once too often, like having a troubled character face the wall as though in a Time Out Room, or having two singers stalk each other in wide circles. But other images pay off handsomely, like having Giulietta gingerly walk the huge picture frame like a balance beam during her extended party scene address, or having the poison/potion takers merely mime swallowing a handful of pills. Where did they come from? Who knows? Who cares? It was truthful and it worked. A little more attention might be paid to crowd management in the choral scenes, as the grouping and re-grouping in trite choral line-ups lacked variety. But all in all, this was a director not only true to his staging ideas, but also true to the spirit of Bellini's musical drama.
In the pit, Yves Able wrung a highly detailed, taut, impulsive reading of a score that can sometimes come off as preciously 'sensitive.' Not only did Maestro Able inject a wonderful rhythmic propulsion that buoyed the entire proceeding, but he also provided appropriate elasticity that supported the sensitive phrasing and nuanced delivery from the soloists. There was also remarkably fine solo playing, most especially from the principal horn and the clarinet, both of whom gifted us with awesome technique, dramatic fire, and distinctive musical personality.
That this collective team of top professionals collaborated to give us a tremendously realized I Capuleti e i Montecchi was evidenced by the sustained, vociferous approval at evening's end. The rowdy festival crowd called the cast back for curtain call after curtain call after curtain call. A most fitting end to celebrate a richly rewarding experience.
James Sohre

image=http://www.operatoday.com/Capuleti_Kasarova_Siurina_1.gif
image_description=Vesselina Kasarova as Romeo and Ekaterina Siurina as Giulietta [Photo: Wilfried Hˆsl / Bayerische Staatsoper]
product=yes
product_title=Vincenzo Bellini: I Capuleti e i Montecchi.
product_by=Romeo: Vesselina Kasarova; Giulietta: Ekaterina Siurina; Tebaldo: Dimitri Pittas; Capellio: Ante Jerkunica; Lorenzo: Carlo Cigni. Conductor: Yves Able. Director: Vincent Broussard. Set Design: Vincent Lemaire. Costume Design: Christian Lacroix. Lighting Design: Guido Levi. Chorus Master: Sˆren Eckhoff.
product_id=Above: Vesselina Kasarova as Romeo and Ekaterina Siurina as Giulietta [Photo: Wilfried Hˆsl / Bayerische Staatsoper]