They have accomplished this first and foremost by assembling a cast of
superlative singers, with pride of place going to the intriguing Kundry as
impersonated by Dubravka äeparovi? Muöovi?. She is an artist of great
imagination and infinite variety. In Act One, she is a displaced street person,
in Two a glamorous seductress who seems on the verge of a nervous breakdown as
she vacillates between being Klingsor's willing accomplice and a penitent in
search of redemption. Free-wheeling moments of unbridled lust give way to
nervous, guilty tics and stomach-churning disgust (for the character, not us).
This was a valid, fully engaged, undeniably schizophrenic take on the character
and Ms. Muöovi? wholly owned it.
Dubravka äeparovi? Muöovi? as Kundry
Nor did she stint in the vocal arena as she let loose with an awesome
arsenal of well-calculated effects including a smoldering low voice, searing
top, well knit registers, tenderly caressed phrasings, and superbly controlled
dynamics, remarkably all of a piece. There was not a moment that she was not
invested in the emotional truth of Kundry's musical lines as she fully
immersed herself in a highly personal traversal of one of opera's most
complex characters.
Anton Keremidchiev served up a commanding Klinsgor possessed of what was
easily the most beautiful voice I have ever heard cast in this part. Instead of
the usual muscled up ranting and bluster, here was a clean, penetrating
instrument deployed with a commendable sense of line and dramatic purpose. No
parking, no barking, just forcefully beautiful vocalizing.
Veteran Claudius Muth showed off an orotund bass as Gurnemanz, utilized with
a keen understanding of his well-schooled technique. The low and middle range
rolled out with an easy presence, and while the very highest notes are just
outside his core comfort zone, Mr. Muth managed them with consummate skill.
Davor Radi? contributed a ringing, secure account of Amfortas. Perhaps a tad
too secure since his solid, pointed baritone rarely dipped in volume much below
forte. A bit of modulation and color would enhance his somewhat stentorian
presentation of the suffering soul.
Ivica Trubi? likewise intoned a solid, off-stage Titurel, although it was a
bit hard to judge any nuance in his vocals since they were amplified with a
good deal of reverb. The excellent Flower Maidens were the best matched, most
vibrant, and thrillingly sung of any in my experience.
John Charles Pierce as Parsifal, Dubravka äeparovi? Muöovi? as Kundry and Manfred Hemm as Gurnemanz
That leaves our hero, and John Charles Pierce did not disappoint in the
title role. I admit it, I am spoiled. My first Parsifal ever was Jon Vickers,
who probably wrecked me for others forever. Mr. Pierce brought complete
understanding to bear, and has a pleasant stage manner and a far more than
serviceable tenor. Although he seems to cover the sound a bit, when he goes to
nail a high phrase, he is able to summon a laser-like clarity. He was never
less than thoroughly competent, and often brought joy, but he never quite
elevated the role enough to make me forget that his is arguably the least
interesting role in the opera.
Conductor Saöa Britvi? worked musical wonders in the pit helming this
musical monster-piece. Predictably, the orchestra fared at its most virtuosic
best in the more fiery Act Two, which bubbles and churns along more vividly. In
the cruelly demanding expanses of One and Three, the group strove to much good
effect in knitting the long, drawn out amblings into a unified whole. There
were a few lapses of rhythmic impulse as the piece languidly unfolds
(especially in the long rests which sapped the forward motion) and there was a
slight dip in accurate intonation 'round about the 100th minute of Act One,
but overall, Maestro Britvi? and his players should be duly proud of their
achievement. The chorus, too, was trained to a fare-thee-well, and frequently
raised goose bumps with their dynamic, poised singing.
To say the production recalls the best of the 1950's is not to denigrate
it in any way. In a nod to Wieland, designer Rudolf Rischer's basic concept
is a circle of Stonehenge-like monoliths that not only revolve at times to
interesting new configurations, but also accept all manner of meaningful
lighting gobo projections, such as stars, waves, etc. Within this milieu, the
addition of a huge, tilted white cross, or the addition of a bridge skirted by
red drapes provide all that is needed to adequately communicate Wagner's
intentions.
Gera Graf's well-considered costumes are also rather timeless, offering a
decidedly contemporary twist on the period. Flower maidens burst through the
slit red drapes first demurely clad in white nun garb, with the wimples but
minus the veils, then change and reappear in glittery, sequined, flesh-colored
gowns. The knights are in generic tunics and cowls emblazoned with crosses,
each with a sort of red-velvet back-pack that has a metal cross stuck upright
in it. These get removed and positioned inventively about the stage, and the
crosses later get extracted, upended, and brandished as swords.
Scene from Parsifal
Parsifal is all 'Heroic Montsalvat Man-in-Black' and sports a wondrous
wig of dreadlocks. Indeed all of the hair treatment was quite inspired, and the
make-up plot was of the kind you never see anymore, meant to convey features
all the way to the top row of the balcony. Kundry's genial hippie bag lady
attire of One yielded to the second act's generic black gown as she was first
unfurled, moaning and blindfolded, out of a cocoon of a red carpet. Soon
enough, she was got up in a form-fitting black number with an extravagant blond
wig, the whole effect topped with a massive "dust cover" of white chiffon.
This piece of cloth gets put to creative dramatic use and gets re-purposed any
number of times, not least of which as an ersatz spider web.
Roger Vanoni's lighting design was effectively varied and gloriously
colorful. Best of all, the singers faces were (almost) always fully lit. How
cool is that? (Or 'hot'?) A single caveat is that one of the follow-spot
operators needs a brush-up in technique. Either Parsifal was being too
spontaneous in his Act Two peregrinations or the operator was inattentive or
both, for the light was too often playing catch-up to the actor. The concept
that Klingsor was clad in a red suit (a la the Devil in Jerry Springer —
The Opera) and operated Vari-lights from a sort of DJ desk on the
suspended bridge was a fun conceit. When 'Special K' commanded a disco display
of flashing lights, it somehow made sense and underscored his control freak
persona.
Director Kurt Josef Schildknecht has invested good intentions in his stage
pictures and has created plausible relationships between his characters. There
is sometimes a tendency to sing forward for implausibly long stretches, but
then the plus side is that the balance between stage and pit was excellent. The
seduction in Two was played out on a raised circle (Wieland again!) that was at
once bed and altar. I quite liked the many ways the actors found to
meaningfully place themselves on it, around it, away from it, and under it, all
the while communicating volumes with their relative stage positions.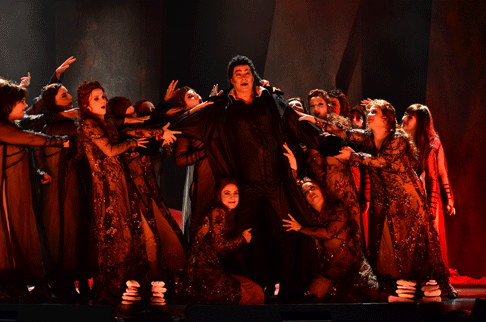 John Charles Pierce as Parsifal with Blumenm‰dchen
Did everything work? Well, no. Klingsor's hurling of the spear was
ineffectual with two extras simply carrying it aloft to Parsifal who has
absolutely no challenge to feebly raise his hand and grab it. However, I did
like that he then used it and his sword to create a "cross," the sight of
which brought Klingsor to his knees like Dracula in submissive revulsion. The
contemporary hospital bed for Amfortas remained a distraction for me
throughout. And his hobbling around with crutches was dishonest since the actor
could not remotely suggest that the character could not walk unassisted. Too,
there was one unintentionally humorous moment, when a "page" was required
to strike a three foot tall stack of 'heavy' over-sized books by just
lifting them up and off like the Styrofoam they were!
Still, there are so many riches that were so successfully mined here from
the challenging, enigmatic masterpiece that is Parsifal, that Croatian
National Opera is to be (and was) loudly cheered for having brought such a
thoughtful and committed performance to life.
James Sohre

image=http://www.operatoday.com/Parsifal_Zagreb_01.gif
image_description=John Charles Pierce as Parsifal and Dubravka äeparovi? Muöovi? as Kundry [Photo by S. Novkovi? courtesy of Hrvatskoga Narodnog Kazaliöta U Zagrebu]
product=yes
product_title=Richard Wagner: Parsifal
product_by=Amfortas: Davor Radi?; Titurel: Ivica Trubi?; Gurnemanz: Claudius Muth; Parsifal: John Charles Pierce; Klingsor: Anton Keremidchiev; Kundry: Dubravka äeparovi? Muöovi?; Conductor: Saöa Britvi?; Director: Kurt Josef Schildknecht; Set Design: Rudolf Rischer; Costume Design: Gera Graf; Lighting Design: Roger Vanoni
product_id=Above: John Charles Pierce as Parsifal and Dubravka äeparovi? Muöovi? as Kundry
Photos by S. Novkovi? courtesy of Hrvatskoga Narodnog Kazaliöta U Zagrebu