Sendak's original book has been around for a long time. Published in 1963, it was immediately criticized by child psychologists for arousing possibly traumatic wild animal feelings within children, and set off a great public debate on the subject. By 1979 however, the work had not only become a canon of children's literature, but the OpÈra National in Brussels commissioned Knussen to compose a work based on the story, in celebration of UNESCO's International Year of the Child. The opera premiered there in 1980. But Knussen didn't complete the work to his satisfaction until 1984. This version of the score, with costumes designed by Sendak, was performed in London by the Glyndebourne Touring Opera, that same year.
For anyone, who may not know the story, it's about a boy named Max, whom we meet when he is wearing his wolf suit, bushy tale and all, and hammering away at everything that annoys him — causing such havoc at home that his mother calls him a "wilde chaya", Yiddish for wild animal. Max repeats these Yiddish words to himself in an ongoing frenzy, when his mother orders him to bed without dinner. Miraculously, his room is transformed into a jungle and Max sets off on a long sail into a land full of wild animals who at first threaten him, then crown him their King, which occasion is celebrated with a wild "rumpus." (Such a 1960s word!) Suddenly hungry, Max begins longing for home, and wonders whether he'll find any food there. Sure enough, back in his own bedroom, after his return sail, he finds his supper — still hot.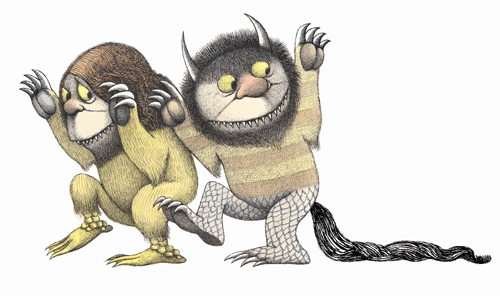 In Jones' restrained but elegant production, Sendak's own illustrations are projected on a large screen and animated on a offstage keyboard by Jones. Max, the only live character on stage, except for the momentary appearance of his mother, interacts with the projections. Figures representing Max's family in their ordinary clothes, are silhouetted behind an offstage screen, from where they sing and act their wild animal parts. A small orchestra is clearly visible performing this marvelously orchestrated score. Added to its usual ranks are a tinkling two handed piano part, a rumbling contra bassoon and among too many other percussion instruments to list, clogs, sizzle cymbals, a spring coil, and "balloon with pin."
The opera has had many stagings — three new ones just this year in Germany and Holland. But my guess is that charming and inventive as other productions may be, Jones' vision, which uses Sendak's own cross-hatched drawings of sharp clawed, fuzzy footed beasts, with facial expressions that only he could create, offers a simplicity and kind of purity that no other will match.
The cast was headed by Claire Booth, a slight, vivacious soprano, with voice enough to rise over the orchestral rumblings and energy enough to rumpus for forty minutes. Booth, as well as the rest of the cast, sang the production's premier last June at the Aldeburgh Music Festival. They will repeat their performances in November at London's Barbican Hall.
Along with the brief opera, the orchestra performed Ravel's Mother Goose Suite, accompanied by Jones' more traditional silhouettes projected as though in a story book. Though Ravel's work is a ballet, which implies constant movement to the music, Jones' projections were fairly still, but added an interesting dimension to the orchestral story-telling. The star of this performance was the orchestra and the wonderful variations of sound it produced within its subdued, but silken rendering of the French score.
The Disney Concert Hall is not an ideal venue for producing opera. When a side of the orchestral space is used for staging, as it was here, the audience seated above that space, cannot see what is happening directly below them. I sat above the screen behind which the Max's silhouetted family was acting and singing, and didn't know that they were there until they came out for their curtain call. I hope some way can be found to improve sight lines for producing the expanded repertory including staged vocal works that the Orchestra is planning to offer in the Hall.
Estelle Gilson
---
Production:
Max:Claire Booth; Mama/Female Wild Thing:Susan Bickley; Moyshe/Wild Thing with Beard:Christopher Lemmings; Aaron/Wild Thing with Horns:Jonathan Gunthorpe; Emil/Rooster Wild Thing:Graeme Broadbent; Bernard/Bull Wild Thing:Graeme Danby; Tzippy:Charlotte McDougal. Los Angeles Philharmonic Orchestra. Conductor: Gustavo Dudamel. Director, Designer and Video Artist: Netia Jones. Lighting Design: Ian Scott.

image=http://www.operatoday.com/WTWTA_2.gif
image_description=Where the Wild Things Are [Image courtesy of LA Philharmonic]
product=yes
product_title=Where the Wild Things Are, LA Philharmonic
product_by=A review by Estelle Gilson
product_id=Images courtesy of LA Philharmonic