This latest revival opened on September 9 2013 and featured
the Covent Garden debuts of soprano Lise Lindstrom in the title role and
conductor Henrik Nanasi. The production is in good health and the revival,
directed by Andrew Sinclair, was as crisp and involving as ever.
Serban's production, in striking designs by Sally Jacobs and with extensive
choreography by Kate Flatt, is lively, busy and full of incident, so that the
principals need to give strong performances otherwise the production itself
dominates. There was a feeling of this in act one, as if the principals had not
quite found their form.
But the opera opened well, with Michel de Souza (on the company's Jette Park
Young Artists Scheme) giving a commanding performance as the Mandarin.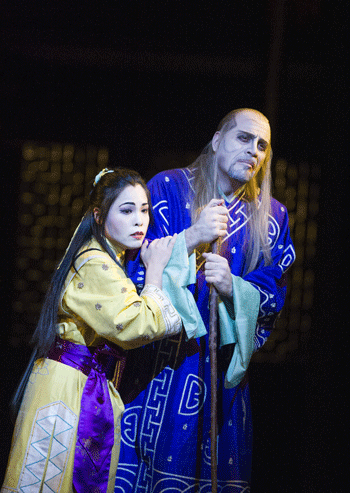 Eri Nakamura as Li˘ and Raymond Aceto as Timur
Marco Berti, singing his first Calaf at Covent Garden, had a robust and
thrilling tenor voice thankfully also with a willingness to moderate his tone
and sing with a degree of subtlety. But his stage demeanour was rather stiff
and failed to catch fire in the first act. Non piangere Liu though
nicely shaped, did not touch the heart. His diction throughout was superb and
it was great to hear Italian sung by a native.
The three masks, Ping, Pang and Pong were performed by three young singers,
Dionysios Sourbis, David Butt Philip and Doug Jones. David Butt Philip is also
on the Jette Parker Young Artists programme. In this production the roles are
very active and all three brought and admirable physicality to their
performances, but I found that they did not seem entirely threatening enough.
Balance also was not ideal with the middle of the three voices not quite
projected enough, seeming slightly weaker.
Eri Nakamura, a former Jette Parker Young Artist returning to sing her first
Liu at Covent Garden. She has a vibrant lyric voice with a warm vibrato, which
she makes intelligent use of. She made a touching Liu giving a finely shaped
performance of Signore ascolta. She was well supported by the noble
Timur of Raymond Aceto.
The first scene of act two gave the three masks a chance to show their
individual talents. Dionysios Sourbis as Ping had a fine, strongly projected
baritone voice and impressed with his solo, both David Butt Philip and Doug
Jones contributed nicely turned solo moments. The interaction between the three
was lively and well coordinated, the three made a great dramatic ensemble but I
did rather keep coming back to the issue of balance of the voices.
But throughout the first act and a half, there was also a slight feeling of
marking time, that we were waiting for Turandot's entry. And we weren't
disappointed. Tall and slim with a brilliant dramatic voice, Lise Lindstrom
made a striking Turandot. The opening of In questa reggia seemed to be
threatened with too much vibrato. But she settled down and delivered a highly
controlled account of the aria, singing with admirable laser-like brightness
and control. Perhaps there was a feeling that phrases were broken down too much
into individual syllables, but overall this was a highly auspicious and very
commanding debut.
Berti made a strong impact in his decisive appeal to the Emperor (Alasdair
Elliott) at the opening of the scene, and went on to join Lindstrom for a
thrilling account of the riddle scene. Both voices balanced well and the two
artists made this a real dramatic moment, rather than purely a musical one.
Whilst Berti remained a bit stiff dramatically, this translated into
decisiveness and nobility. Lindstrom, by contrast, was superb at suggesting the
neurotic nature of Turandot's obsession. Lindstrom was a traditional Turandot,
coolly icy with a definite dislike of being touched.
Dionysios Sourbis as Ping, David Butt Philip as Pang and Doug Jones as Pong
Act three opens, of course, with the best known aria in the opera Nessun
dorma. Berti was robust here, his voice displaying an admirable
consistency throughout the range as well as some sensibility and subtlety.
Admirably, he did not grandstand, and the ending was neatly done.
In her two solos in this act Nakamura was supremely touching as Liu,
characterful and quite strong. But she shaped Puccini's lines finely, with a
nice vibrancy, and certainly touched the heart. The torture scene was well
shaped by conductor Henrik Nanasi and there was a feeling of the whole ensemble
building inexorable, in just the right way, towards Liu's death. As in the
first act, the three masks could have been edgier but Lindstrom's Turandot was
a wonderfully icy and commanding presence.
Berti almost used his size to impose himself on Lindstrom and her
capitulation, when it came, was sudden and total. Not for the first time, I
regretted the lack of Alfano's full ending with the extension to the two solo
roles.
Conductor Henrik Nanasi displayed a nice feel for Puccini's opera and the
ebb and flow of the music, but in some of the early scenes there was a worrying
lack of crispness in the coordination between chorus and pit. The chorus did
not seem to be on quite top form, and their off-stage contributions in act
three were rather rough.
This performance saw some notable debuts and had some powerful individual
performances, but it did not quite add up to a complete experience. Though this
may develop over the run, and the piece is being broadcast live in cinemas on
17 September.
Robert Hugill
---
Cast and production information:
Michel de Souza: Mandarin, Eri Nakamura: Liu, Raymond Aceto: Timur, Marco
Berti: Calaf, Dionysio Sourbis: Ping, David Butt Philip: Pang, Doug Jones:
Pong, Lise Lindstrom: Turandot, Alasdair Elliot: Emperor Altoum. Henrik Nanasi:
Conductor, Andrei Serban: Original Director, Andrew Sinclair: Revival Director,
Sally Jacobs: Designs, Kate Flatt: Choreography. Royal Opera House, Covent
Garden, 9 September 2013.

image=http://www.operatoday.com/ROH_2688.gif
image_description=Marco Berti as Calaf and Lise Lindstrom as Turandot [Photo © Tristram Kenton]
product=yes
product_title=Turandot, Royal Opera
product_by=A review by Robert Hugill
product_id=Above: Marco Berti as Calaf and Lise Lindstrom as Turandot
Photos © ROH / Tristram Kenton