Composer Jules Massenet and librettist Louis Gallet constructed the opera ThaÔs from the 1890 novel of the same name by Anatole France. France based his book on the life of St. ThaÔs of Egypt, a fourth century convert to Christianity. Massenet's comÈdie lyrique was first presented at the OpÈra Garnier in Paris on March 16, 1894, starring the California-born soprano for whom he wrote the title role, Sibyl Sanderson. Sanderson, known for her physical beauty as well as for her vocal interpretations, appeared at a rehearsal wearing a scanty costume made of net. Members of the orchestra were enchanted, but the company insisted she revert to wearing more a conservative outfit that would not attract the police.
Nine years later, on October 17, 1903, Lina Cavalieri sang the Italian premiere of ThaÔs at the Teatro Lirico Internazionale in Milan. In 1907, Mary Garden made her American debut at the first United States performance of the opera. Later interpreters of the role of ThaÔs include: Anna Moffo, Beverly Sills, Leontyne Price, RenÈe Fleming, and Elizabeth Futral.
ThaÔs is Massenet's third most often performed work. It follows his Manon and Werther and has never been a constant in the operatic repertoire. One of the reasons for this may be that the hero is a baritone instead of a tenor. Also, the most famous piece from this opera is not an aria. It is the MÈditation, a short work for violin and orchestra. On the other hand, the role of ThaÔs has been a showpiece for sopranos like Cavalieri, Garden, and Moffo whose looks were as attractive as their singing.
On May 17, 2014, Los Angeles Opera presented a production of ThaÔs by Nicola Raab that was originally seen in Scandinavia. The costumes and settings by Johan Engels were colorful and evocative of luxury for the first two acts, but they did not set a definite time nor did they define the Cenobite monks with the expected garb. Only Placido Domingo as AthanaÎl wore an outfit that resembled a monk's habit. Act I showed the luxury of Alexandria in bold shades of red and gold. The small box set for Act II was exquisite, while Act III showed the desolation of a bleached-out desert. All of these scenes were bathed in Linus Fellbom's mood-influenced lighting.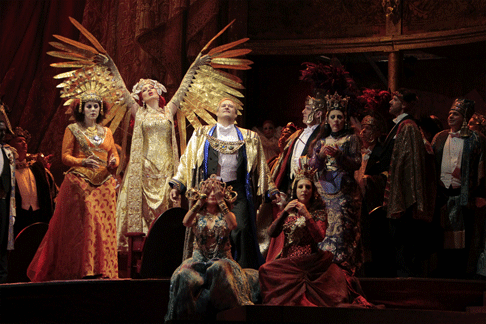 Nino Machaidze as Thais with Paul Groves as Nicias
Soprano Nino Machaidze was a lovely ThaÔs who sang with a bit of vibrato in the first act. After that she came into her own, however, and created a memorable characterization of the fourth century saint who turned from a life of sinful pleasure to the asceticism of the convent. In the first and second acts, the role of AthanaÎl lies quite low so we did not hear any of Domingo's golden toned top notes until late in the show. However, his acting was at its best when he angrily destroyed the courtesan's favorite erotic statue. Most importantly, he created a realistic monk who was ostensibly tempted to disregard his vows. The audience knew that had ThaÔs lived longer, he would have thrown his immortal soul into the wind.
Paul Groves was a hedonistic Nicias who looked every inch the noble and sang with bronzed resonance. As the Abbess, Milena Kitic sang with dulcet tones as she welcomed ThaÔs into the company of sisters. Domingo-Colburn-SteinYoung Artist Program Member Valentin Anikin sang Palemon with deep toned lyricism while fellow members Hae Ji Chang as Crobyle and Cassandra ZoÈ Velasco as Myrtale enchanted the audience with their visual and vocal talents. As with many French operas, the chorus plays a part. Grant Gershon's group sang with luscious harmonies. Concertmaster Roberto Cani played the MÈditation with jewel-like tones. Conductor Patrick Fournillier brought all the wide branching strands of this performance together with a firm hand but he allowed the singers enough room to sculpt their characters with the music.
Maria Nockin
---
Cast and production information:
ThaÔs, Nino Machaidze; AthanaÎl, Placido Domingo; Nicias, Paul Groves; Palemon, Valentin Anikin; Crobyle, Hae Ji Chang; Myrtale, Cassandra ZoÈ Velasco; Abbess Albine, Milena Kitic; Cenobite Monks: Omar Crook; Reid Bruton; Todd Strange; Gregory Geiger; John Kimberling; Servant, Kihun Moon; Conductor, Patrick Fournillier; Director, Nicola Raab; Design, Johan Engels; Lighting, Linus Fellbom; Concertmaster Roberto Cani; Chorus Master, Grant Gershon.

image=http://www.operatoday.com/TH-PD-N-NINO-ACT-3-4302p.gif
image_description=Placido Domingo as Athanael and Nino Machaidze as Thais [Photo by Robert Millard]
product=yes
product_title=Los Angeles Opera: The Monk vs. The Courtesan
product_by=A review by Maria Nockin
product_id=Above: Placido Domingo as Athanael and Nino Machaidze as Thais
Photos by Robert Millard