Certainly, the
opera is more than a one-hit wonder, and its celebrated 'lollipop', the
tenor-baritone duet 'Au fond du temple saint', is one of many melodic gems
in a sumptuous score.
It's what holding them together that's the problem. Cormon and
CarrÈ's flimsy tale of the forbidden love of two best friends for one High
Priestess suffers from one-dimensional characterisation and a generous dose of
the nineteenth-century French obsession with 'the Orient' — the armchair
traveller hoping for an authentic Eastern sojourn has to wade through such
nonsense as the notion of the ancient Ceylonese venerating Hindu gods with
European music.
Woolcock's solution is a visual one; and in places it works. Designer Dick
Bird's opening image of elegant divers swooping and plunging with
astonishingly balletic grace to scoop pearls from the ocean bed is arresting
(although it was a pity that conductor Jean-Luc Tingaud did not coax a
similarly exotic aural kaleidoscope from the pit during the rather lacklustre
overture). Later, billowing silk evokes the ebbing moonlit waves, and these
swell in the storm sequence into a raging video tsunami which surges and
heaves, threatening to over-spill into the auditorium.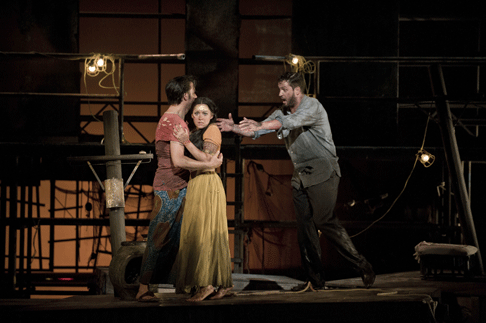 John Tessier as Nadir, Sophie Bevan as LeÔla and George von Bergen as Zurga
Jen Schriever's lighting enhances the fantasy: the colours evoke the
opulent emeralds and aquamarines of the omnipresent waters, and the burnished
ochres and oranges of the tropical sun. The change from day to night — as the
dockside dwellings fade into shadow, beneath the glint and shimmer of distant
hillside lights — is magical.
In an attempt to inject some realism into the orientalist schmaltz, Woolcock
and Bird transfer the action to modern Sri Lanka and construct a chaotic
shanty-town of corrugated shacks, the barbed wire and concrete jumble
suggesting an ideological slant relating to global warming and/or western
commercial exploitation. I wondered for a moment whether the be-suited
Westerners wandering through the hovels were corrupt pearl-factory owners, but
as they disappeared after the opening act I assume they were simply goggle-eyed
tourists.
While these are worthy touches, they are not sustained; static mise en
scËnerather than enlivening dramatic threads. Kevin Pollard's
costumes lean towards clichÈ and, more importantly, Woolcock offers the cast
almost no direction. It doesn't matter what they are singing or in what
context — making eternal vows of loyalty, swearing undying devotion,
threatening revenge — there is scarcely any physical or visual interaction
between the principals who stand, sit or lie stock still, facing the audience.
Only in the fight sequence between Leila and Zurga in Act 3 is there any sense
of choreographed dynamism.
One problem is that the set is cramped; there is just room enough for the
chorus to assemble collectively amid the staggering lean-tos and for the
principals to walk to the front of the stage, or climb the side-stairs. The
result is that the ENO chorus looks rather 'amateur', although after a
slightly hesitant start, they are on cracking musical form. 'Brahma divin
Brahma!' at the close of Act 2 was fervent and resounding.
A scene from The Pearl Fishers
A pre-curtain announcement warned us that Sophie Bevan was suffering from a
virus but it didn't seem to affect her performance as the High Priestess
Leila too adversely, although perhaps there was initially a sense that she was
saving her brightest sparkle for the big moments. 'Comme autrefois dans la
nuit sombre', when Leila reflects on her past secret assignations with Nadir,
was persuasive and charming, and Bevan bloomed in the lovers' passionate Act
2 duet. In Act 3, despite being thrown around by an enraged, vengeful Zurga,
her voice was characteristically accurate and vivid.
As Nadir, John Tessier made good use of his attractive tenor in his Act 1
aria 'Je crois entendre encore': the phrasing was flexible, the tone
appealing and the upper register unforced as Tessier conveyed both Nadir's
rapturous devotion and his essential honour. But, his voice is quite
light-weight and he didn't quite have the resonance to carry the long,
arching lines in the duet with George von Bergen's Zurga. Von Bergen had more
punch and power, and his diction was superb; the Act 3 aria 'L'orage est
calmÈ' was full of feeling as Zurga expresses his remorse for his angry
condemnation of Nadir. But, both men needed more variety of colour to
compensate for the lack of psychological complexity provided by the
librettists. Barnaby Rea was a full-voiced Nourabad but his dreadful costume
was a hindrance to any notable dramatic impact.
After their uninspiring start, the ENO instrumentalists shone in some
exquisite solos, with horn and flute particularly impressive, but Tinguad never
quite drew playing of sufficient lyric passion from his players. Martin
Fitzpatrick's rather staid translation added scant fire or frisson to the
mix.
Dissatisfaction with the ending — Bizet's own and that of the critics
— resulted in various versions and no clear picture of the composer's
preferred form. Woolcock leaves us with the depressing image of suffering
children being carried from the all-consuming flames of the burning ghat, the
pyre ignited by Zurga in order to facilitate the lovers' escape; a somewhat
dispiriting end given the selfless nature of Zurga's sacrifice.
Claire Seymour
---
Cast and production information:
LeÔla, Sophie Bevan; Nadir, John Tessier; Zurga, George von Bergen;
Nourabad, Barnaby Rea; Director, Penny Woolcock; Conductor, Jean-Luc Tingaud;
Set Designer, Dick Bird; Costume Designer, Kevin Pollard; Lighting Designer,
Jen Schriever; Video Designer, 59 Productions Ltd; Choreographer, Andrew
Dawson; Translator, Martin Fitzpatrick. English National Opera, London
Coliseum, Monday 16th June 2014.

image=http://www.operatoday.com/ENO_PF_01.gif
image_description=ENO The Pearl Fishers, Sophie Bevan [Photo by ENO/Mike Hoban]
product=yes
product_title=The Pearl Fishers, ENO
product_by=A review by Claire Seymour
product_id=Above: Sophie Bevan as LeÔla
Photos © ENO/Mike Hoban