But the company's
music director and opera director is the Austrian conductor Friedrich Haider, who is
something of a Wolf-Ferrari expert having recorded Wolf-Ferrari's opera
Il segreto di Susanna (Susanna's secret) and the violin
concerto, and the house has a large permanent ensemble with a big choir from
whom it was possible to cast the large number of important comprimario roles.
Rather impressively the opera was double case and we saw the premiere at
SND's New Building on Friday 29 May 2015 with Kyungho Kim as Gennaro, Denisa
älepkovsk· as Carmela, Natalia Ushakova as
Maliella and Daniel ?apkovi? as
Rafaele, conducted by Friedrich Haider, directed by Manfred Schweigkofler with
sets designed by Michele Olcese and costumes by Concetta Nappi. The SND
Orchestra and Chorus, was joined by the Bratislava Boys Choir, and the
Pressburg Singers.
Kyungho Kim as Gennaro
The plot is relatively straightforward, Gennaro (Kyungho Kim) is a young
blacksmith who has three obsessions, his mother Carmela (Denisa älepkovsk·),
the Madonna and his foster sister Maliella (Denisa älepkovsk·). This latter
is rather wild, wanting to enjoy life but is kept confined by her family. She
is being courted by Rafaele (Daniel ?apkovi?) the head of the local Camorra.
The first act centres on a celebration for the feast of Our Lady, with a
gloriously chaotic series of processions and lots of street characters,
including an appearance from the statue of the jewelled Madonna. Act two is in
the courtyard of Gennaro's home and is a series of interactions, between
Gennaro and Carmela, Gennaro and Maliella, Maliella and Rafaele. we learn that
Carmela's protective mothering of Gennaro arose because she nearly lost him
as a child, and the fostering of Maliella was the result of a vow to the virgin
if Gennaro survived. Gennaro tells Maliella of his obsession and she laughs at
him, he vows to steal the jewels of the Madonna for her. Later Rafaele comes
courting and the two have a love scene through the grill locking Maliella in.
Finally Gennaro reappears with the jewels and the act closes with Gennaro
covering Maliella with jewels before claiming her virginity. Act three is
Rafaele's gang's hangout; an orgy in progress is interrupted first by the
arrival of Maliella, traumatised by Gennaro's taking of her virginity, and
then by Gennaro with the jewels themselves. Though the gang has been having an
orgy beneath an image of the Madonna, they are shocked by Gennaro's
sacrilege. But Wolf-Ferrari knew Jung and was cleaarly interested in the
madonna/mother/whore parallels, and it is clear that for Rafaele, Gennaro has
stolen the jewels (virginity) of his madonna (Maliella), and Rafaele loses
interest in Maliella.
Though I gioielli della Madonna is commonly linked to the later
Verismo school, the opera has both dramatic and musical differences. True the
story has the dramatic shock value of a Verismo opera, but Wolf-Ferrari is like
Verdi in being interested in the consequences of actions. Operas like
Pagliacci end with the major dramatic coup, in I gioielli della
Madonna Wolf-Ferrari continues into the remarkable third act where we
explore the tragic consequences of actions and it ends in a mysterious and
unnerving manner with Maliella's disappearance (and presumed death) and
Gennaro's suicide; no big climactic moment. Musically there are similar
differences, and certainly none of the driving passion and big, throbbing,
orchestra supported tunes from Verismo.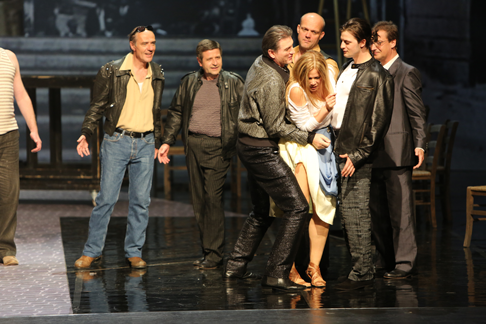 Frantiöek ?uria? as Rocco, Natalia Ushakova as Maliella and Peter Maly as Ciccillo
Wolf-Ferrari was of mixed Italian and German heritage, and German trained in
Munich under Rheinberger. His eclectic style is allied to a complexity in the
orchestration and structure which makes for richness (when premiered the opera
was far more popular in Germany than in Italy). There are tunes a-plenty
including popular ones echoing the street celebrations, but all are melded into
a remarkable synthesis ranging from Saint-Saens to Richard Strauss, with
pre-echoes of Stravinsky and Shostakovich. Rather imaginatively, the Camorra
are not depicted by dark music but they make their entrance to a jolly tune on
the mandolins, though this can turn threatening when the knives come out.
The plot really requires the opera to be set in the correct period and
location, intense devotion to the Madonna is a core component. Director Manfred
Schweigkofler and designers Michele Olcese and Concetta Nappi moved the time
forward to the 1950's but wisely kept the basic structures, with Michele
Olcese's sets being formed of panels depicting scenes from Naples thus
evoking the characteristic look and feel of the city. The production captured
the liveliness and shabbyness of the street-life, but act one is not just about
vibrant street life and processions, and Manfred Schweigkofler's handling of
the crowds enabled us to appreciate the quieter moments. He drew strong
performances from his cast in all he more intimate moments. The large chorus
threw themselves into the action with a will, and sang strongly. Perhaps there
was a certain staidness in their manner, but this fitted in with the 1950's
setting, and the orgy was very effectively done yet firmly in period. The
statue of the Madonna was a remarkable structure seemingly made of light, the
design references became clear in act two when Maliella, covered with diamonds,
began to resemble the twinkling brilliance of the statue.
Maliella is a big role, requiring a powerful lyric/dramatic voice. Natalia
Ushakova's repertoire stretches from Violetta through Tosca to Elsa and
Salome. In the first act she brought out Maliella's innate anger, even in the
jollier moments such as her hymn to the joys of freedom, but she seemed a
little careful and the rich orchestration threatened to overwhelm her. She
seemed to relax somewhat in act two, in the series of powerful duets taunting
Gennaro and flirting with Rafaele leading to an ecstatic duet with this latter.
Natalia Ushakova seemed to throw caution to the winds and gave an incendiary
account of her final scene.
ScÈna
Kyungho Kim's Gennaro was a sober, intense young man with a neatly
observed obsessive nature. Kyungho Kim's voice had a richly powerful dark
timbre allied to an heroic steadiness which brought forth a finely consistent
account of the taxing role. His final scene, being castigated for sacrilege by
the Camorra was as powerful as it was harmonically innovative with Wolf-Ferrari
stretching tonality to breaking point. Though Gennaro's obsessions make him a
rather difficult to love character, Kyungho Kim's performance went a long way
towards eliciting our sympathy.
Daniel ?apkovi? was neatly suave as the oily Rafaele, but allied to a
powerful voice with a fine burnished tone. But the role need intensity and
power as well as suaveness and a sense of line, and Daniel ?apkovi? had the
necessary reserves, but he always sang with the required seductivness so that
Rafaele was attractive and dangerous, rather than boorish. Denisa älepkovsk·
was a strong Carmela, warmly sympathetic of voice and monstrous in the
intensity of her smothering love for Gennaro and indifference to Maliella's
will for freedom.
The numerous smaller roles were strongly taken, with lots of cameos on the
first act such as Igor Pasek's dim Biaso, Maxim Kutsenko's charming
Totonno, the Rafaele's rather scary lieutenants Ciccillo and Rocco played by
Peter Maly and Frantisek Duriac, the three girls providing lively entertainment
to the Camorra played by Jana Bernathova, Maria Rychlova and Katarina Florova
and many, many more.
Just as important was the orchestra, under Friedrich Haider's strongly
inspiring direction. Throughout the orchestral playing had an impressive sense
of flow, with details brought out and a lovely timbre to the playing. This did
not sound like an unfamiliar score, and clearly there had been a lot of
preparation which paid off.
The performances are being recorded with the hope of finding a record
company to issue a recording, let us hope that they are successful.
Wisely the production chose not to indulge in too many modish modernism, in
such a complex and unfamiliar opera conveying the music and drama's essential
purpose was clearly a priority, and this was certainly achieved. I was in a
press party, and was the only member of the group to have seen the opera before
(at Opera Holland Park in 2014), and all were impressed both by the quality of
the work and the performance.
The performance by SND was an immense achievement for the whole ensemble,
but more than that it was a vividly, vibrant piece of musical theatre and
showed that Wolf-Ferrari's opera might yet achieve its place.
Robert Hugill
---
Cast and production information:
Gennaro: Kyungho Kim, Carmela: Denisa älepkovsk·, Maliella: Natalia Ushakova , Rafele: Daniel ?apkovi?, Biaso: Igor Pasek,
Totonno: Maxim Kutsenko, Ciccillo: Peter Maly, Rocco: Frantisek Duriac, Stella:
Jana Bernathova, Concetta: Maria Rychlova Serena: Katarina Florova. Conductor:
Friedrich Haider, Director: Manfred Schweigkofler Sets: Michele Olcese
Costumes: Concetta Nappi. The SND Orchestra and Chorus, the Bratislava Boys
Choir, the Pressburg Singers. Slovak National Theatre, Bratislava, 29 May 2015.


image=http://www.operatoday.com/Jewels_02.png
image_description=Natalia Ushakova as Maliella and Ivan Oûv·t as Biaso [Photo courtesy of SlovenskÈ n·rodnÈ divadlo]
product=yes
product_title=Ermanno Wolf-Ferrari: The Jewels of the Madonna
product_by=A review by Robert Hugill
product_id=Above: Natalia Ushakova as Maliella and Ivan Oûv·t as Biaso
Photos courtesy of SlovenskÈ n·rodnÈ divadlo