First, and perhaps most important: both received outstanding
performances, fully worthy of any festival in the world, let alone one such as
this which offers both new productions and stagings from the repertory. This
FroSch may have been the latter, but who would have known? There are
clearly advantages to being conducted by the Music Director — not least
the identity of this particular music director — but even so…
Both works offered the director considerable challenges. In the Schreker
opera, Warlikowski rose admirably to the challenge of drawing out what was
of greatest interest in a flawed work and, indeed, even to criticising certain
of its more problematical aspects. Die Frau ohne Schatten is not
without its problematical aspects either, of course, not least
Hofmannsthal's bizarre pronatalism — perhaps a staging that made
more of its wartime origins might help, but I have yet to see one — and,
more broadly, the mismatch between Strauss and Hofmannsthal here. If Strauss
misunderstands Hofmannsthal, though — and we should be wary of awarding
priority simply on a chronological basis, especially with so complex a
composer-librettist relationship as this — it is, to borrow a term from
Webern and the post-war avant garde, a productive misreading.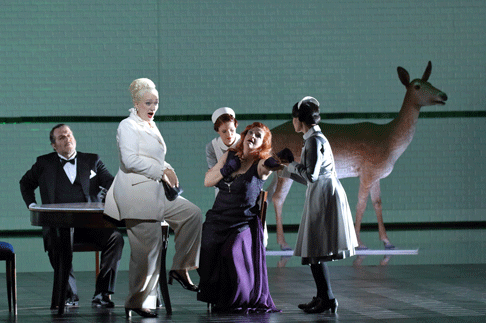 Sebastian Holecek (Der Geisterbote), Michaela Schuster (Die Amme), Ricarda Merbeth (Die Kaiserin), Statisterie der Bayerischen Staatsoper
How does Warlikowski deal with that, in a production first seen in 2013? I
am not entirely sure that he does, but it may well be that I am missing
something. What he certainly does accomplish is to present a number of
standpoints, which may, to an extent, like those presented in the work
'itself', be reconciled, or even set against each other. The world
of medicalised hysteria, of the sanatorium is present, just as in Claus
Guth's production (seen at La Scala, Covent
Garden, and the
Berlin State Opera). Perhaps counter-intuitively, for a work in which,
laboriously at times, Hofmannsthal at least seems to offer layer upon layer of
symbolism, often highly referential or at least allusive, Warlikowski
penetrates to a very human drama at the work's heart. It might sound
banal; perhaps in some ways it is; but why not actually present this as a drama
concerning a woman, the Dyer's Wife rather than the Empress, who wishes
to have children, is pressured to renounce her desire, and then achieves what
would seem to be genuine fulfilment by doing so? There are various answers to
that, of course, or at least to why such a drama might be problematical; but
they are not unanswerable answers.
Freud hangs less heavily over the production than he does over Guth's,
but he is there, glimpsed indeed in video projections at the end alongside a
motley crew that includes (I think) Gandhi, Christ, the Buddha, King Kong, and
Marilyn Monroe. (I have no idea, I am afraid; I suspect I am missing something
terribly obvious, but never mind…) More overtly present is Last Year
in Marienbad. Pictures from the film lead us in to the opening of the
opera and accompany its course, far from obtrusively, yet offering connections
should we wish to follow them. A sadness born of lack of fulfilment, perceived
or otherwise, hangs over what we see — and interacts, sometimes
harmoniously, sometimes less so, with what we hear. Even the Nurse seems a far
more human figure than usual. There is, perhaps, loss there too, but to see her
a broken woman, trying to deal with an impossible situation that is not of her
choosing is fascinating: it certainly made me reconsider the role.
Ricarda Merbeth (Die Kaiserin), Michaela Schuster (Die Amme)
Where Ingo Metzmacher had given a commanding account of Schreker's
score the previous night, Kirill Petrenko went further still in Strauss's
score. It does no harm, of course, that Strauss is by far the greater composer
and musical dramatist. But that can come to naught, or at least be severely
diminished in the wrong hands. Musical performance is certainly not a matter of
league tables, but I can certainly say, hand on heart, that I have never heard
the opera better conducted or played. This was at the very least a musical
performance to set alongside those by Christoph von Dohnányi and Semyon
Bychkov at Covent Garden, and superior to any of the others I have heard.
Petrenko's ear for Strauss's complex orchestral polyphony is second
to none, not only amongst any conductor alive but any I know from recorded
performances.
The similarities and differences between Strauss and Schoenberg — you
will have to forgive me for having the latter very much on my mind at the
moment — are as complex as their music 'in itself'. There is,
though, something here which, ironically, given Strauss's reported
remarks on Schoenberg's score, brings Strauss closer than one might
expect to the Five Orchestral Pieces, op.16. Alma Mahler just could
not help herself in telling Schoenberg that Strauss had said Schoenberg would
be 'better off shovelling snow' than 'scribbling on
manuscript paper'. (What is less often reported is that he recommended
the younger composer for the Mahler Foundation grant in any case. Schoenberg,
unsurprisingly, never forgave him; when asked the following year for a
fiftieth-birthday tribute, he responded angrily: 'He is no longer of the
slightest artistic interest to me, and whatever I may once have learned from
him, may God be thanked, [I had] misunderstood.') Petrenko is a very fine
Schoenberg conductor; indeed, it was in Erwartung at Covent Garden
that I first heard him. The interplay between colour, line, harmony, every
changing parameter was such that I could not help but think I was hearing
Strauss with somewhat Schoenbergian ears — and that was not entirely to
be attributed to my own present preoccupations. The Bavarian State Orchestra
was at least equally responsible: in every respect worthy of the most exalted
comparisons, past or present. I do not think I have ever heard the solo cello
part played with greater tenderness and yet with such a sense of where,
motivically and harmonically, it is heading. Nor have I heard the full
orchestra sound more thrillingly present and yet more transparent. It was not
only seeing the glass harmonica in one of the boxes overlooking the pit that
meant I could hear it so well.
Ricarda Merbeth (Die Kaiserin), Burkhard Fritz (Der Kaiser), Kinderstatisterie der Bayerischen Staatsoper
Vocal performances were almost equally magnificent. Burkhard Fritz greatly
impressed in Berlin earlier this year, and did so again here: quite tireless
and perfectly capable of riding Strauss's orchestral wave. The Emperor
is, perhaps, the best role in which I have heard of him. Ricarda Merbeth was
more than his equal as his consort: as tenderly moving as, when required,
imperious. She truly drew one into her particular drama, as did the Dyer and
his Wife, even, as mentioned above, the Nurse. Elena Pankratova and
Wolfgang Koch were also in previous casts I had seen, London and Berlin
respectively. Fine though their performances had been then, Petrenko's
conducting seemed to incite them to still greater things in Munich. (The more I
consider Zubin Mehta in Berlin, the more uncomprehending his conducting seems
by comparison.) Theirs was at root a human, commonplace relationship, exalted
by particular musico-dramatic circumstance and by musical performance into
something transformative, in a sense that both Strauss and Hofmannsthal might
have acknowledged. The sadness both felt could be perceived in their faces,
their body language, but still more in the alchemy of stage, words, and music
that is opera at its greatest — and which, with the best will in the
world, a lesser composer such as Schreker could never have summoned. To her
trademark malevolence in the role, Michael Schuster was here fully enabled to
offer a poignancy one rarely sees and hears in the Nurse. Sebastian
Heleck's Spirit Messenger was perhaps first among equals —
intelligent, deeply musical singing — amongst the 'smaller'
roles, but there was no weak link here. Choral singing and acting were equally
outstanding. Likewise those roles played by non-singing actors: the Apparition
of a Youth here our first among equals, sporting an excellent line in gigolo
contempt when collecting his earnings for unachieved attempted seduction from
the Nurse. As had been the case in the previous night's performance, the
dramatic whole was greater than the sum of its parts — just not quite in
the same way. Now how about a Moses und Aron
Mark Berry
---
Cast and production information:
Nurse: Michaela Schuster; Spirit Messenger: Sebastian Holececk; Emperor:
Burkhard Fritz; Empress: Ricarda Merbeth; Voice of the Falcon, Guardian of the
Threshold of the Temple: Elsa Benoit; The One-Eyed: Tim Kuypers; The One-Armed:
Christian Rieger; The Hunchback, Apparition of a Youth: Dean Power;
Dyer's Wife: Elena Pankratova; Barak: Wolfgang Koch; Serving Maids: Elsa
Benoit, Paula Iancic, Rachael Wilson; Voices of Unborn Children: Elsa Benoit,
Paula Iancic, Alla El-Khashem, Rachael Wilson, Okka von der Damerau; Voices of
Night-Watchmen: Johannes Kammler, Sean Michael Plumb, Milan Siljanov. Director:
Krzysztof Warlikowski; Designs: Malgorzata Szcz??niak; Lighting: Felice Ross;
Video: Denis Guéguin; Video Animation: Kamil Polak;
Abendspielleitung: Georgine Balk; Dramaturge: Miron Hakenbeck;
Children's Chorus (chorus master: Stellario Fagone) and Chorus (chorus
master: Sören Eckhoff) of the Bavarian State Opera/Bavarian State
Opera/Kirill Petrenko (conductor). Nationaltheater, Munich, Wednesday 5 July
2017.

image=http://www.operatoday.com/P_O_Die_Frau_ohne_Schatten_09.png
image_description=Elena Pankratova (F‰rberin), Statisterie der Bayerischen Staatsoper [Photo © Wilfried Hˆsl]
product=yes
product_title=Die Frau ohne Schatten at Munich
product_by=A review by Mark Berry
product_id=Above: Elena Pankratova (F‰rberin), Statisterie der Bayerischen Staatsoper
Photos © Wilfried Hˆsl