And, the practice of following performances at Longborough with a trip to
London (and in 2015 to Hastings too) has become instituted, to give the
young singers the opportunity to gain greater visibility and experience in
how to adapt to different performance venues.
At the 450-seater Greenwood Theatre near London Bridge – built and owned by
the Charitable Foundation of Guy's Hospital following donations from Sir
James Mantle Greenwood in 1975, and now leased by King's College London for
lectures, student productions and external clients – to which LFO's
production of Gluck's Orfeo ed Euridice travelled this year, such
adaptability was necessary. The absence of a pit to accommodate a fairly
large orchestra, meant that obstructed sight-lines put the first few rows
of seats out-of-action; in addition, and more importantly, the size of the
venue seemed to require greater reduction in orchestra forces than was
undertaken (some instrumentalists exited after the overture).
Then, though I cannot be sure as I did not attend the preceding
performances in Longborough, the stage dimensions seemed to impose some
restrictions on the performers' movement and interactions – quite crucially
so in an opera whose well-known narrative is not particularly 'busy' but
which balances Classical restraint with genuine, intense human passion.
Moreover, this particular production foregrounded Gluck's formal
innovations – specifically, the integration of music and dance – which
underpin the composer's 'revolutionary' approach to the seria
genre: thus, fluidity of movement as the chorus/dancers interacted with the
protagonists was crucial.
Designer Richard Studer sought, he says, a design which represented a
portal between 'states in flux': life and death, heaven and earth, ascent
and descent. A circle within a granite square – a void that represents both
'entombment and release' – was dramatized by taut lyre-string ribbons
stretching up and outwards, reminiscent of the inherent classicism of a
Barbara Hepworth sculpture, aspiring to abstract beauty.
The stark, or in Gluck's words, 'beautiful simplicity' of director
Maria Jagusz's concept was undoubtedly both apposite and economically
prudent. The transitional portal, raised on two right-angled staircases,
foregrounded the minimal props: a Grecian funerary urn and Orfeo's lyre,
the strings of which became voluminous ribbons whose undulating waves
wafted an intangible music. Dan Saggars' lighting was generally effective,
although the prevailing gloom made little distinction between the Stygian
darkness and the wonderful illumination of the Elysian Fields.
Hanna-Liisa Kirchin (Orfeo) and Chorus/Dancers. Photo credit: Matthew Williams-Ellis.
One of the disarming novelties of Gluck's opera, first seen in Vienna in
1762, was that it broke down musical divisions, integrating recitatives,
arias, choruses and dances in organic scenic episodes to create true music
drama. Jagusz stays true to this ideal, her twelve-strong chorus adopting a
movement vocabulary of archaic ritualism. However, while the principals are
associated with Greco-Roman emblems – 'For Orfeo, his golden lyre; for
Amore, the bow; and for Euridice a headdress of golden leaves symbolising
her position as oak nymph and daughter of Apollo, as told in the Greek
rendering of the tale' – the chorus's costumes and narrative sign-language
are decidedly Bollywood in derivation.
Moreover, these choric gestures were not only sometimes sloppily executed
but also seemed to distract the singers from their primary responsibility –
that is, singing. Some of the entries were scruffy and their responses to
Orfeo's desperate questions – 'Where is Euridice?' – were somewhat
hesitant, lacking conviction: less, 'Euridice is coming!' and more 'She's
on the way, perhaps …'
Conductor Jeremy Silver has impressed me in the past, but if he has an
instinct for

Donizetti

then melodrama of the Gluckian kind eluded him on this occasion. There was
little grace or serenity about the orchestral playing and if things did
improve after the interval that was largely because the woodwinds and horns
are less frequently deployed in the latter scenes and the intonation
improved markedly. That said, there was some fine harpsichord playing by
Julian Perkins and the strings did settle as the performance proceeded.
Jordan Scrase and Emily Smith (Blessed Spirits). Photo credit: Matthew Williams-Ellis.
As the mythic quester, Hanna-Liisa Kirchin displayed a mezzo which is not
huge but which is sweet-toned and expressive. Interestingly, my guest
remarked that at first he was uncertain whether Orfeo was being sung by a
countertenor or a mezzo, for Kirchin's voice does have an unusual colour –
one which was most effective in a role initially taken by the castrato
Gaetano Guadagni, modified by Gluck for haute-contre tenor when
the opera was seen in Paris, and which has since been sung by every voice
type from soprano to baritone (Dietrich Fischer-Dieskau recorded the role
for Deutsche Grammophon in 1982). Kirchin worked hard in 'Che farÚ
senza Euridice': her voicing of loss was dignified and imbued with
wrenching pain, although sometimes at the expense of seamless, expansive
phrasing.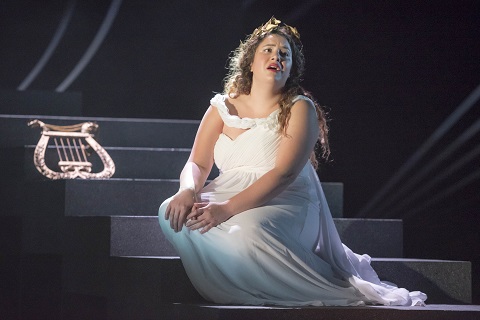 Nazan Fikret (Euridice). Photo credit: Matthew Williams-Ellis.
If the ritual formality of the production limited the opportunities for
interaction, then Kirchin's duet with Nazan Fikret's Euridice was a
highlight. Fikret's soprano may not have captured all of Euridice's
graciousness but her voice has a brilliance which was vivifying. More
touching still, though, was the Hamlet-like dance-mime during the 'Dance of
the Blessed Spirits' by Jordan Scrase and Emily Smith, which relived the
opera's narrative of tragic loss and restoration.
He Wu (Amore). Photo credit: Matthew Williams-Ellis.
As a crimson-suited Amore, soprano He Wu brought brightness to the drama,
visually and vocally, though occasionally she exhibited a slight tremor in
the voice. Diminutive of stature, Amore was easily hoisted onto the
shoulders of Jack Holton's statuesque Spirit, Wu's golden wings
unnecessary.
Jagusz's production certainly confirmed the artistic power of economy, and
the young singers acquitted themselves well.
Claire Seymour
Gluck: Orfeo ed Euridice
Orfeo – Hanna-Liisa Kirchin, Euridice – Nazan Fikrit, Amore – He Wu,
Charon/Spirit – Jack Holton, Blessed Spirits – Jordan Scrase and Emily
Smith, Director – Maria Jagusz, Conductor – Jeremy Silver, Designer –
Richard Studer, Lighting Designer – Dan Saggars, Assistant Director – Ralf
Higgins, Choreographer – Mark Smith, Orchestra and Chorus of Longborough
Young Artists (Shepherds, Nymphs, Furies, Demons of the Underworld, Heroes
and Heroines of Elysium, Companions of Orfeo),
Greenwood Theatre, King's College London; 4th August 2017.

image=http://www.operatoday.com/Hanna-Liisa%20Kirchin%20%28Orfeo%29%20cr%20Matthew%20Williams-Ellis%20%281%29.jpg
image_description=Orfeo ed Euridice, Longborough Festival Opera Young Artists
product=yes
product_title=Orfeo ed Euridice, Longborough Festival Opera Young Artists
product_by=A review by Claire Seymour
product_id=Above: Hanna-Liisa Kirchin (Orfeo)
Photo credit: Matthew Williams-Ellis