Century old power struggles between artists and lovers and authoritarian
rulers may be set in Jonathan Kent's 1800, but the austerity of food riots,
street-brawls that end in bloody knifings, mass imprisonments, deportations
and executions resonate century's later in different times and different
places.
The very static nature of the production seems to reiterate this inaction,
just as Paul Brown's designs distance almost everyone except the main
actors from everyone else. In Act One, for example, the celebrants of the
Te Deum are not just nearer God, in the sense they are above everyone else,
they are also behind gilded bars. This is religion as an exclusive and very
pious celebration. When we come to Act Two, and Scarpia's opulent quarters,
deliberately angled to magnify their size, and a statue that recalls the
Commendatore in Don Giovanni, a bookcase masks a door that leads
downwards towards torture chambers. The idea we are moving from heaven
towards hell couldn't be more transparent.
It's arguable this Tosca is just too darkly lit at times. It feels
oppressive. The tenebrous shroud that sits like decades of peat and dust is
undeniably impressive at times, especially when it highlights shadows.
Scarpia descending the staircase before the Te Deum in Act one is one such
example – giving a fleeting glimpse of a 1930s black and white swashbuckler
movie. There are hints of sepia and chrome. But in Act Two, especially at
the very opening of it, it can make both Floria and Scarpia almost
invisible as if they have become absorbed into the scenery like part of a
Roman frieze. One doesn't really notice the candlelight gradually becoming
extinguished as Act Two reaches its glorious conclusion – and by the time
Floria places two candles besides Scarpia's lifeless body there isn't
enough light to really emphasise the curdling red of his murder. It's all
rather pallid.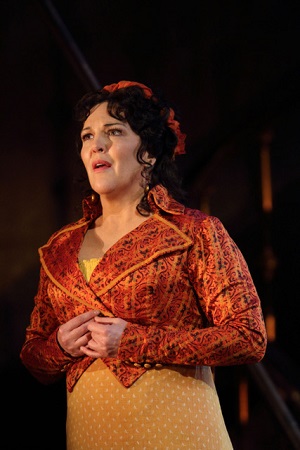 Adrianne Pieczonka (Floria Tosca). Photo credit: Catherine Ashmore.
If the staging and production itself of this Tosca are memorable,
the casting of it has some acute problems. Adrianne Pieczonka is absolutely
mesmerising in the title role. Here we have a soprano who has the lyrical
qualities of someone like Mirella Freni at her very best, but with the
dramatic heft to make the voice ride effortlessly over the orchestra, which
Freni couldn't always do live. The power and ease with which Ms Pieczonka
was able to sustain her high register without the trace of a wobble was
always notable, though I found her Act Two strangely underwhelming. A
tendency to clip her higher notes at the point rather than ride them
generally made some of her singing in Act Two seem rushed, which was
unfortunate, notably in her extended duets with Scarpia. This became all
the more obvious when she gave such a glorious performance of "Vissi
d'arte'. The tenor, Joseph Calleja, as Cavaradossi, also struggled at
times. His voice sounded small and often opaque. Having said that, he is
unquestionably a masterful interpreter of what he actually sings and no
singer on the evening came closer to getting as musically close to what
Puccini demanded of his singer. One particular line just leaps out from the
entire evening – "le belle forme disciogliea dai veli!"… the final
pianissimo was one of the most breath-taking I have heard any tenor sing
live in an opera house. Most disappointing of all was Gerald Finley's Baron
Scarpia. Here we have a singer who looks the part, but that is as far as it
goes. With his barely concealed malevolence, he cuts a dashing figure, but
the voice is hugely underpowered for the role. Aled Hall, as Spoletta, and
Simon Shibambu as Angelotti, were both fine.
The Israeli conductor, Dan Ettinger, was rarely inspired in a score that is
dripping with inspiration. Although the playing by the orchestra was
perfectly fine, nor was it lush enough to capture the opulence that
breathes from every pore of this opera. There was some very notable horn
playing, though largely this rather felt like the ninth revival for much of
the orchestra as well. This is a Tosca that looks impressive, but
feels like it needs a reboot.

From 18th January until 3rd March 2018.
Performance 7th February relayed in cinemas live around the
world.

Marc Bridle
Puccini: Tosca
Adrianne Pieczonka (Tosca), Joseph Caleja (Cavaradossi), Gerald Fiinley
(Baron Scarpia), Aled Hall (Spoletto), Simon Shibambu (Angelotti), Jeremy
White (Sacristan) Jihoon Kim (Sciarrone). Dan Ettinger (conductor),
Jonathan Kent (director), Paul Brown (designer), Mark Henderson (lighting),
Orchestra and Chorus of Royal Opera House Covent Garden
Royal Opera House, Covent Garden, London; 15th January 2018.

image=http://www.operatoday.com/GERALD%20FINLEY%20AS%20BARON%20SCARPIA%20%28C%29%20ROH.%20PHOTO%20BY%20CATHERINE%20ASHMORE.jpg
image_description=Tosca, Royal Opera House, Covent Garden
product=yes
product_title=Tosca, Royal Opera House, Covent Garden
product_by=A review by Marc Bridle
product_id= Above:Gerald Finley (Baron Scarpia)
Photo credit: Catherine Ashmore