Chronological and geographical side-steps aside, the production is funny,
frivolous and thoughtful in equal measure and just what was needed at the
end of a long, hot summer week. (For further comment on the design and
staging see my

2015 review

of the first revival.)
The theatrical and vocal joy was supplied by a terrific cast. While at

Garsington

a few weeks ago, the women bonded over their suffragette placards and
politics, here the ladies-who-lunch exuded a real sense of mischievous
camaraderie and feminist nous.
Marie-Nicole Lemieux as Mistress Quickly. Photo credit: Catherine Ashmore.
Marie-Nicole Lemieux was a scream as
Mistress Quickly, and if she was larger-than-life and milked the camp for
all it was worth, it didn't matter when she was a walking exclamation mark
with every entrance and exit – a kick of the heel, a flash of leg, a
sashaying curtsey or flamboyant spin – and equally rich and resplendent of
voice. Marie McLaughlin's Meg Page was assured and poised, and if Ana MarÌa
MartÌnez sometimes couldn't match her female 'accomplices' for plushness,
then she acted superbly, and her phrasing was as poised as her posturing
before the gullible Falstaff.
FrÈdÈric Antoun as Fenton, Anna Prohaska as Nannetta. Photo credit: Catherine Ashmore.
Anna Prohaska's Nannetta was a dew-drop of guileless charm and genuine
love, a real breath of fresh air; she floated her first top Ab with
stunning purity – it punched right to the heart – and if the second was
less pointed, well, she was on her knees, crawling backwards under a table
for an assignation with her beloved Fenton. Prohaska and FrÈdÈrick Antoun's
Fenton shone through the seedy, soullessness of some of the romantic
liaisons with an honest, innocent affection that was truly touching. Fenton
can sometimes seem a bit spineless but Antoun's Act 3 aria granted him
vocal and dramatic stature.
As a shiny-suited Ford, Simon Keenlyside was a powerfully bitter presence
amid the sugary self-indulgence. Surely his disguise, as Brook, would have
fooled no one, the lavish ease of his rock-star locks and flamboyant shirt
overshadowed by a rage aria which was frighteningly vicious, but which
could have done with a bit more punch in the lower register.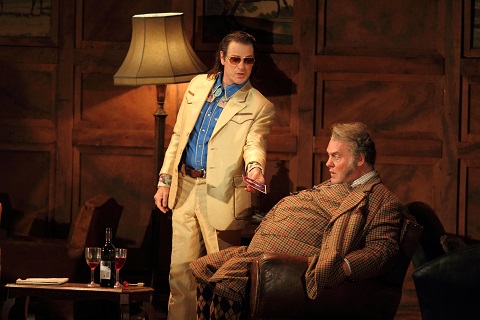 Simon Keenlyside as Ford. Photo credit: Catherine Ashmore.
But, this opera rests or falls on the stomach and heart of its eponymous
Fat Knight. And, what a wonderful singing actor Bryn Terfel is. Perhaps
there were a few rough edges at times – Act 3 didn't quite make its
sentimental mark, though he blossomed authoritatively in Act 1's honour
aria – but he can do belligerency, bravado and belly-laughs with equal
panache, and despite all Falstaff's boasting and bluffing there was still
that telling touch of sincerity to win the audience's sympathetic smile and
sigh.
Though first espied loafing indifferently behind a newspaper in his
outsized bed at the Garter 'Inn', as agitated waiters wafted unpaid bills,
or imbibing indulgently in a grimy onesie – six boiled eggs for breakfast
with coffee and cognac, all on the tick – this Falstaff could miraculously
transform himself, instantaneously resurrecting that memory of the former
slim Duke of Norfolk, to take his place amid the privileged and entitled,
and irritate the bespectacled gents in the hotel Reading Room.
Bryn Terfel as Sir John Falstaff. Photo credit: Catherine Ashmore.
When visited by Mistress Quickly bearing an invitation to visit Alice,
Terfel became the epitome of studied suavity ‡ la P.G. Wodehouse.
Terfel can twinkle his eyes, twaddle his cane and twiddle his top hat with
stomach-tickling ease. Regaled in scarlet hunting regalia he was champing
at the bit. In Act 2 he seemed to know how to place himself in the exactly
the right place at just the wrong time, as the drama demands, commandeering
his sexual territory atop of the formica kitchen units of Alice's 'perfect'
buttercup-hued kitchen, diving in the nick of time into a cupboard with the
arrival of Ford, swinging – with some effort – his booted legs into the
laundry basket as the jealous husband turned house and home upside down.
Perhaps Terfel was upstaged by the munching horse at the start of Act 3,
and, despite rolling athletically along the dining table, a delicacy at the
cruel feast, couldn't quite find his niche in an Act which in this
production rather loses its way, but at the close he grasped the
opportunity to quash his opponents with a quip, a flourish and winning
flair.
Given the intemperate ego at the centre of the show, conductor Nicola
Luisotti was a bit too restrained and the score might have zipped along
with rather more spice. But, this revival is a sparkling summer spritzer.
Claire Seymour
Sir John Falstaff – Bryn Terfel, Alice Ford – Ana MarÌa MartÌnez, Ford –
Simon Keenlyside, Nannetta – Anna Prohaska, Fenton – FrÈdÈric Antoun,
Mistress Quickly – Marie-Nicole Lemieux, Meg Page – Marie McLaughlin, Dr
Caius – Carlo Bosi, Bardolph – Michael Colvin, Pistol – Craig Colclough;
Director – Robert Carsen, Conductor – Nicola Luisotti, Set designer – Paul
Steinberg, Costume designer – Brigitte Reiffenstuel, Lighting designers –
Robert Carsen and Peter van Praet, Royal Opera Chorus and Orchestra of the
Royal Opera House.
Royal Opera House, Covent Garden, London; Saturday 7th July 2018.

image=http://www.operatoday.com/Bryn%20Terfel%20as%20Sir%20John%20Falstaff%20%28C%29%20ROH.%20Photo%20by%20Catherine%20Ashmore.jpg
image_description=Falstaff, Royal Opera House
product=yes
product_title=Falstaff, Royal Opera House
product_by=A review by Claire Seymour
product_id=Above: Bryn Terfel (Falstaff)
Photo credit: Catherine Ashmore