Cendrillon
was the twenty-third of Massenet's thirty-four operas, to a libretto by
Henri Cain based on Charles Perrault's sober version of the Cinderella
myth. The best theatrical fairy-tales are those in which shrewd mockery and
schmaltzy magic are kept in fine balance, with a healthy dose of both
droll, topical modernity and mythical universality – and Shaw treads the
tightrope with Èlan and wit.
Cinders herself straddles both worlds and it is through the innocent,
oppressed maiden that the modern and the magical are assimilated. Shaw's
opening scene is simultaneously a paean to and pillory of the modern
worship of the designer mall and the cult of shopping, leading Cinderella's
father, Pandolfe – now married to Madame de la HaltiËre who comes, like a
garish retail package, with two 'add-ons', her ghastly daughters NoÈmie and
DorothÈe – to lament his lost idyll of rural life with his beloved
daughter, Lucette.
Thoughts of wedlock are also troubling Prince Charming. Tossing and turning
in bed, the Prince torpidly rejects his father's insistence that he marry,
and marry well, even when the King threatens to have him sawn in half to
determine the cause of his lack of romantic ardour. Before we know it, we
are whisked by sleight of hand ‡ la glass and mirrors into a
fairy-tale quest of seeking and searching, courtesy of Jon Bauser ingenious
designs which are beautifully lit by Anna Watson, and find ourselves
tumbling through the revolving doors of Alice's Wonderland.
The King (Adam Marsden) and Prince Charming (ElÈonore Pancrazi). Photo credit: Richard Hubert Smith.
One problem – characteristic of the French genre – is what to do with the
opera-ballets? Choreographer Sarah Fahie solves the dilemma with aplomb,
assimilating tradition and modernism, dance and dramatic development,
persuasively. Throughout the dance sequences, there is a lovely fluidity of
rhythm and the charm of Massenet's melodies reminds us that, whatever the
kinetic wizardry, it's the music that's calling the shots.
A rare false note is the inclusion of a child-Cinders who haunts far too
many scenes, to no obvious purpose. During the overture, the
blond-ringleted munchkin hop-scotches in outsize glass slippers, tumbling
and scraping her knee, which necessitates the application of sticking
plaster. But, Cinders' slipper does fit, surely? Shaw may be
tapping into the Freudian overtones of the tale – dead mothers and all that
– but, like the over-load of butterfly imagery, it's a tad too
heavy-handed. And, just who is the man in stripy knickerbockers and top
hat, who seems to be suffering from a slipper-fetish, and who prances
through the overture, reappearing, sinisterly, at intervals?
Young Cinderella (Megan Silburn) and dancer (Robin Gladwin). Photo credit: Richard Hubert Smith.
One of the joys and strengths of this production is the marriage of the two
voices at the opera's heart. Though Cinderella is ostensibly a soprano
role, much of the writing lies in middle of the voice, and mezzo-soprano
Alix Le Saux displayed a soft-grained tone, finely nuanced phrasing and a
strong upper extension. She balanced folk-song simplicity and directness –
as when her chavvy step-family dress in their 'finery' and rush off to ball
– with more sophisticated vocal nuance and some lovely floating high notes
which made Massenet's honeyed melodies soar. This oppressed skivvy was no
ingenue: loved by her father she was fully aware of what was what and what
she wanted.
Shaw has, probably unintentionally, tapped into a zeitgeist debate too.
During a much-reported appearance on the US talk-show Ellen,
actress Keira Knightley recently announced that she has banned her
three-year-old girl from watching Cinderella and The Little Mermaid because of the way in which they portray women.
Cinderella 'waits around for a rich guy to rescue her', Knightley lamented,
asserting her belief that girls must rescue themselves. In the Guardian, Steve Rose offered a countering argument,

'Why Prince Charming is all out of happily ever afters'

. Shaw herself plays confidently with the en travesti ambiguities,
suggesting that ElÈonore Pancrazi's Prince Charming is not so much feminine
in manner, as female in fact. In this way, the director steers clear of
over-sentimentality and intimates deeper psychological currents than a
Disney-esque presentation would allow, while not banishing fairy-tale
enchantment. And, Shaw's gender games are subtly played – until, that is,
the Prince morphs into a serving-maid.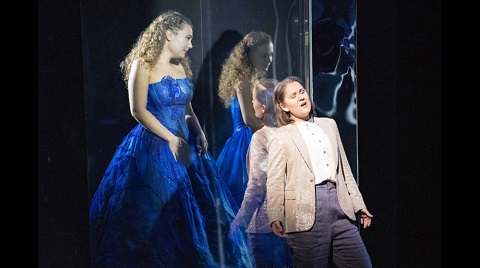 Cinderella (Alix Le Saux) and Prince Charming (ElÈonore Pancrazi). Photo credit: Richard Hubert Smith.
The wondrous vision of Cinderella in costume designer Nicky Gillibrand's
sumptuous ultramarine confection sends the Prince's melancholy swiftly
packing, and the similarity of the range and timbre of Le Saux and Pancrazi
– the latter's relaxed, supple phrasing was a real joy – made this marriage
of minds, souls and voices utterly convincing. If the lightness of the two
principals' voices evoked their innocence, or even immaturity, then their
Act 3 duet conjured an almost Straussian ardour. Le Saux and Pancrazi
really did make us believe that they are destined to live happily ever
after.
DorothÈe (Kezia Bienek), Madame de la HaltiËre (Agnes Zwierko) and NoÈmie (Eduarda Melo). Photo credit: Richard Hubert Smith.
William Dazeley sang with tenderness and warmth, as Pandolfe. His was a
sensitive and discerning portrayal: it's quite a challenge to be a
hen-pecked wimp and to make one's mark vocally, and Dazeley
achieved this impressively. Madame de la HaltiËre and her daughters formed
a grotesque trio of hollow-hearted, empty-headed greed and grossness – did
they need to be quite so vulgar? – putting on an over-the-top comic display
in which Eastenders met AbFab. Polish mezzo Agnes Zwierko
was game and committed as the ghastly, over-bearing mother, and made
terrific use of a chest voice which would strike fear in any subjugated
spouse. Her fellow Pole, Kezia Bienek (as DorothÈe), and Portuguese soprano
Eduarda Melo (as NoÈmie) were superbly awful, but rather over-shadowed by
their mother's antics which included a chair-top striptease act. Caroline
Wettergreen's vocally sparkling Fairy, nonchalantly drawing on a cigarette
as she expounded the terms of the spell to Lucette, provided an elegant
antidote.
The Fairy (Caroline Wettergreen ). Photo credit: Richard Hubert Smith.
Conductor Jack Ridley waved his own magic wand in the pit, relishing
Massenet's delicacy and daintiness: indeed, at times a little more
robustness might have provided greater drama thrust, but Ridley
successfully blended the magic and the comic mayhem into a gratifying
whole. Shaw's Cendrillon truly cast its spell.
The previous evening, Tom Cairns' production of La traviata
returned to the Marlowe Theatre, where I first saw it almost four years ago
to the day. Revived by James Hurley, the production is well-suited to
touring. Hildegard Bechtler's sets are simple, establishing milieu swiftly
and clearly, and, adopting a fairly restrained approach to Verdi's visceral
emotional dramas, Cairns effectively focuses our attention on the eponymous
courtesan herself. Not her physical decline – there was more consumptive
coughing from the Canterbury audience than there was from the heroine
herself; nor her oppression within the rigid class hierarchies and mores of
the day. Rather, Cairns shines the spotlight on Violetta's innate
integrity, which isolates her from the surrounding social superficiality
and confirms both her goodness and her loneliness.
Bechtler, too, ensures that Violetta commands our gaze. As the curtain
rises, and as it falls, she is alone on stage. During the overture, prone
on her bed – the latter is ever-present stage-left as we move between
Parisian salon and pastoral retreat – Violetta languishes beneath a huge
glistening chandelier. By Act 3, the glitter has dulled, the chandelier has
shrunk, and beside the bed is a side-table cluttered with pill bottles. In
the closing moments, she rises and walks towards the rear before, with her
back to the audience, she suddenly slumps to the floor – a surprising
denouement, and rare loss of logic and clarity by Cairns, as prior to this
collapse Violetta's death does not seem imminent. Why does she give up the
ghost?
The sets and costumes are eclectic: there are some period details alongside
21st-century inferences, and this further reduces the relevance
of the social context. The stage is divided by two towering walls and by
Peter Mumford's deep-hued lighting contrasts, emphasising the separation of
public and private worlds. Stage-left an upholstered edifice curves
graciously; on the opposite side a wooden wall stands ramrod-straight.
Opposite Violetta's bed, the revellers lounge lazily around, sinking into
chairs whose curving folds might have been designed by Georgia O'Keeffe.
Their evening dress is demure, almost uniformly black, which makes
Violetta's pale silk seem all the more pure, its wearer more innocent and
vulnerable. In the gaming scene, the carousers hustle round three circular
green baize tables in the central strip of the stage; the red peignoir that
Violetta dons in this scene is ugly and ill-suited – no wonder it ends up
crumpled on the floor, abandoned and trampled.
Photo credit: Robert Workman.
Act 2 offers freshness and light. Despite the messy clutter – a scruffy
sofa is strewn with clothing and oddments, the coffee table topples under
the weight of discarded glasses, cups, papers and knick-knacks, as if
loyal, dependable Annina simply doesn't have time to clear up after the
self-absorbed couple – a gentle, pastoral backdrop suggests a rural idyll,
although the gradual passing of the day visually complements the darkening
that accompanies Germont's arrival and demands.
In Act 1 ManÈ Galoyan's Violetta ValÈry floated amid the salon clientele,
in a beautiful blue floral gown, as if she had risen from a painting by
…douard Manet. The Armenian soprano had the daring and dazzle to despatch
the pyrotechnics of Act 1 with minimal fuss, and sang with a lovely lyrical
bloom throughout the evening. But it was the sensitivity of her phrasing,
and in particular a stunning pianissimo thread that was both
whisperingly soft and heart-piercingly clear and true, that impressed most.
During Violetta's Act 2 tussle with Germont, her self-knowledge, submission
and sacrifice were conveyed through an almost angelic purity of tone, while
Galoyan's wisps of vocal silk intimated Violetta's vulnerability and
inevitable decline. Her wept words to Alfredo, in the final Act, 'Oh, tell
your daughter, so lovely and pure, that a poor and wretched woman, who has
but one precious thing in life – will sacrifice it for her – and then will
die!', were exquisitely delicate, fading almost to nothing but making a
deep emotional impact.
ManÈ Galoyan. Photo credit: Lynn Lane.
Neglecting contextual concerns such as class and status, Cairns focuses on
the theme of thwarted love, and there was a fittingly strong rapport
between Galoyan and Luis Gomes' Alfredo. Gomes acted persuasively,
communicating through his engagingly warm tenor all of Alfredo's love and
anger – he hurled his remonstrations vehemently at Claire Barnett-Jones's
patient Annina, when the latter revealed that her mistress had sold off the
coaches and horses – as well as his bitterness and despair.
As Giorgio Germont, dressed in a rather non-descript overcoat Noel Bouley
seemed earnest rather than coercive or intimidating. Bouley's tone lacked
focus initially, though his demeanour was dignified, but he grew in
strength and stature in his Act 2 scene confrontation with Alfredo,
restraining himself, just, from striking his son.
Doctor Grenvil (Donald Thomson), Flora Bervoix (Emma Kerr) and Marchese D'Obigny (John Mackenzie-Lavansch). Photo credit: Robert Workman.
Cairns shows little interest in developing the relationship between Annina
and her mistress, but Barnett-Jones gave a strong, sustained performance.
Donald Thomson boomed sonorously as Dr Grenvil and Emma Kerr was a vibrant
Flora. Conductor Christoph Altstaedt prioritised colour and sensitivity,
drawing consistently expressive playing from the Glyndebourne Tour
Orchestra and thus complementing Cairns' conception.
UK opera audiences have had their pick of Traviatas of late:
Daniel Kramer's

ENO

staging in March was followed, at

Opera Holland Park

, by Rodula Gaitanou's acclaimed production. Currently, Welsh National
Opera are also taking La traviata to the provinces – likewise
paired with fairy-tale, in the form of Rossini's take on the
Cinderella-myth, La Cenerentola. Galoyan's superb performance
ensures that Cairns' production makes it mark among the many.

The

Glyndebourne Tour

, which is celebrating its fiftieth anniversary, continues until 1 st December.

Claire Seymour
Verdi:

La Traviata


Violetta ValÈry – ManÈ Galoyan, Alfredo Germont – Luis Gomes, Giorgio
Germont – Noel Bouley, Annina – Claire Barnett-Jones, Flora Bervoix –
Emma Kerr,

Gastone – Nico Darmanin, Giuseppe – Daniel Mullaney, Marchese D'Obigny –
John Mackenzie-Lavansch, Baron Douphol – Nicholas Folwell, Doctor Grenvil –
Donald Thomson, Messenger – Romanas Kudriaöovas, Flora's Servant – Joseph
Padfield; Director – Tom Cairns (Revival Director – James Hurley),
Conductor – Christoph Altstaedt, Set & Costume Designer Hildegard
Bechtler, Choreographer Aletta Collins (Choregraphy revived by Emily
Piercy), Lighting Designer – Peter Mumford (Lighting revived by Keith
Benson), Glyndebourne Tour Orchestra, The Glyndebourne Chorus (Chorus
Master – Nicholas Jenkins).



The Marlowe Theatre, Canterbury; Tuesday 6th November 2018.
Massenet: Cendrillon

Cinderella – Alix Le Saux, Prince Charming – ElÈonore Pancrazi, Pandolfe –
William Dazeley, Madame de la HaltiËre – Agnes Zwierko, NoÈmie – Eduarda
Melo, DorothÈe – Kezia Bienek, The Fairy – Caroline Wettergreen, The Master
of Ceremonies – Romanas Kudriaöovas, The Dean – Anthony Osborne, The Prime
Minister – Michael Wallace, The King – Adam Marsden, First Spirit – Suzanne
Fischer, Second Spirit – Jacquelyn Parker, Third Spirit – Jennifer Witton,
Fourth Spirit – Leslie Davis, Fifth Spirit – Rhiain Taylor, Sixth Spirit –
Eirlys Myfanwy Davies, Servants (Sofia Larsson, Rachel Taylor, Natalia
Brzezi?ska, Michaela Parry, William Blake, David Shaw, Andrew Davies,
Edward Hawkins), Dancers (Robin Gladwin, Ryan Munroe, Emily Thompson-Smith,
Sophie Thorpe, Connor Williams), Children (Olive Dale, Megan Silburn);
Director – Fiona Shaw, Conductor – Jack Ridley, Set Designer – Jon Bausor,
Costume Designer – Nicky Gillibrand, Choreographer – Sarah Fahie, Lighting
Designer – Anna Watson,Glyndebourne Tour Orchestra, The Glyndebourne Chorus
(Chorus Master – Nicholas Jenkins).

The Marlowe Theatre, Canterbury; Wednesday 7th November 2018.

image=http://www.operatoday.com/Cendrillon%20title%20image.jpg
image_description=
product=yes
product_title=Glyndebourne Tour 2018, La Traviata and Cendrillon at the Marlowe Theatre, Canterbury
product_by=A review by Claire Seymour
product_id=Above: Fiona Shaw's production of Massenet's Cendrillon
Photo credit: Richard Hubert Smith