On new year's day, English Touring Opera will launch a series of broadcasts on Marquee TV showcasing productions of music by Britten, Tippett and Shostakovich.
The four-part series will launch on the 1st of January with the premiere of the first film, with each additional film launching every Friday throughout January.
The productions are adaptations for film of lyric monodramas ETO toured in October as part of its Lyric Solitude season. The works create powerful performances fusing music, drama, poetry and dance whilst following strict Covid-19 safety measures.
The intimacy of the productions are enhanced in their adaptations for screen by BAFTA-nominated director Tim Van Someren, who has worked at the forefront of the theatre-film space for many years. Van Someren has director credits on such productions as Danny Boyle's Frankenstien (a recent NT at Home lockdown hit), Cat on a Hot Tin Roof with Sienna Miller and Sir Kenneth Branagh's Macbeth as well asconcert films by the likes of Paul McCartney and The Police, plus numerous TV shows.
Filming took place at on stage at Hackney Empire on the final day before November's lockdown saw theatres close nationally. ETO managed to reach thousands of live audience members before the company was forced to cancel its shows, and has now invested in delivering a digital offering of the highest quality to audiences that were unable to experience it live.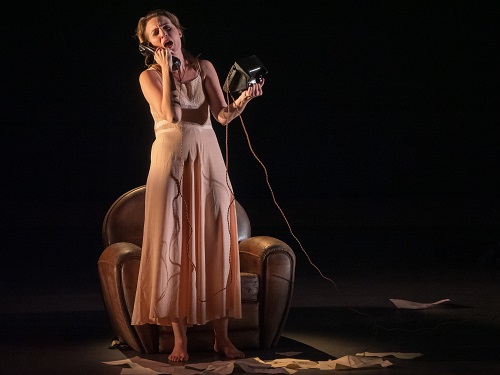 ETO are excited to be entering into a new partnership with Marquee TV, who have this year emerged as the streaming service with the most ambitious arts and culture offering, with the likes of the Royal Opera House, Glyndebourne, Arena di Verona and Bavarian State Opera offering opera productions, plus productions from the likes of the Royal Shakespeare Company, the Bolshoi Ballet and the London Philharmonic Orchestra.
This project builds on the initiatives ETO has taken to reach its audience digitally during the pandemic, including the company's debut broadcast of the St John Passion(featuring 90 choral volunteers performing virtually), and a new digital puppet opera for children, Shh! We Have a Plan. Together, these projects have reached over 20,000 viewers, with the company producing additional content in the form of online singing lessons, masterclasses, discussions, and poetry readings.
ETO welcome requests for information and interviews for previews and listings, particularly regarding the story of how this season and the broadcast have been made. For reviews, ETO will provide private video links for the shows. The link to the first film will be sent by the 21st of December and reviews will embargoed until the 1st of January.
Broadcast Schedule
Friday 1 January 2021
Romances on British Poetry (Shostakovich)
The Poet's Echo (Britten)Friday 8 January 2021
The Holy Sonnets of John Donne (Britten)
Friday 15 January 2021
Boyhood's End (Tippett)
Poems of Marina Tsvetaeva (Shostakovich)
Friday 22 January 2021
The Heart's Assurance (Tippett)
A Charm of Lullabies (Britten)
Credits
Director: Tim Van Someren
Poet's Echo (Benjamin Britten)
Director: James Conway
Soprano: Jenny Stafford
Pianist: Sergey Rybin
Romances on British Poetry (Dimitri Shostakovich)
Director: James Conway
Bass: Edward Hawkins
Pianist: Sergey Rybin
Boyhood's End (Michael Tippett)
Choreography: Rae Piper and Paul Chantry
Tenor: Thomas Elwin
Dancer: Paul Chantry
Pianist: Ian Tindale
The Heart's Assurnace (Michael Tippett)
Director: Bernadette Iglich
Tenor: Thomas Elwin
Actor: Richard Dowling
Pianist: Ian Tindale
Holy Sonnets of John Donne (Benjamin Britten)
Director: Bernadette Iglich
Tenor: Richard Dowling
Dancer: Bernadette Iglich
Pianist: Ian Tindale
A Charm of Lullabies (Benjamin Britten)
Director: James Conway
Mezzo-soprano: Katie Stevenson
Pianist: Ian Tindale
Six Poems of Marina Tsvetaeva (Dimitri Shostakovich)
Director: Rahel Vonmoos
Mezzo-soprano: Katie Stevenson
Dancer: Bernadette Iglich
Pianist: Ian Tindale
ABOVE: English Touring Opera at Snape Maltings, baritone Julien Van Mellaerts and pianist Ella O'Neill perform Dominick Argento's A Water Bird Talk (c) Beki Smith (Britten Pears Arts)