Ancient plainchant, medieval texts and numinous harmonies form a unifying thread for this uplifting recent disc from the Choir of Keble College Oxford recorded in the warm acoustic of Buckfast Abbey. Tracing the journey from Christ the King (celebrated on the last Sunday before Advent) through to Epiphany, Matthew Martin has brought together a well-chosen programme referencing both the secular origins of carols and plainsong as the backbone of sacred music. This tension is displayed in arrangements, hymns and new works collectively spiritual and stirring, and which could be summarised in the bridal rhyme 'something old, something new, something borrowed, something blue'.
What especially appealed to me is the absence of the ordinary, the avoidance of commercially attractive carols that are sung by all and sundry and, with few obvious exceptions, music that was unfamiliar. The hour-long compilation is bookended by the urgent pleas of Christus vincit (recognising the authority of Christ in a centuries-old Roman Catholic text) arranged by Martin Baker and John Tavener's extraordinarily affirmative Ave Rex Angelorum, its startling boldness ebulliently realised by both choir and ex-Keble organist Jeremy Filsell.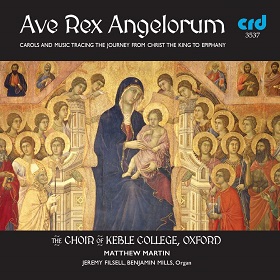 Matthew Martin's compositions have been gradually securing a place in the repertoire and these new works are no less likely to become known in time. His Ave maris stella (recorded for the first time) wraps this hymn to the virgin Mary in its original plainsong chant but brings a contemporary twist in its piquant harmonies. Bolder still is the mysticism of O Oriens (another premiere) with its aleatoric vocal writing and glittering organ part. It's an intriguing piece of cross dressing in its blend of ancient tones (O come, O come Emanuel and the Advent antiphon O Oriens) and 'interplanetary' harmonies which brilliantly 'Disperse the gloomy clouds of night'. Martin's acute ear for sonorities is heard again in the haunting beauty of O Magnum mysterium (a third premiere), the mystery of the virgin birth infused with added note harmonies redolent of Herbert Howells and Pierre Villette. Gallic influence continues in Martin's organ harmonisation of the 11th-century melody for the Gloria (Mass IX, 'Cum Jubilo'), his style echoing performance practice at Solesmes Abbey in France. This rendition, with each phrase sung alternately by men and women, is anything but austere and for lovers of plainsong will be much appreciated. By complete contrast is the jolly Nowell sing we, (echoes of William Mathias's Sir Christèmas); its alternating rhythmic patterns nimbly articulated and sung with panache.
Those unfamiliar with the choral music of Richard Rodney Bennett will enjoy the sumptuous Lullaby baby, written in 1986 for the Choir of King's College Cambridge. For that choir Swiss composer Carl Rütti wrote I wander as I wonder and sung here by its neighbouring mixed voice choir with typical sophistication. Equally assured is the singing for Lennox Berkeley's Look up, sweet babe, its soprano solo elegantly shaped and Martin finely judging balance between choir and organ, if with little sense of ecstasy in conjuring the East. Melting warmth characterises Edward Higginbottom's arrangement of Rocking and the tranquillity of Hugo Distler's Es ist ein Ros' entsprungen is affecting for the wordless second verse in recognition of the composer's suicide in 1942 as a consequence of being unable to serve God and the Nazi party simultaneously.
Of the remaining pieces that caught my ear are Grayston Ives's well-structured Nova, nova! and two imaginatively conceived arrangements The Cherry Tree Carol (Stephen Cleobury) and I saw three ships (Simon Preston), to which the choir respond with ample exuberance.
The inclusion of Benjamin Britten's disturbing A Hymn of St Columba may come as a surprise, its 6th-century text (attributed to St Columba) foretelling Judgement Day seems particularly dark for a Christmas disc, but the subject does relate to Christ's birth. Finally, there are three well known hymns of which Paul Plummer's arrangement of Lo! He comes with clouds descending brings a special intimacy from the choir in verse 3 and singing of thrilling rapture for the closing verse.
At a time when most of us are being told not to sing during the most important time of the church's year, this disc will surely help dispel the gloom of Covid-19. In consistently polished singing, sensitive organ playing and energised direction, there can be no better Christmas CD out this year. In short, buy it!
David Truslove
The Choir of Keble College, Oxford; Matthew Martin (director), Jeremy Filsell and Benjamin Mills (organ)
Trad. – Christus vincit (arr. Matin Baker), Trad. – Ave maris stella (arr. Matthew Martin), Grayston Ives–Nova, nova!, Benjamin Britten – A Hymn of St Columba, Matthew Martin – O Oriens, Hymn: Lo! he comes with clouds descending, Hugo Disler – Es ist ein Ros' entsprungen, Gloria (Mass IX, 'Cum Jubilo') (harm. Matthew Martin), Matthew Martin – Nowell sing we, Trad. – The Cherry Tree Carol (arr. Stephen Cleobury), Hymn: Of the Father's heart begotten, Richard Rodney Bennett – Lullaby baby, Carl Rütti – I wonder as I wander, I saw three ships (arr. Simon Preston), Trad. – Rocking (arr. Edward Higginbottom), Lennox Berkeley – Look up, sweet babe, Hymn: Unto us is born a Son, Trad. – Vidimus stellam, Matthew Martin – O magnum mysterium, John Tavener – Ave Rex Angelorum
CRD 3537 [60:19]