Philip Glass's major operas are hardly well represented on CD. Indeed, until recently only a single recording of each of Satyagraha and Akhnaten was available – and in the case of Einstein on the Beach the opera has not had a recording since 1993. Bernard Herrmann's Wuthering Heights fared better than this, although it is, in my view, an inferior opera. Until 2019 Akhnaten had never been performed at the Metropolitan Opera – from which this second recording, just released by Orange Mountain, comes – but it was in London, three years earlier, that this production was first seen and heard.
Akhnaten itself is a deceptive opera. It is a highly emblematic minimalist work, and yet this occludes its enormous technical difficulty, both for its singers and orchestral players. Glass chooses a countertenor for the role of Akhnaten – and great countertenors are in short supply. The orchestra is unusual in that there are no violins – something which Glass never particularly intended but which was necessitated by problems at the initial premiere which required him to rewrite the score to accommodate a smaller string section (in the end he just excised the violins entirely). The work is a pinnacle of many forms: focal accuracy, concentration, dexterity and clarity that has to be as visually precise as a high-definition photograph. Linguistically, it is sung in English, Akkadian and Hebrew – and at least twice has incorporated German (in Akhnaten's 'Hymn to the Sun'). Much of this can come across on a recording of the opera; indeed, with well-placed microphones and superb digital sound the score is brought alive on CD in a way that a filmed performance can't match.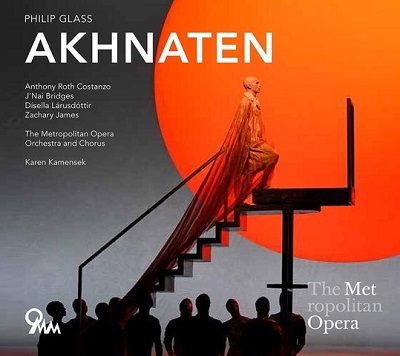 Of all of Glass's three 'Portrait Operas', Akhnaten is the one that is the most visual, the one that is the most obviously brilliant when staged – and problematic when taken from live performance for a sound-only recording. The 2019 English National Opera revival of Phelim McDermot's 2016 production of this Akhnaten, which remains the reference point I have for this Metropolitan Opera premiere, was stunning, a true Egyptian display of rich colours and burning sun. You may not be able to see those images in the recording but in part they have been negotiated and managed through the orchestra. Karen Kamensek, at ENO, just as she did at the Met, uncovered details in the score which the earliest recording, made over 40-years ago, glossed over. But, Kamensek has vastly slowed down the music as well which is perhaps why this is the case, even if it also places formidable demands on her cast. There is no denying, however, that the Met brass and timpani have a field day at the funeral of Amenhotep III in Act I. This fabulous orchestra has retained precisely the articulate brilliance it did under James Levine. Indeed, the brass and timpani sections remind me of the powerful Stravinsky ballets that Levine conducted in his matinee performances – especially the Rite of Spring. That same effortless, balletic brilliance slivers through the orchestra – and this ensemble's brooding sound is a gift to Glass's score.
The countertenor Anthony Roth Costanzo has become the go-to singer for the role of Akhnaten today. He has sung the part in the last four of five productions (Benno Schachtner sung the role in Bonn in 2018). Costanzo, has marginally more heft at the bottom of his range than he did for the ENO production, but perhaps the closeness of the recording is one reason why. I think much of his interpretation of Akhnaten is near to definitive – at least now. He sounds considerably younger than his years, although the vagueness attached to ageing Akhnaten (anywhere from 19 to 40, although most likely 26) complicates casting the role; he will grow out of the part, and probably quicker than one expects. Not all countertenors are suited to singing Akhnaten; parts of it lay very uncomfortably outside the range of many. It's certainly hard to imagine many bringing quite the emotional power and sweeping intensity which he does to Act II, of the sensuous, almost erotic charge, to the love duet, beautifully sung here by J'Nai Bridges as Nefertiti.
Philip Glass's operas may always remain marginal works – both in the opera house and on disc. But that doesn't mean they are not masterpieces of both their genre or their particular musical form. Akhnaten stands out as one of the greatest examples of minimalism, and although I have often criticised Glass for an inability to contain this opera entirely within itself – Glass can compose to interminable limits, especially at the ends of his operas, and Akhnaten is a very explicit example of this – the sheer beauty, intensity and hypnotic power of the opera far outweighs problems with its length or difficulties Glass demands of his cast and orchestra.
The CBS recording with Dennis Russel Davies – recorded in 1984 – and this Met recording, from 2019, under Karen Kamensek, benefit from two Glass specialists and so might be described as definitive, even though they stand at very different stages in the Glass creation factory – one of vast breadth and changing style. They remain models of brilliant advocacy for this opera, although the approaches are often markedly different. Davies is fluid, generating a pace which can sometimes sound rushed but he is electrifying; Kamensek gives us a more organic reading, one which breathes less fire into the performance but considerably more detail. Costanzo's Akhnaten is more nuanced than that of Paul Esswood but perhaps this is to be expected over what is approaching half a century.
There have since 2016 been more performances and recordings (five) of Akhnaten since the first in 1984 and the fourth at Oakland Opera Theatre in 2004. Einstein on the Beach, despite both its considerable length and more difficult musical language, is more often performed. Perhaps Akhnaten's time has come. Meanwhile, there are now two indispensable recordings of an unquestionable operatic masterpiece. The Met's new recording is very much an Akhnaten for the modern age.
Marc Bridle
Philip Glass: Akhnaten (recorded live at Metropolitan Opera, New York, 23rd November 2019)
Akhnaten – Anthony Roth Costanzo, Amenhotep III – Zachary James, Aye – Richard Bernstein, Nefertiti – J'Nai Bridges, Queen Tye – Disella Lárusdóttir, High Priest – Aaron Blake, General Horemhab – Will Liverman; Conductor – Karen Kamensek, Metropolitan Opera Orchestra and Chorus.
Orange Mountain OMM0154 [2 CDs]