The escalating cost of living crisis may soon result in many children in the UK sharing Hansel's hunger pangs: 'O Gret, it would be such a treat, if we had something nice to eat! Eggs and butter and suet paste, I've almost forgotten how they taste.' But, Stephen Barlow's new production of Humperdinck's fairy-tale opera, for the Royal College of Music, is sharply topical in ways that the director surely could not have anticipated, presenting as it does an allegorical reading of the Grimm Brothers' coming-of-age tale, in which walls deny wishes and divide families, and their toppling doesn't necessarily result in 'happily ever after'.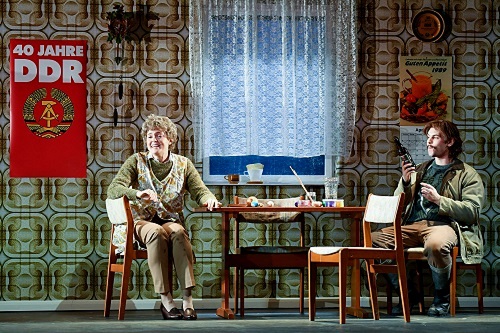 Barlow and designer Yannis Thavoris have set the action in 1989, 40 years after the birth of the German Democratic Republic. Hansel and Gretel are living with their parents in a prefabricated Plattenbau apartment block, decorated with brown-green geometric swirls. Watched over by a bespectacled Erich Honecker, Hansel slouches in a leather chair watching football on a flickering television screen, while Gretel, her pigtails tamed beneath her Free German Youth cap, dutifully darns her stockings and decorates eggs for Easter. The fridge, dramatically illuminated by Rory Beaton, is bare.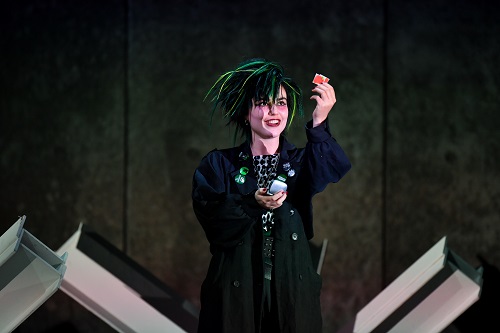 Sent by their despairing mother to collect fruit for supper, the children find themselves in a 'forest' of anti-tank bulwarks beside the Berlin Wall. The Sandman, a green-haired Goth, climbs over the Wall and gives the frightened duo some drug-coated strawberries to help them sleep, but their happy dreams are not of fourteen guardian angels who will guide their steps to Heaven. During the dream-sequence, which is brilliantly played by the RCM Opera Orchestra under their conductor Michael Rosewell, P J McEvoy's split-screen video unfolds a timeline of pre-unification West and East Germany, colour, culture and consumerism contrasting with communism and concrete. Images of Helmut Kohl, Ronald Reagan, Mikhail Gorbachev, and huge crowds holding glasnost-bearing banners and chipping away at the Brandenburg gate with hammers and pickaxes, roll across the Wall, and when the musical peak heralds the crumbling of the Iron Curtain, and thousands flow through, celebrating, crying, kissing, it's hard to hold back the lump in one's throat.
But, though life is sweet on the other side, with its confectionary houses and limitless luxuries, the children – who are ushered to the West by a bandanaed fitness-fanatic Dew Fairy who bounces brightly to her Walkman's beat – discover that freedom brings its own dangers, in the form of Rosina Leckermaul, owner of premium chocolate brand, Lecker. Children tempted by her delicious chocolate treats find themselves chained to the factory's manufacturing line, slave labour being one of the downsides of a free market economy. Some hocus pocus and quick thinking see the handbag-wielding Witch dive into her own vat of hot chocolate, but the arrival of Mother and Father, dressed in sharp shades and baseball cap, and clutching the fruits of some compulsive shopping, is a bittersweet reunification.
The cast of young singers are uniformly terrific.  Sofie Lund-Tonnesen (Gretel) and Emma Roberts (Hansel) are absolutely credible siblings, their banter and rivalry, fears and love, both persuasive and poignant.  Lund-Tonnesen's vibrant soprano shines with Gretel's goodness and when she quietens the grumbling Hansel, "When the need is greatest, God the Lord puts out His hand", Father's adage is sung with the sincerity of a Free German Youth motto.  The fullness and varied colours of Robert's beautiful mezzo capture Hansel's adolescent restlessness.  By turns sulky and soft-hearted, his bravado is balanced with a vulnerable need to be loved.  Barlow's neat details are numerous, funny and neatly executed.  Hansel sprawls his legs insolently, cheekily puts his sneakered feet on the kitchen table, and turns Gretel's paintbrushes into a mock knife and a back-scratcher – when his ebullient Father returns home we see it's a case of like father, like son.  The children's energy is ceaseless and natural, and their mischievous dance is pepped with burgeoning prepubescent sexuality.  But, when they sing their evening prayer, the voices of Lund-Tonnesen and Roberts blend with gentleness and grace, and genuine feeling.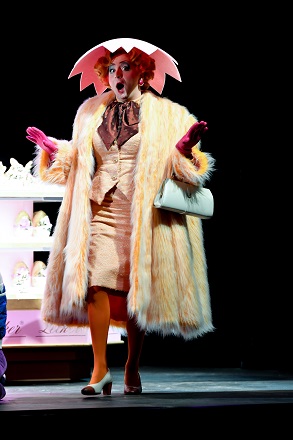 Lylis O'Hara (Mother) and Theo Perry (Father) sing with warmth and spirit. Sofia Kirwan-Baez and Clara Barbier Serrano are a fine Sandman and Dew Fairy respectively, and they join five other Chorus members as the children liberated from the Leckermaul sweatshop, throwing their hairnets, rubber gloves and overalls into the giant chocolate pot with glee. And, if there is a 'star' of this show, then it's Michael Bell's Witch, whose mink coat and egg-shell hat ooze 80s glamour and whose blue-shadowed eyes could out-innuendo Barry Humphries. Accompanying them, the RCM Opera Orchestra produced one of the best performances I can recall hearing from them in the Britten Theatre.
This Hansel and Gretel is both funny and serious, farcical and sentimental. It's brilliantly conceived and executed. Heaven knows, at the moment we all need something to make us smile, and Barlow and the cast certainly do that, but they make us think too.
There are further performances of Hansel and Gretel on 16, 18 and 19 March.
Claire Seymour
Gretel – Sofie Lund-Tonnesen, Hansel – Emma Roberts, Mother – Lylis O'Hara, Father – Theo Perry, Sandman – Sofia Kirwan-Baez, Dew Fairy – Clara Barbier Serrano, The Witch – Michael Bell, Chorus – Henna Mun, Emilia Utter, Grace O'Malley, Alexandria Moon, Madeline Boreham; Director – Stephen Barlow, Conductor – Michael Rosewell, Designer – Yannis Thavoris, Lighting designer – Rory Beaton, Video designer – P J McEvoy
Britten Theatre, Royal College of Music, London; Monday 14th March 2022.
ABOVE: Emma Roberts (Hansel), Michael Bell (Witch), Sofie Lund-Tonnesen (Gretel) (c) RCM/Chris Christodoulou