It's Pride Month, and Opera Theatre of Saint Louis can be justifiably "proud" of its absorbing new production of Harvey Milk, in its most recent iteration by composer Stewart Wallace and librettist Michael Korie.
The subject concerns the iconic, martyred gay icon, and while there is a slight tendency to ennoble him as Saint Harvey of Milk, such reverence is balanced by bursts of candor and sass, and tempered by political machinations that fueled the tragic outcome. Besides, there are no Jewish saints, and Milk's identity is deeply informed by his religion, with resonance of the Holocaust especially shadowing Act One. The opera is bookended by the chorus intoning Kaddish.
The piece begins at the end. At downbeat, as uneasy, haunting musical sounds waft up from the pit, rife with dissonances and disembodied glissandi. The unsettling music matches the visual of Milk on the floor drawing the chalk outline his own dead body will occupy, ending with his assassin pantomiming the shooting. His mother observes this from a high platform as she warns: "Evil is out there everywhere. . .Golems appear from thin air. . .Watch out for men who are different."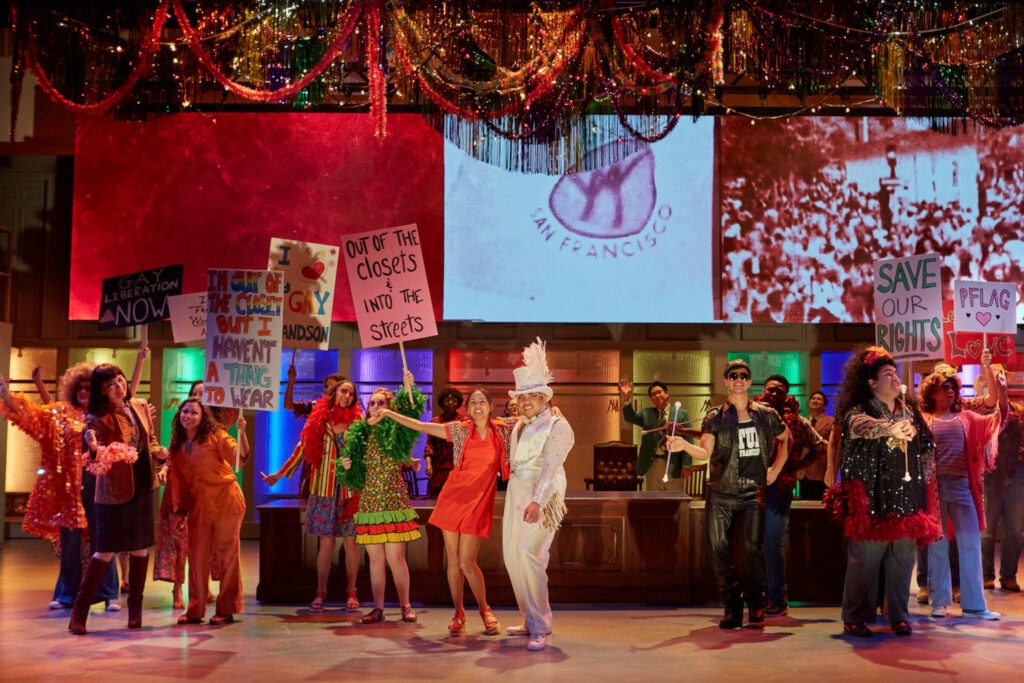 Once having shown us where the story will fatally go, Mssrs. Wallace and Korie transport us deftly to (where else?) the Metropolitan Opera! Harvey was a fan, and a younger version of him is wondering who the gaggle of tuxedoed male operagoers are: "Who are these men without wives. . .(who) know the plots of the librettos. . .the names of dead Polish mezzos?" A post-performance foray to nearby Central Park finds Young Milk intermingling with cruising gay men. He is apprehended.
We time travel forward to a setting called "Harvey's Walk-In Closet," a hotbed of kink behind closed doors, where 39-year-old Harvey can explore an identity he keeps hidden from his Wall Street employer. Outside the campy gathering, a menacing policeman with a billy club prowls the perimeter, threatening Harvey as he comes outside, which prompts activist Scott Smith to emerge from the shadows to challenge and charm Milk at the same time, establishing the groundwork for the rest of the journey that begins against the backdrop of Stonewall. Self-acceptance, rights advocacy, meaningful relationships, and political success as a San Francisco city supervisor follow in short order.
Some of us lived through the tragic event on 27 November 1978, but others may be encountering this information for the first time. On that day in San Francisco's City Hall, Dan White, a disgruntled, homophobic city supervisor who had resigned after some heated clashes with Mayor George Moscone and Milk among others, took revenge by sneaking into the building and shooting them dead in cold blood. The city and nation were first stunned, then galvanized into renewed and rededicated action to further gay rights.
Harvey Milk was re-imagined by its creative team from 1985's three-act, three-hour original product, into the current two-hour, two-act version. If this sounds like a lot of material to pack into 120 minutes, Wallace and Korie accomplish this lean-and-mean feat by telling a good deal of it in big chunks, non-linear and highly theatrical impressions that create a mosaic of events and milestones in Milk's personal and public development.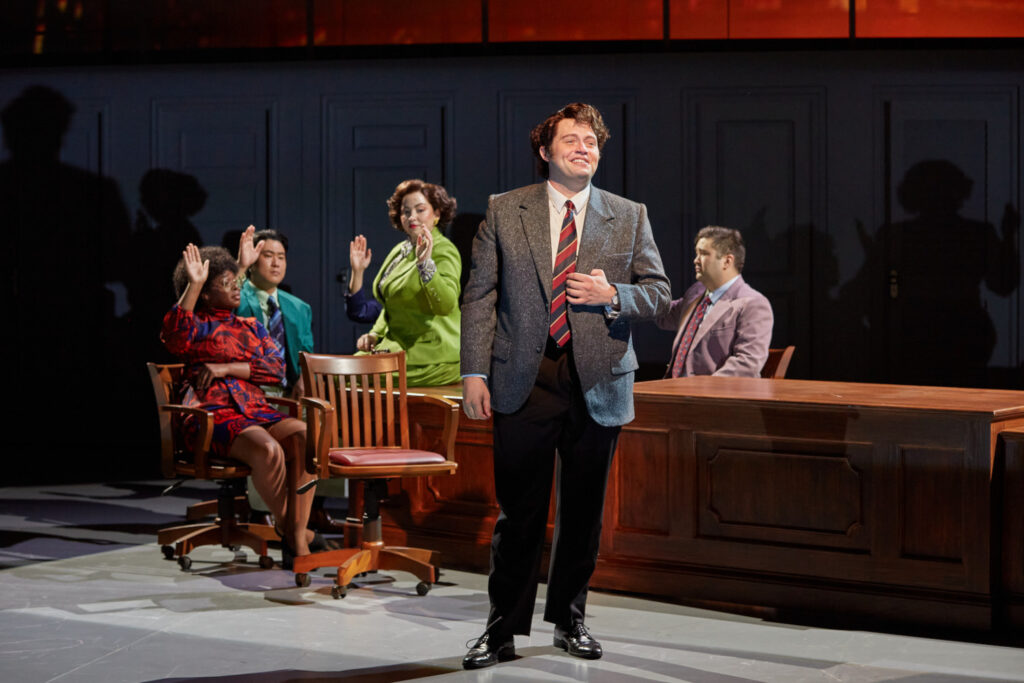 They are ably abetted by an imaginative creative team. Co-directors Seán Curran and James Robinson are masters at this kind of stylized story telling. They peopled the stage with fluid movement, meaningful pictures, and memorable interactions. Mr. Curran also provided inventive choreography that was enthusiastically executed by Kevin J. Miller's well-schooled chorus of Gerdine Young Artists.
The directors also made full use of the many levels and inventions of Allen Moyers' intriguing set design. Two very large "boxes" with stairs to high platforms, spun, separated, opened, came together, and pretty much did everything but whistle the Habanera. Upstage, rows of doors flew to reveal rows of closets, and a stage wide screen descended from above to provide an additional landing place for Greg Emetaz's eye-popping video projections. Mr. Emetaz has exceeded even his own high standard with an array of images and historic footage that are dazzling. Christopher Akerlind proved a perfect partner with a varied and characterful lighting design.
Having lived through the 60's, I can say that James Schuette's evocative costumes were a real Throwback Thursday for me, as he found the right balance between "square" conservative looks, and the no holds barred tackiness and colorful audacity of the hippies and revolutionists. Tom Watson's makeup and (especially) wig design was so inspired, it further transported me quite happily back to my formative years, turbulent as they were.
Musically, Mr. Wallace's score shows a variety of influences, but he has distilled them into quite a unique contemporary sound. Wallace commends a wide vocabulary of orchestral colors and voicings, and he crafts vivid rhythmic inventions. The restlessness of skittering passages, and the lugubrious stretches that seem to underpin Dan White's tormented mental state, are well contrasted with the highly personal solo and duets passages. While some segments, especially the large chorus moments with multiple soloists, want to sprawl a bit, the opera focuses up affectingly in the intimate passages that are the beating heart of the performance. I appreciated the sly musical quotes (Tosca, Die Walküre) that snuck in when we were "at the opera."
The musical styles evolve easily from contemporary classical to musical theatre to jazz to marching band and all points in between. And when has a chorus of joyous, raucous kazoos ever been featured in the operatic rep? For all the freshness and impact of Mr. Korie's libretto, there are some case of "more is less." There are a few too many times that real life characters are given short featured moments without there being ample time to define who they are. I spent the intermission trying to puzzle out who a few of these cameos were meant to be and I still don't really know. Perhaps there could have been fewer of them, but better defined, or even composited.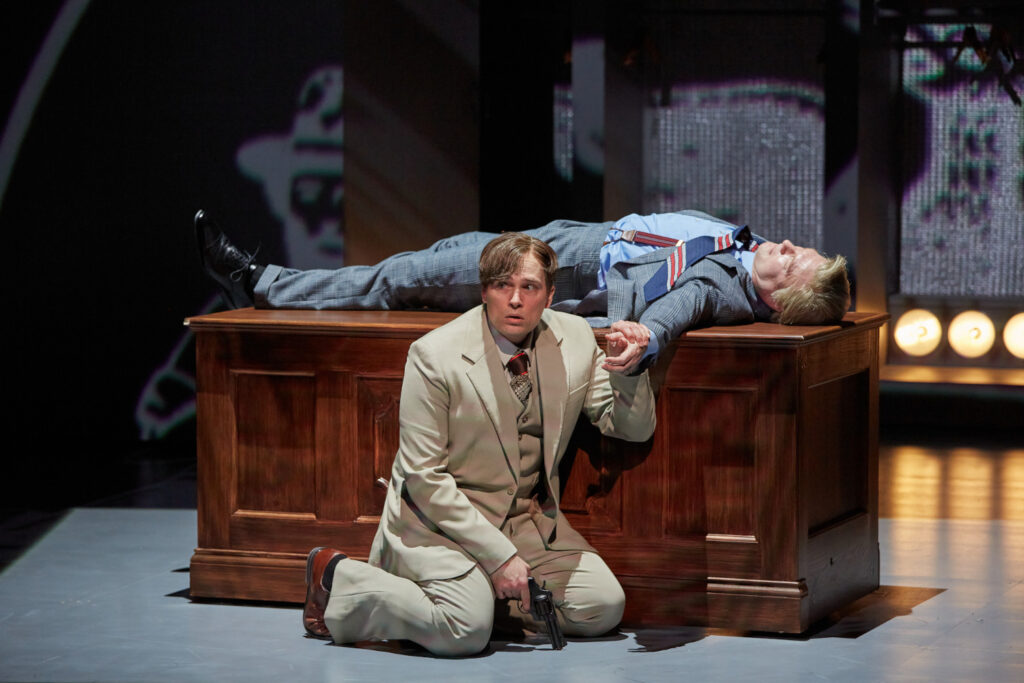 Baritone Thomas Glass gave a galvanizing, star-turn performance as the title character. His secure baritone never lost its honeyed sheen whether powerfully denouncing injustice, playfully interacting with comrades, or crooning his love of his partner with heart stopping beauty. His two powerful extended solos were rapturously received.
The object of Milk's affection, Scott Smith, was just as winningly performed by tenor Joshua Johnson. In the past, I had greatly enjoyed Mr. Johnson's puppy dog persona as Candide, and his hangdog charm as the Prince in The Love of Three Oranges. But nothing had prepared me for the searing tone and wide-ranging excellence he brought to this role. In addition to his usual limpid vocalizing, the tessitura of this role required high-flying forays, and his gleaming instrument rang out in the house.
The original tenor who premiered the production in the role of Dan White had to withdraw mid-run, and it fell to Gerdine Young Artist Cesar Andres Parreño to come to the rescue. His bright, shining tenor voiced the part with conviction and real assurance. His sincere acting was commendable however he was somewhat handicapped by the fact that he is nowhere near the right physical type. The real Dan White was a quintessential "All American Boy," a strapping WASP with sandy hair. Still, we were mightily grateful that Mr. Parreño was able to step in to save the show with such artistic aplomb.
The gifted bass-baritone Nathan Stark delivers another high-octane performance, or rather, performances. Mr. Stark threatens to steal every scene he is in with a trio of characters: Horst, a German transplant with a penchant for S/M; a brusque Teamster who grudgingly teams up with Milk to boycott Coors Beer; and a bloviating, cocksure George Moscone, San Francisco mayor. These were all powerfully voiced, individually rendered impersonations. Few singers can act with their voice as well as Stark, and no one is better than him at commanding an audience.
The Messenger is an angel-like spirit that was concocted to frame Milk's coming of age, coming out, and coming to power. It is a device not unlike the Angel in Angels in America, except rather than breaking through the ceiling, he helps Harvey break through the closet door. The role has more stage time than singing time, but counter-tenor Kyle Tingzon sported a lovely, plummy voice.
Tenor Mishael Eusebio is youthful and clear-toned as the Young Harvey, and he really embodies the man's sexual confusion. I like that the less mature Milk is a light tenor, with the older persona a weightier baritone. However, he is so physically different from his adult counterpart that it does really call on quite a large suspension of disbelief. As the apparition of Mama, Elizabeth Sarian deployed a pointed, wonderfully appealing lyric soprano to fine effect.
Even in less well-defined roles, Raquel González lent her shimmering soprano to the dual roles of Dianne Feinstein and a Sex Worker; Xiao Xiao's soft-grained lyric mezzo informed her solo moments as Henrietta Wong; and Mack Wolz's searing mezzo contributed some powerful interjections that contributed to the overall musical impression.
But here is a recommendation: Contemporary composers, please stop amplifying the voices! Even the light amplification used here by sound designer David Bullard, did a disservice to every single artist momentarily at some point in the evening.
Finally, in the pit, Carolyn Kuan led a supremely assured reading, not only meeting the complex demands of the score, but seeming to revel in them. Maestra Kuan commanded the enormous instrumental and vocal forces with inspired leadership, awesome control, and informed nuance.
This was a stirring evening, chockful of historical remembrance. If Harvey Milk aspires to a little more than it can deliver, it nevertheless did deliver a good deal of inspiration, education, entertainment and satisfying craft.
James Sohre
---
Harvey Milk
Music by Stewart Wallace
Libretto by Michael Korie
Cast and production personnel:
Dan White: Cesar Andres Parreño; Harvey Milk: Thomas Glass; Dianne Feinstein/Sex Worker: Raquel González; Scott Smith: Jonathan Johnson; George Moscone/Horst/Teamster: Nathan Stark; Henrietta Wong: Xiao Xiao; Anne Kronenberg: Mack Wolz; Messenger: Kyle Tingzon; Young Harvey: Mishael Eusebio; Mama: Elizabeth Sarian; Man at Opera/Closet Lover Jack: Nathaniel Sullivan; Buff Young Man: Schyler Vargas; 1st Television Reporter: Steven Ricks; 2nd Television Reporter: Sydney Dardis; 3rd Television Reporer: Maria Consamus; Ella Hill Hutch: Melissa Joseph; Conductor: Carolyn Kuan; Co-Directors: Seán Curran, James Robinson; Set Designer: Allen Moyer; Costume Designer: James Schuette; Video Designer: Greg Emetaz; Lighting Designer: Christopher Ackerlind; Wig and Makeup Designer: Tom Watson; Sound Designer: David Bullard; Chorus Master: Kevin J. Miller
Top photo: (L to R) Teamster (Nathan Stark), Harvey Milk (Thomas Glass), Scott Smith (Jonathan Johnson), Henrietta Wong (Xiao Xiao), and Anne Kronenberg (Mack Wolz) in the new performing edition of Stewart Wallace and Michael Korie's Harvey Milk. Photo © Eric Woolsey 2022