With all the doom, gloom and dispiriting events dominating the news cycle, Des Moines Metro Opera served up a perfect antidote with a sassy yet classy staging of Benjamin Britten and Peter Pears' A Midsummer Night's Dream that was as invigorating as a refreshing sorbet.
Visually, the atmospheric and vibrant production design was arguably the most eye-catching of the festival, starting with Jacob A. Climer's bewitching sets and beguiling costumes. The raked stage is a soothing verdant bank, dotted here and there with strategically placed boulders and punctuated with firefly-laden vegetation. The proscenium portion of the playing space was pleasantly populated with leafy, shadowy trees that simultaneously convey protective comfort and impending bewitchery. (A lone tree placed on the thrust was handsome enough, but from my vantage point at least, occasionally problematic with sightlines.)
At the curtain line as well as upstage of it, there was a "wall" of tree cutouts that were tracked, and parted so they yawned open at the start of each act and converged at each close to suggest a return to slumber. Mr. Climer's costumes were a marvel of character delineation. In the fairy world, the players were in a riff (and ruff) on ornate Elizabethan finery, with all their attire resplendent in gleaming white.
The mortal lovers were horny college students, togged out in blue and gold, from letter jackets ("A" is for Athens) to plaid skirt and pants, accessorized with pom poms, hair bows and hipster sneakers. At their wedding Theseus and Hippolyta are formally attired, he in a variation of a tuxedo, she in a sumptuously patterned, violet off the shoulder gown. The four lovers join the marital party in trendy, sparkly Millennial dress-up togs.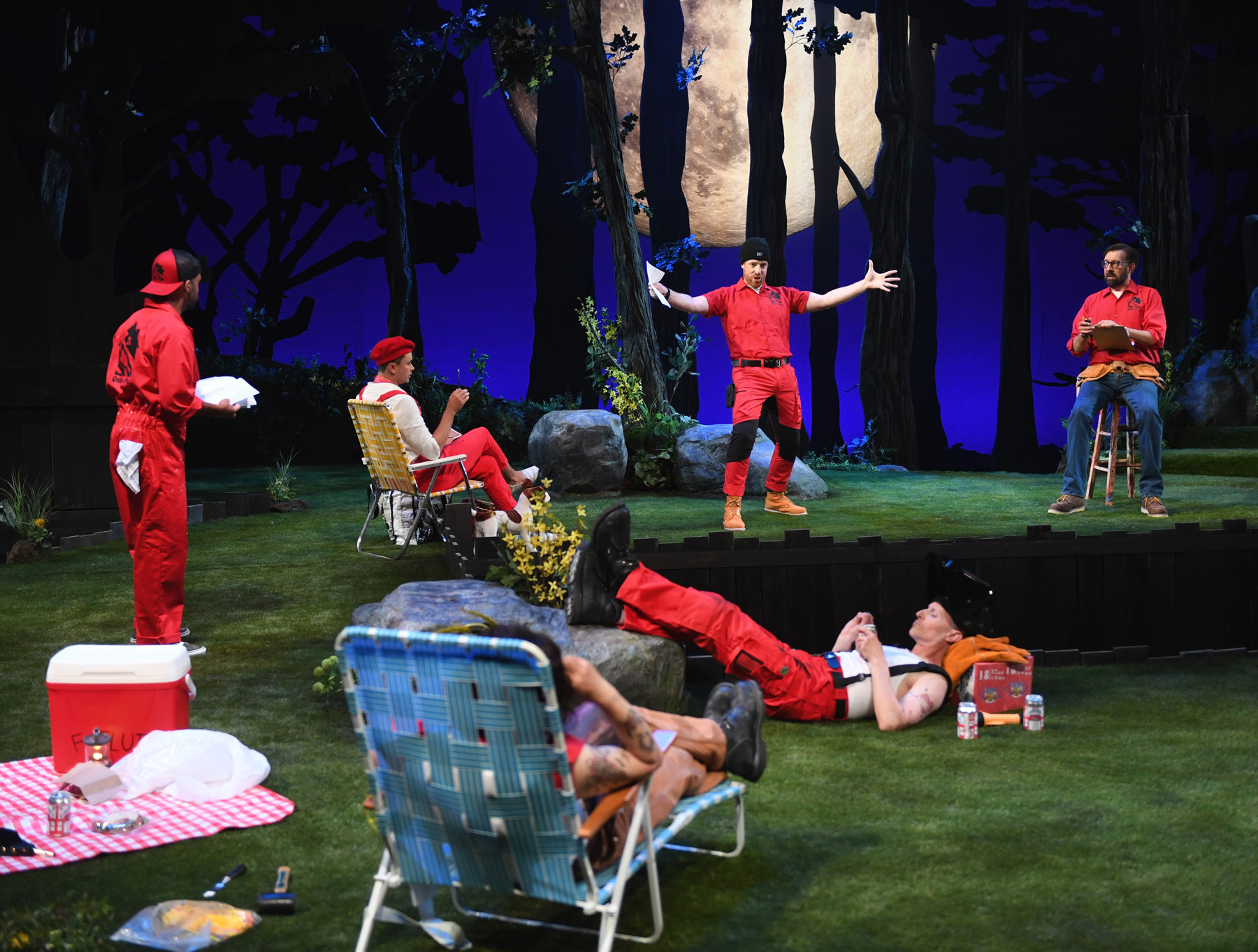 For the Rude Mechanicals, Mr. Climer first appeared to have raided Dickies for a bright red assault of construction worker getups. He then kept the red (accented with white) concept to devise a hilarious, circus-inspired take for 'Pyramus and Thisbe,' which unashamedly included Snout's wall made of beer cans! Bottom's donkey effect was freshly managed, and his appearance stripped of his work clothes to just his tightie whities was downright bawdy. I am not sure if the package on display was 'costume design' or the real deal, but it sure provoked a lot of belly laughs and stage, um, business.
Brittany V.A. Rappise outdid herself with a comprehensive make-up and hair design that ran the gamut from Tytania's waggish bouffant to Helena's perky ponytail to Thisbe's yellow yarn braids. Mr. Climer has also backed the whole setting with an image of an enormous full moon, that not only changes position, but also changes color from white to a shocking pink that sputters into effect whenever someone's eyes get sprinkled with fairy dust.
The latter effect is but one of many in Connie Yun's expressive lighting design. Ms. Yun commands a broad palette of effects including washes of radiant daylight balanced by a moody onset of soothing, impending evening. I admired her judicious use of specials, and an inviting blend of colors which were especially noticed on all the white costumes. She also helped create a playful fade-in and fade-out to frame each act with a sparkling gobo effect on the stage floor, as Puck commanded the players on- or off-stage.
As for Chas Rader-Shieber's inventive direction, one might be forgiven for most remembering that the evening was chockfull of mild to riotous humor, much of it physical, and overlook that he also masterfully staged fluid scenes of serenity and introspective musings. The great Act III quartet by the lovers was all the more ravishing for its visual stillness and lovely stage placement. The reconciliation of Tytania and Oberon was similarly heartfelt in its simplicity.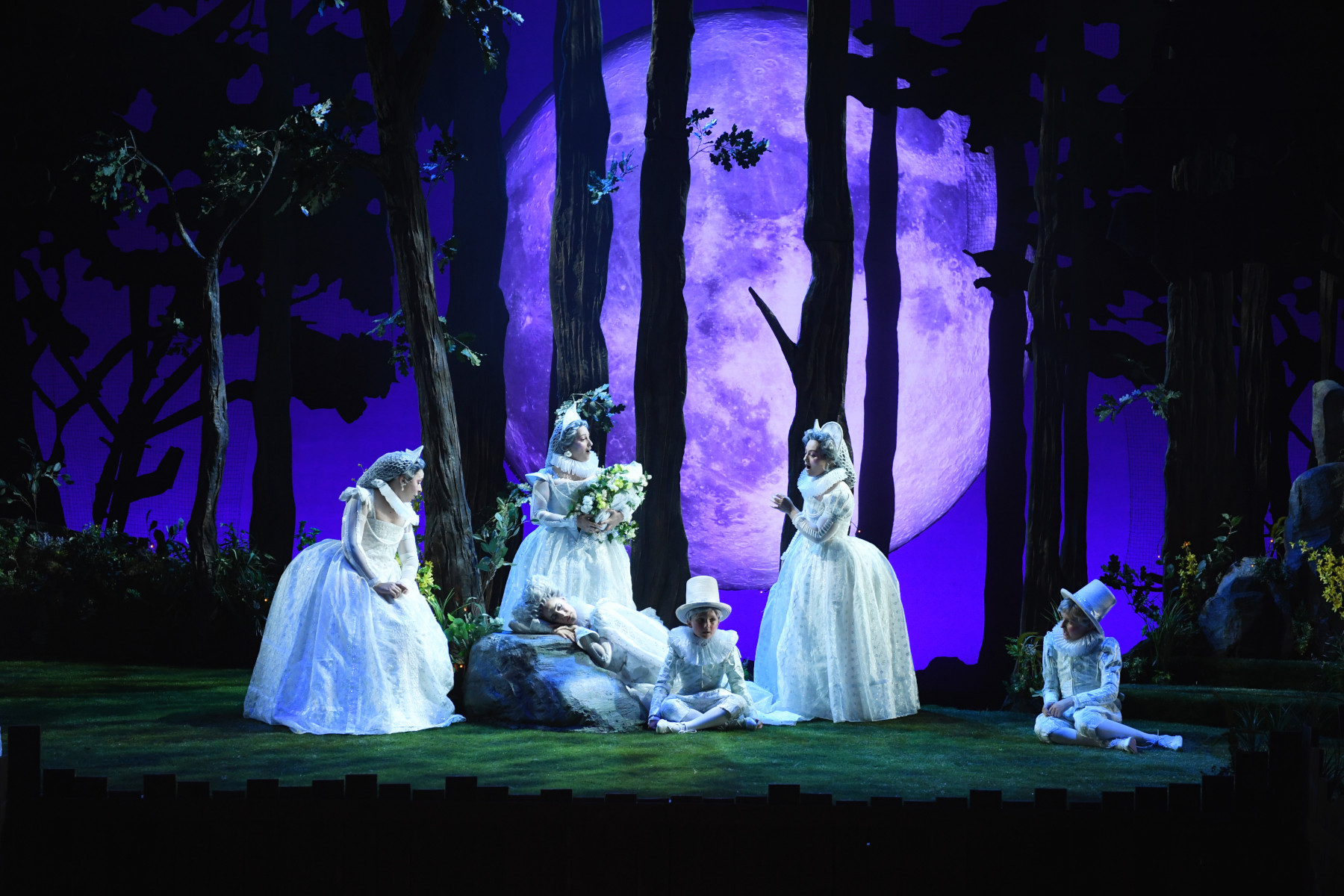 The Mechanicals were deliciously over-the-top, apparently willing to do most anything, and if Mr. Rader-Shieber gilded a lily or two (or ten) to my taste, the rest of the audience drowned out my reservations with gales of unbridled laughter (also unfortunately obliterating the funny asides by the onstage 'wedding guests'). I happily note that the director took full advantage of the many disparate stage entrances and concocted numerous surprises in the course of chasing these characters through the woods.
Elizabeth Askren conducted a revelatory reading of Britten's multi-faceted, difficult to categorize score. From the first haunting string glissandi, Maestra Askren elicited a haunting effect that soon morphed from the 'spiritual' fairy realm to the 'spirited' human scape and beyond, to the Music Hall sensibilities of the Mechanicals. Britten was a master orchestrator, and Askren inspired virtuosic achievements from the pit, from seamless ensemble playing to exposed, characterful solos, all beautifully rendered. Especially noteworthy were the jaunty, prankish (Puckish?) trumpet passages, realized with tangy gusto. The accomplished Youth Chorus Master was Allen Perriello, whose charges sang with beauty of tone and unity of purpose.
Owing to the uncertainties of the effect COVID might hold as concerns such young singers, DMMO cast the solo fairies with accomplished adult female performers. Emma Rothfield (Cobweb); Naomi Brigell (Mustardseed); Véronique Filloux; (Peaseblossom); and Miya Higashiyama (Moth) all performed with poise and professionalism, although it must be said the weight of their adult voices did make the fairy choruses a bit more earthbound than Britten envisioned. It also introduced an unintended 'distractor factor' as the text kept referring to them as 'sir' and 'fellow' when the visual of the quartet was that they were attractive women.
From the very first scene, John Holiday and Sydney Mancasola served notice that this was going to be a star-studded cast. Mr. Holiday may now be widely known and admired for his unique pop stylings on The Voice, but his abiding success has been in the opera house. As the cunning Oberon, he lavishes his high-flying outpourings with meaty, golden tonal production and unerring musicality. Ms. Mancasola is a lovely match for him, her sparkling, entrancing soprano caressing her soaring phrases with easy and beauty. She is coolly queenly at first, then she plays her amorous encounters with the donkey with comic aplomb, all the while remaining vocally regal. With the gauntlet thrown by these two top tier singers, it was picked up by a wholly winning quartet of young lovers.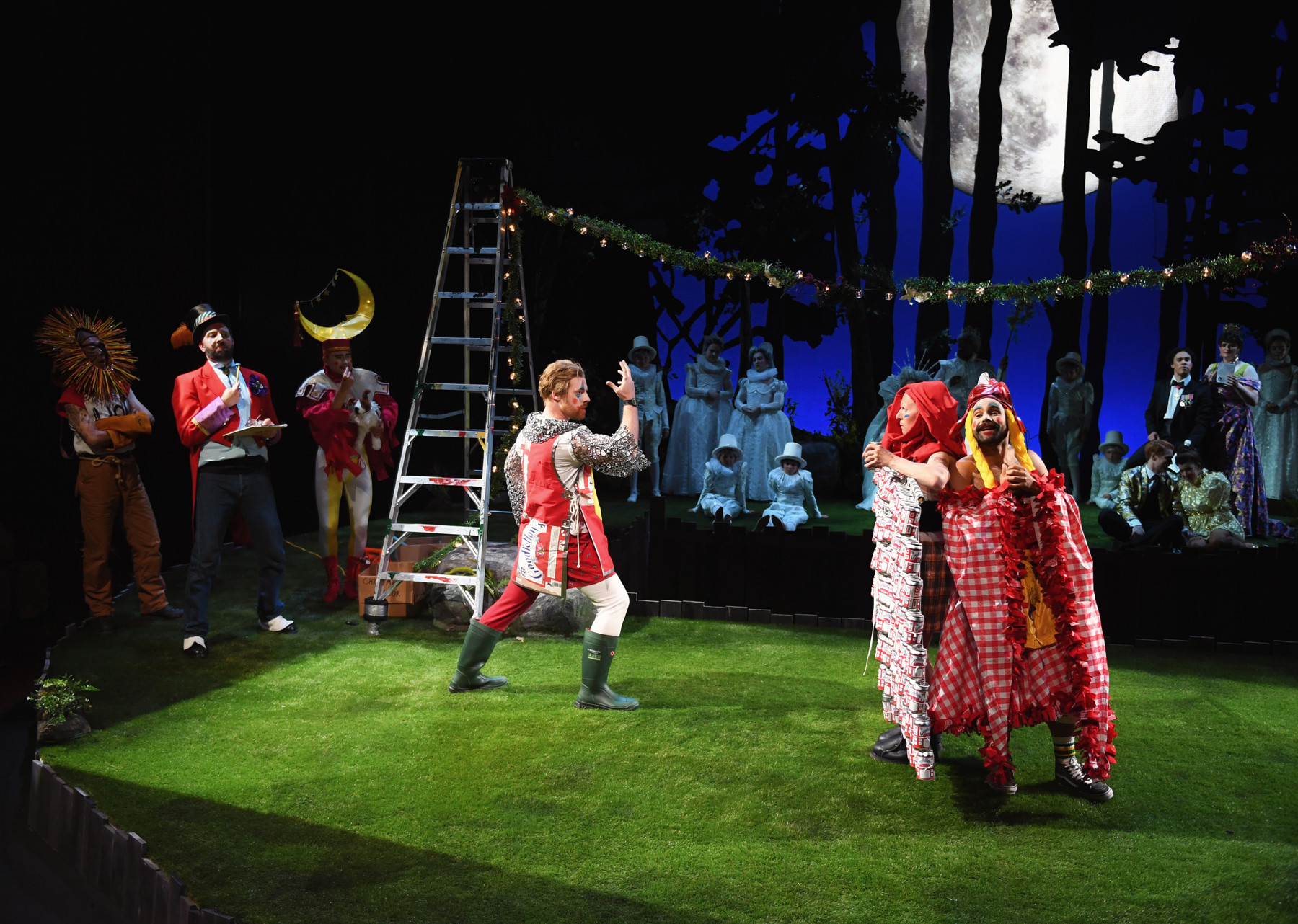 Ardently coltish Isaiah Bell shows off a gleaming, assured tenor as Lysander. Mr. Bell's secure declamations were well balanced with wonderfully vocalized introspective passages.
The object of his affection (and dis-affection and affection again) is Hermia, the charming Tamara Gura, a poised sorority girl with a warm, distinctive mezzo. Her dusky singing handily accommodated the role's mood swings from hotheaded resoluteness to whimpering acceptance.
Helena (in love with, but unloved as yet by Demetrius) was felicitously impersonated by Susanne Burgess, her buoyant, fetching soprano informing her utter devotion even as it belies the heartache of her rejection. Her amorous wishes are melodiously dispatched, and she suffers her slights with arching legato and solidly limned tirades. Alexander Birch Elliott was boyishly lean and mean of physique as Demetrius, but whoa, where did that powerhouse of a voice emanate from? Mr. Elliott's buzzy, magnetic baritone put the "B" in butch, and was so potent it could probably be heard in Ames.
The diminutive actor Liam Beck-O'Sullivan was all one could wish as the mischievous Puck. Mr. Beck-O'Sullivan prowled the premises with lithe purpose, and his speaking voice had a perfectly calibrated ethereal youthful coloring. His spoken lines are timed to the music, of course, and for the first time in my experience, Puck actually sang a few of his sentences, mostly intoned on one pitch with a reedy, serviceable tenor.
Hippolyta (Sydney Frodsham) and Theseus (Alan Williams) have very little stage time, but they certainly shone in their brief appearance. Mr. Williams' ringing bass was characterized by a solid technique and an appealing timbre, and Ms. Frodsham's distinctively colored contralto enlivened her authoritative cameo.
The ensemble of Rude Mechanicals was a superbly integrated group of gilt-edge singing actors Or is it acting singers? Whatever, these inspired, full-throated clowns truly gave a "no holds Bard" presentation. Matt Boehler's substantial, rolling bass was a persuasive ringleader as an assured Peter Quince. Michael Pandolfo's well-schooled, pleasing baritone was highly enjoyable as Robin Starveling and shone as Moon (see what I did there?). Flute was playfully embodied by Michael Kuhn, his fresh and attractive lyric tenor effusively deployed to not only serve up the long-suffering bellows mender, but also a yummy Thisbe in the play-within-a-play. Corey Trahan displayed a sturdy, confident tenor as Snout, and he reveled in his calculatingly absurd antics as Wall. Wei Wu has a huge, resonant bass that rang through the house as a doltish Snug the Joiner, which he later modulated to present the preposterously silly roaring from his Lion.
If there was a standout performance in this flawlessly matched cast, it would have to be Barnaby Rea as a definitive Nick Bottom. I have seen many very fine performers in this role, but none has infused Bottom with a vigorous, responsive bass of such charismatic presence, wedded to an unimaginably varied comic sensibility. When he was onstage, it was hard to look away from his magnetic presence, when he was offstage, we missed him. His posturing as Pyramus dominated that scene with an innate star presence. Mr. Rea contributed a masterful achievement.
Thank you, DMMO for three hours of the uninterrupted love and laughter that were A Midsummer Night's Dream. We needed that.
James Sohre
---
A Midsummer Night's Dream
Music by Benjamin Britten
Libretto by Benjamin Britten and Peter Pears
After the Play by William Shakespeare
Cast and production staff:
Cobweb: Emma Rothfield; Mustardseed: Naomi Brigell; Peaseblossom: Véronique Filloux; Moth: Miya Higashiyama; Puck: Liam Beck-O'Sullivan; Oberon: John Holiday; Tytania: Sydney Mancasola; Lysander: Isaiah Bell; Hermia: Tamara Gura; Demetrius: Alexander Birch Elliott; Helena: Susanne Burgess; Peter Quince: Matt Boehler; Snug the Joiner/Lion: Wei Wu; Robin Starveling/Moon: Michael Pandolfo; Francis Flute/Thisbe: Michael Kuhn; Tom Snout/Wall: Corey Trahan; Nick Bottom/Pyramus: Barnaby Rea; Theseus: Alan Williams; Hippolyta: Sydney Frodsham; Conductor: Elizabeth Askren; Director: Chas Rader-Shieber; Set and Costume Design: Jacob A. Climer; Lighting Design: Connie Yun; Make-up and Hair Design: Brittany V.A. Rappise; Youth Chorus Director: Allen Perriello
Above image: Alan Williams as Theseus and Sydney Frodsham as Hippolyta (right)
All photos by Duane Tinkey