Santa Fe Opera welcomed Verdi's Falstaff back to its world-renowned festival with a stylish new production marked by wit and effervescence.
No company undertakes this piece without knowing they have a suitable star baritone for the title role that is hearty and pliable of voice and dexterous at quicksilver physical comedy. SFO struck the Mother Lode with the casting of Quinn Kelsey.
After a few rather muted first pages, Mr. Kelsey dominated his every scene with resonant, burnished vocalizing. His was an uncommonly well-sung interpretation of a role that is sometimes blustered through. In recent years, Kelsey has become a Verdi baritone "of choice" in the world's major houses, but a fine Count di Luna or Rigoletto does not often translate to a great Falstaff.
What sets his galvanizing performance apart is that while he never sacrifices vocal beauty, he nonetheless plunges into the Shakespearean schtick with abandon, immense skill, and superb timing. He unabashedly played up his belly to garner well-earned belly laughs. Whether presentingVa vecchio John with pompous gravitas, intoning Puo l'onore with playful contrasts, or building his Act III aria to the thrilling paean, E il trillo invade il mondo, this was a definitive performance by any measure.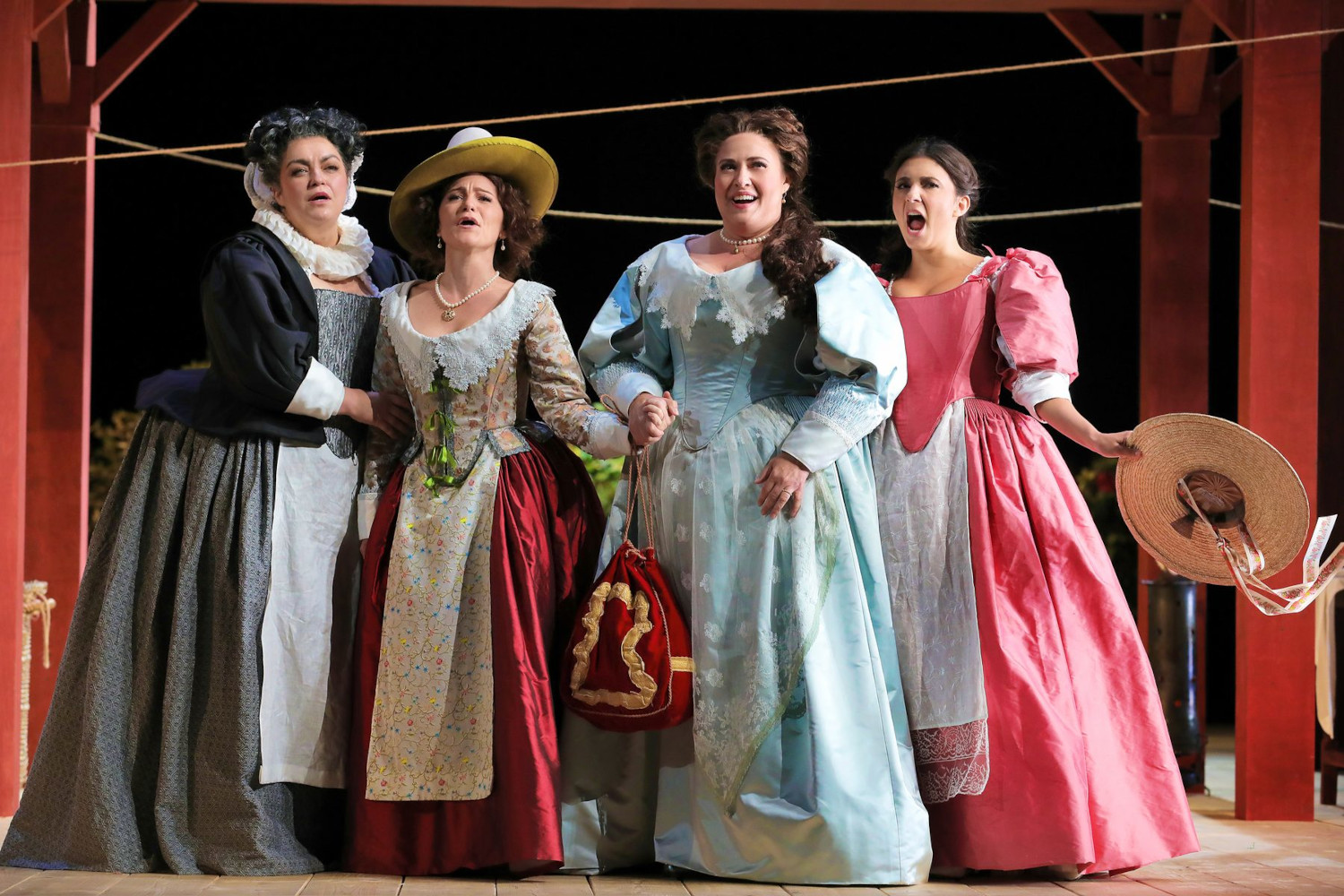 At this point in her career, Alexandra LoBianco was not quite the right fit for Alice Ford. The gleaming spinto and easily delivered flowing phrases that used to characterize her singing were in somewhat limited supply, and while she still commands an admirable range, good musicianship, and powerful high notes, in the (numerous) playful conversational give and take banter Ms. LoBianco's substantial sound tended to lumbering phrases, although her acting sparkled.
Roland Wood's Ford was a force to be reckoned with, at times perhaps too much of a force. This is a tough role to get right, and while his sizable, focused baritone rang out easily in the house, I felt that he hectored a bit too much underlining Ford's unlikable flaws (of which there are many) without finding whatever balance he could in his frail humanity. Mr. Woods had his best moments with a well-crafted rendition of his aria, in which he found opportunities for considerable variety, and his smooth treatment of selected phrases showed off his skill at spinning a legato line.
Megan Marino brought a vivacious mezzo and stage savvy to spare to the role of Meg Page. This is the least fully realized of the female characters, and the fact that she stood out favorably in the quartet is a testament to her poised, lively stage presence. Ann McMahon Quintero possesses a warm, endearing mezzo that has a plush, comfortable tone that falls easily on the ear. That said, she seemed miscast as the imposing, conspiratorial Mistress Quickly. Without the weighty chest tones for the running gag of Povero donna, and Reverenza, Ms. Quintero could not quite hold her own with Mr. Kelsey's potently voiced Sir John. Too, her beautifully schooled singing did not embody or communicate Quickly's lower class station.
I have never seen Falstaff that the Fenton and Nannetta were not highly accomplished singers and inevitable scene stealers, having some of the opera's sweetest melodies, and Santa Fe carried on my tradition. Eric Ferring's honey-toned, floated lyric tenor was a perfect match for the amorous Fenton, a performance that was so assured and winning that I wished Verdi had written more him to sing. Soprano Elena Villalón won hearts and ravished ears with her lovely demeanor and crystalline tone as Nannetta. Act III's Sul fil d'un soffio etesio was a study in limpid phrasing and masterful fil di voce effects.
The supporting roles were cast from strength. Brian Frutiger's acerbic, pointed tenor was deployed in complete service to the plotting Dr. Caius. His comeuppance was deliciously realized. Bass Scott Conner was a firm-voiced, sturdy presence as the boorish Pistola, while his comrade Bardolfo was served up with gusto by Apprentice Artist Thomas Cilluffo, whose penetrating tenor had ping and ring.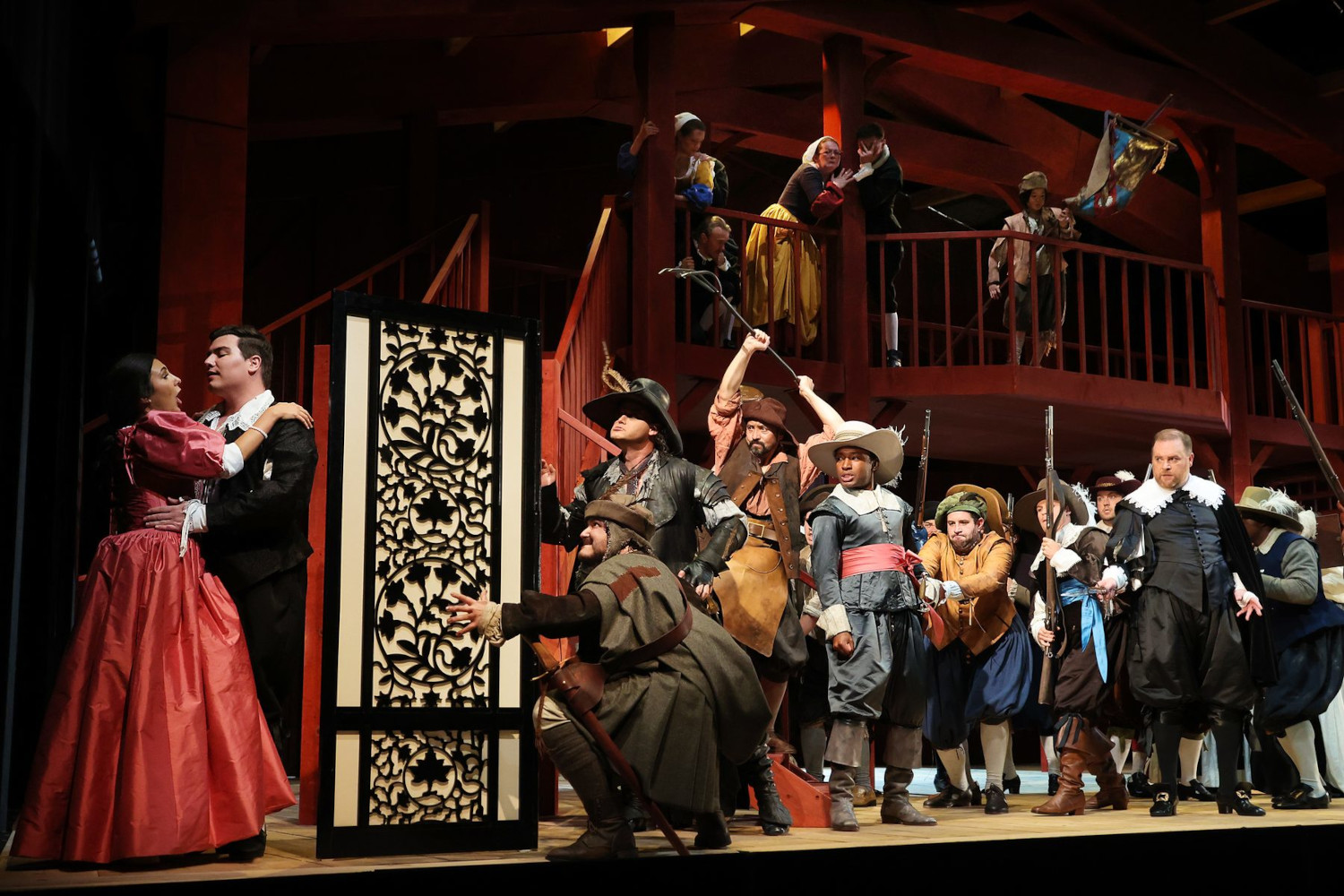 Paul Daniel led a beautiful reading of Verdi's swan song, relishing the master's diverse and loving composition that encompasses so many variations on the human condition. Maestro Daniel elicited every ounce of charm and humor in the piece, and the orchestra and singers responded with a purpose and unified commitment. If there was the (only) occasional delayed vocal entrance, it was small matter when the assembled company was presenting such a commendable ensemble effort. The choral work was well tutored by Susanne Sheston.
Director David McVicar did triple duty since he is also credited as costume and set designer. Let's begin at the top. Sir McVicar's clean direction knowingly trusted the masterpiece to speak for itself. Verdi and Boito were no slouches and knew their way around a stage piece. McVicar honored their accomplishment and inspired his actors to simply serve the material. Every well-known laugh line was presented with an honest freshness that it made us chortle anew.
Even the most time worn gags, like the servants startled inability to lift the Falstaff-weighted laundry basket inspired unbridled laughter. God bless you, David, for beautifully facilitating the possibility for the work to speak for itself. If I had one wish, I would hope that the occasional hysteria, although wholly committed, might be modified to be a little less manic. Case in point: There was so much hubbub going on that the all-important "kiss" effect between the hidden Fenton and Nannetta was completely obliterated.
Designer McVicar was augmented by the efforts of Associate Set Designer Hannah Postlethwaite and Associate Costume Designer Lorna Price. It is hard to know how much they contributed to the effort other than executing McVicar's concepts, but there is enough glory to go around. The Old Globe-inspired set was a two-tiered warmly colored red wooden structure that spanned the upstage area and sported a balcony with symmetrical staircases. It allowed for good use of levels and was handsome and functional.
The various locales were suggested by the addition of well-selected set pieces and furniture. The one drawback was that the changes between scenes stopped the forward motion cold. The audience sat in stony silence while the techies scurried to rearrange things as quickly as they could, but it still felt like forever. The handsome costumes were "traditional" and luxurious, with Falstaff's courting attire appropriately over-the-top pretentious. Lizzie Powell's effective lighting design complemented the storytelling, although at time I felt the isolated down stage effects a bit cool and too austerely side/backlit for the warm comedy at hand.
I adore this opera, which many consider a "caviar" piece, sustenance for the cognoscenti, devoid of the deeply felt passions of say Verdi's penultimate work, Otello. I have seen it many times all over the place, since it always has tickets available, even in Paris, New York, Vienna, Berlin, and Munich. But who can resist the heartwarming, lighthearted message of the great closing double fugue: All the world is a joke. He who laughs last laughs best.
Santa Fe's delightful Falstaff was musically engaging, and it did indeed make me laugh. I hope it was not my "last" but if it was not my "best," it was pretty damn' good indeed.
James Sohre
---
Falstaff
Music by Giuseppe Verdi
Libretto by Arrigo Boito after the plays
The Merry Wives of Windsor and
King Henry IV by William Shakespeare
Cast and production staff:
Doctor Caius: Brian Frutiger; Dir John Falstaff: Quinn Kelsey; Bardolfo: Thomas Cilluffo; Pistola: Scott Conner; Meg Page: Megan Marino; Alice Ford: Alexandra LoBianco; Mistress Quickly: Ann McMahon Quintero; Nannetta: Elena Villalón; Fenton: Eric Ferring; Ford: Roland Wood; Conductor: Paul Daniel; Director, Set and Costume Designer: David McVicar; Associate Set Designer: Hannah Postlethwaite; Associate Costume Designer: Lorna Price; Lighting Designer: Lizzie Powell; Chorus Master: Susanne Sheston
Above image: Quinn Kelsey (Falstaff), photo by Curtis Brown for the Santa Fe Opera