It is cause for celebration that Santa Fe Opera's prestigious annual festival presented its 18th world premiere with composer Huang Ruo and librettist David Henry Hwang's intriguing East-West fantasy, M. Butterfly.
The rejoicing is especially warranted by two towering, Big Sing performances from the plot's leading adversaries. Countertenor Kangmin Justin Kim is electrifying in the title role, his raw, fearless, acting balanced by some of the most sublime, emotionally invested, beautifully colored vocalizing of the season.
The plot communicates the unlikely true story of a French diplomat who becomes sexually fascinated by a soprano he enjoyed performing Madama Butterfly, who not only turns out to be a male, but an enemy spy at that. The diminutive Mr. Kim is utterly believable as the Chinese opera performer Song Liling, his grace and lithe, deferential movement alternately seductive and assertive.
His voice has an alluring sheen and distinctive personality. In my distant youth, countertenors were rarities, oddities even, and their sound was flutey, hooty, and chaste. Not so today, as evidenced by an increasingly accomplished roster of these specialized male singers. Kim commands a wide-ranging instrument of great expressive capabilities. His poised singing of a bit of Puccini's Un bel di compared favorably to accomplished female sopranos.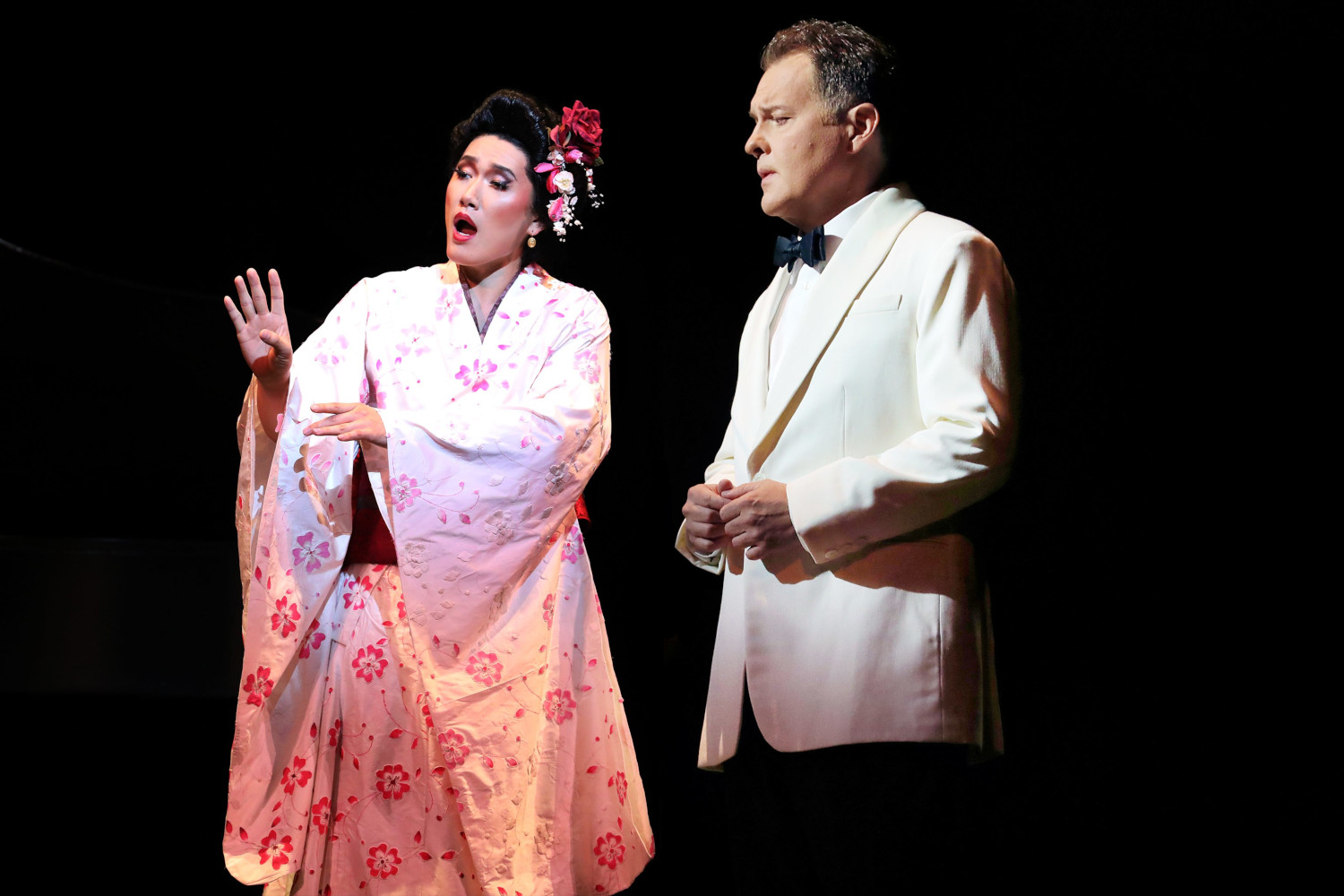 While he could certainly caress a melting phrase, and spin a seamless legato, he was also capable of considerable, gleaming firepower. Moreover, he was uninhibited in his commitment to the role, literally baring all in a shocking revelation of his masculinity. This effect proved a searingly brutal confrontation with the erstwhile male lover, who made himself believe his attraction to Song was to an anatomical woman. Kangmin Justin Kim gave one of the finest operatic performances of this or any other year. Absolutely riveting.
In the comparatively less intriguing role of the "dupe-lomat" René Gallimard, Mark Stone sang with imposing distinction. This is a very long role with several soliloquies, during which Gallimard narrates flashbacks from his prison cell as he wrestles with his demons. He smugly relays that the seemingly pliable Liling is "the perfect woman" and mellifluously revels in his belief that the East is similarly "submissive" to the West.
By opera's end that has been turned on its ear, as the "virile" Gallimard becomes the sacrificial Butterfly (West), while the duplicitous Liling represents the now dominating East. Mr. Stone's resounding, demonstrative delivery aptly conveys his "upper hand" moments as he tries to "command" his Butterfly and assert Western superiority. But he is also able to beautifully tint and modify his appealing robust sound to convey disillusioned defeat in his final, empathetic moments. His was a generously full-throated, masterful achievement.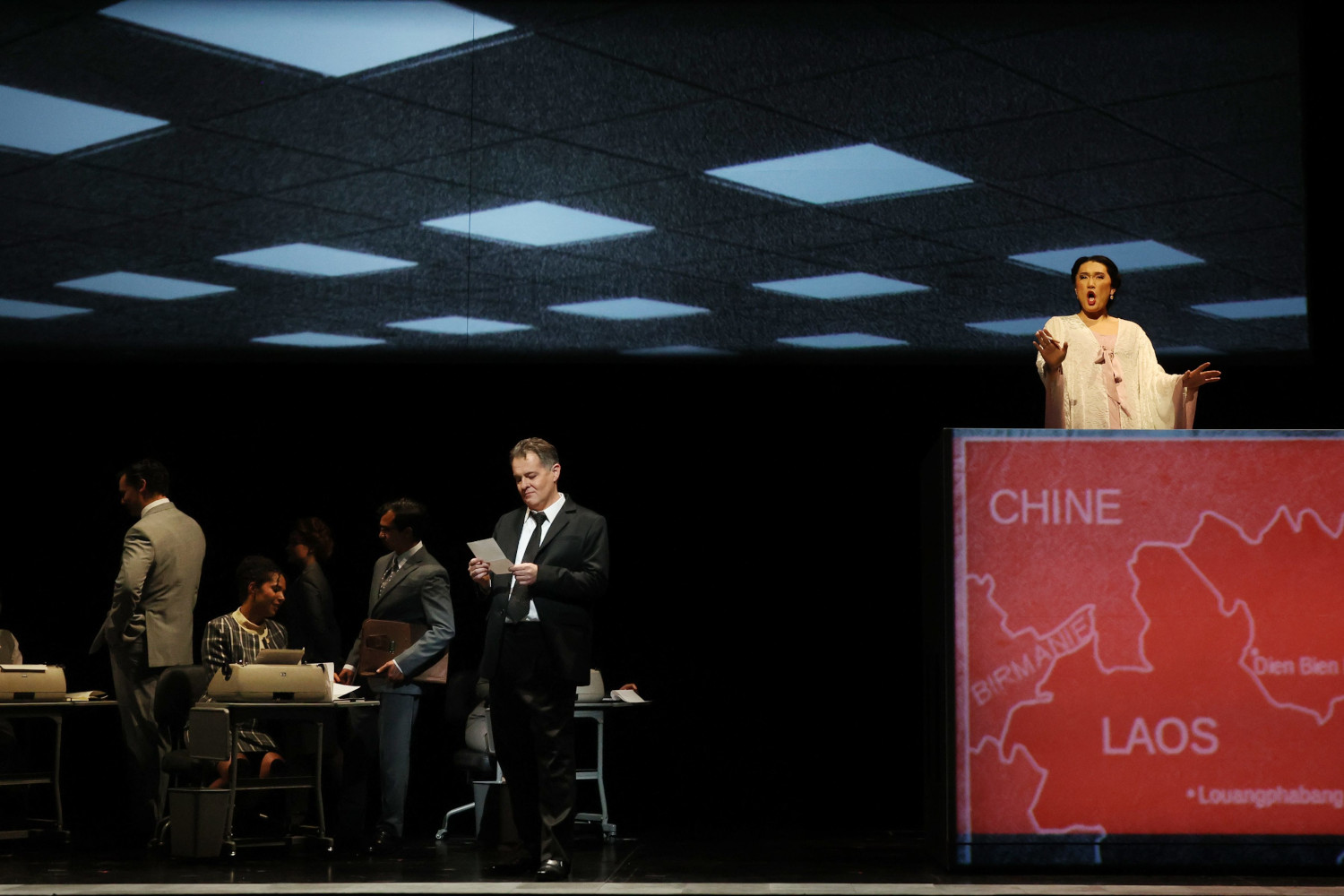 The featured players were uniformly excellent. As the belligerent, authoritative Shu Fang/Comrade Chin, Hongni Wu sported an evenly produced, focused, meaty mezzo-soprano whose stentorian power belied her slight physique. Veteran bass Kevin Burdette memorably commanded his cameos as Manuel Toulon/Judge with a rock steady delivery that has acquired some steel in the tone since last I heard him. Joshua Dennis brought a warm, glowing tenor to enliven his one scene as Gallimard's friend Marc. Lucy Evans and Andrew Turner made the most of their few solo lines as the Agents, Ms. Evans displaying a vibrantly present mezzo, and Mr. Turner a substantial tenor with an enjoyable timbre. Both are among the corps of Apprentice Artists who formed the ensemble, effectively prepared by Chorus Master Susanne Sheston.
Director James Robinson has gifted the production with his usual inspired stage craft, masterfully shaping the arc of the story; facilitating character relationships that are richly detailed and painfully honest; and focusing up the disparate political, sexual, and societal considerations to impose clarity of purpose. The nonpareil production team made dazzling visual work of the multi-scene requirements.
The ever-shifting locales were well served by the basic structural elements of Allen Moyer's scene design, including two sets of tiered jury boxes in two elevations, that tracked on from either side (usually laden with choristers); a permanent false proscenium facade with a jail cell door stage left; and a tracked wagon up center, that often had a vibrant pop of red furnishings in Liling's boudoir.
Greg Emetaz worked his customary magic with his splendid, ever-morphing projection design that enlivened these surfaces with historic stills, evocative patterns, geographic photos, architectural details, and news footage. Mr. Emetaz is arguably the most sought after, premiere craftsman in his field and he never fails to engage and delight. Christopher Akerlind's exquisite lighting design skillfully complements the set and projection effects with a subtle, atmospheric contribution comprised of many bewitching colors, washes, specials, and patterns. Rounding out the incomparable creative team, James Schuette's vivid and varied period costume design not only showed great range, but capably delivered all the goods with the all-important cross-dressing effects.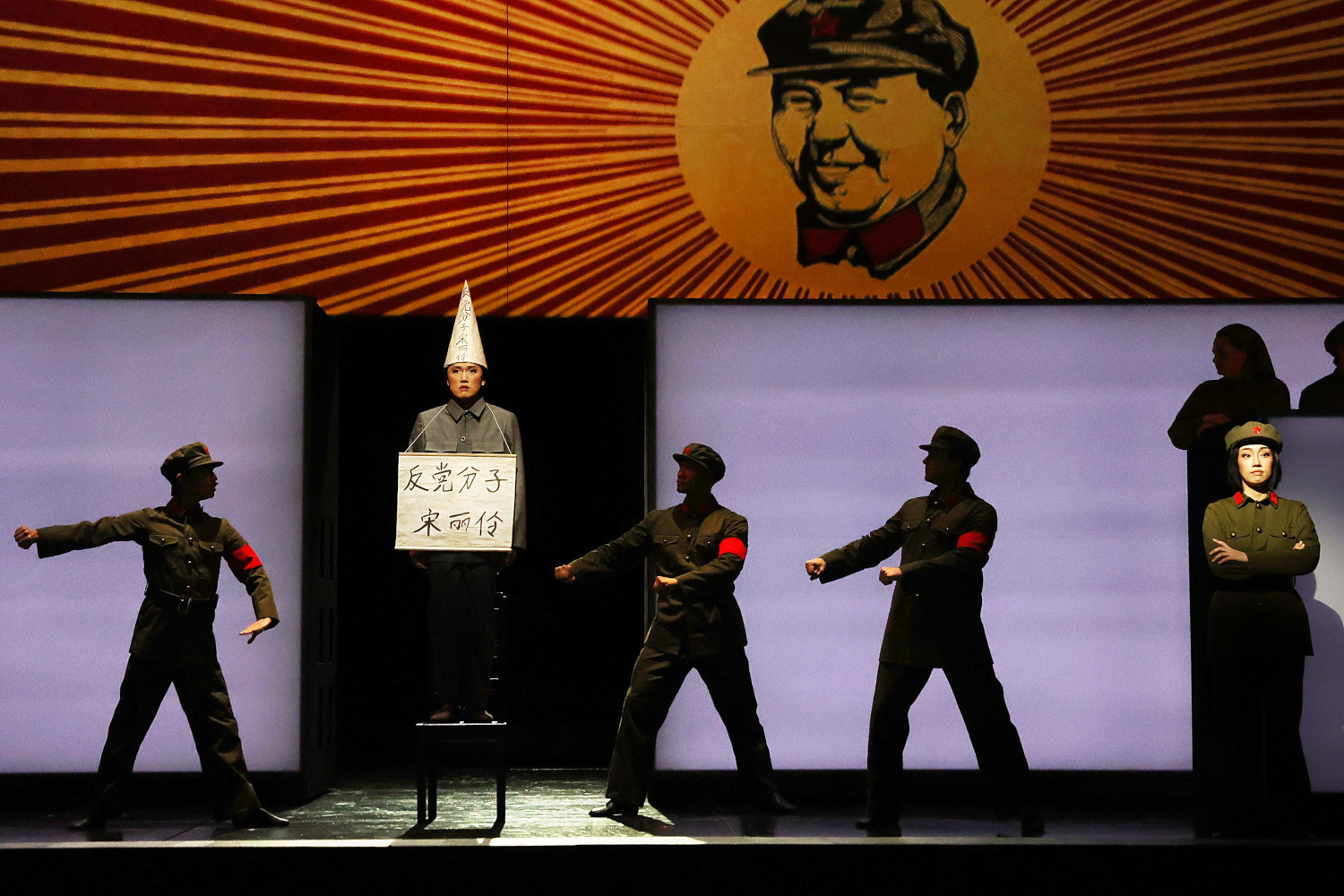 As to the piece of writing itself: There is a very well-worn European joke that butterfly is such a lovely, characterful word, as is France's papillon, and Spain's mariposa, which seem to shimmer and float in the breeze. Then there is Germany's (wait for it) Schmetterling, which seems to thud and plod. Side note: In William Forsythe's musical, Isabelle's Dance at Frankfurt Ballet, he staged a whole number that poked fun of the leaden word with a repetitive, strident, vocal intonation, accompanied by an earthbound, stomping polka. My one and only viewing of this showing of M. Butterfly had me greatly admiring the many, if belated, soaring musico-dramatic forays, all the while wishing for more congenial aural engagement in much of the First Act, that tended to be earthbound.
Both acts start off with what seems like the same knotty, boisterous laughing chorus, with the Parisian elite hectoring and berating the hapless diplomat in disbelief for having criminally been taken in by a male Chinese spy who amorously entrapped him by posing as a female performer. A pattern of stings and brittle orchestral commentary underscored angular prose and after a short while these (mostly triple meter) effects started to lose meaning as ominous thump begat ominous blare begat ominous bump.
But then, when Gallimard first hears Song Liling, it is at the embassy, when she bewitches him with that lovely Un bel di. This effect proves a blessing and a curse. We eagerly welcome the immortal Puccini excerpt like an old friend, and then. . .it is over, and the composer has created the unenviable task of making us not wish we were still listening to something more akin to the brief tuneful stretch. Indeed, my interest waned thereafter owing to the sameness of the dissonant effects until the eventual commencement of the love duet.
There was a chance to have made a similar effect shortly after this moment, when Liling scorned the role of Madama Butterfly and vowed to Gallimard she would never sing it again. If he wanted to have a "real" moving Chinese "butterfly experience," he should come hear her sing of them at the Chinese Opera. He does, but instead of creating the "wow" moment to which Gallimard is stage directed to feign a reaction, the resultant selection is competently functional even allowing for the insertion of some intriguing Asian musical effects. The most remarkable aspect of the Chinese opera moment was the three excellent (uncredited) dancers executing Seán Curran's inventive choreography.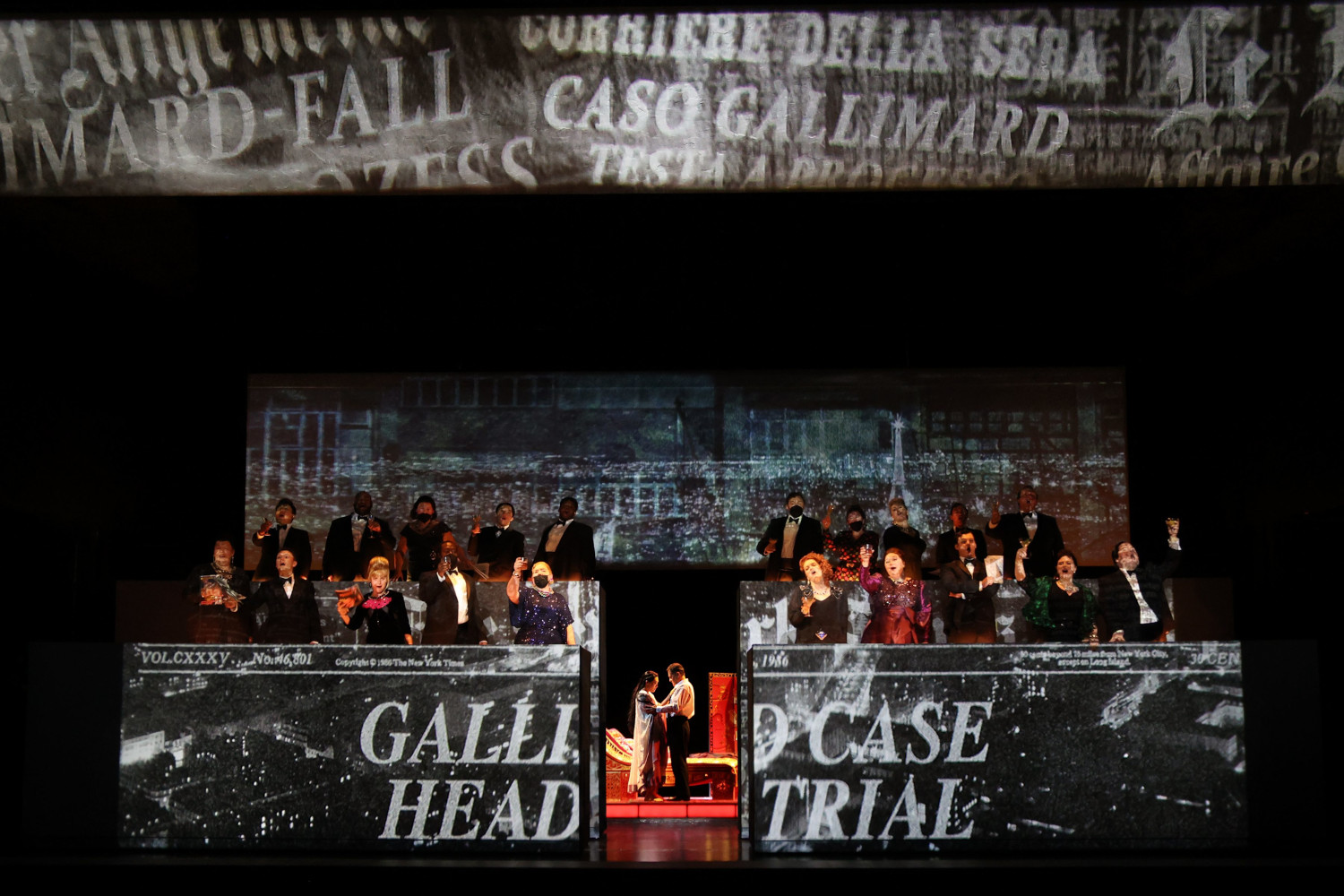 I must say overall, I was intrigued by Ruo's vocal writing that was characterized by a lightly "whooping" upward scoop of the voice at the end of select phrases, and the "falling off" of the voice at others, an affectation that was consistent and unique.
In the duet at the end of Act One, Ruo at last found a lush, yet distinctive, undulating set piece marked by inviting orchestral colors. If it didn't quite completely come to fruition, it laid the groundwork for the much more engaging Second Act, which held an extremely affecting scena for Liling, and Gallimard's fine confessional monologue, both of which generated deserved applause at the end, eclipsing the continuing orchestral interludes.
Thinking back over some of the longueurs of Act I, I found myself wondering if this wasn't a very good 90-minute one act opera waiting for its metamorphosis. I saw Hwang's original Tony Award-winning play, and he had a lot to say about identity politics and society's racial attitudes. As important as that is, it tends to the prosaic and does not inherently "sing." It is the relationship, the longing, the disappointments, the betrayals, the emotions that confidently"sing."
Another dramatic consideration is that fluid gender identity awareness has greatly changed in the last twenty-five years, which makes the true story of its day now seem a bit quaint. Still, it raises important issues and should prompt lively discussions of current racial and gender discrimination.
Carolyn Kuan led an authoritative reading of the score, and she brought out many significant orchestral details. Maestra Kuan's musicians played with lively engagement, if not always with absolute rhythmic precision. There were some beautifully rendered ensemble passages that blossomed from serene repose to rapturous outpourings, although a few introspective instrumental solos promised more heart than they delivered. The percussive effects were forcefully rendered, and she did her best to keep soloists, chorus and pit coordinated, sometimes with over-the-top gesturing. I wonder if even more control might have resulted from more restrained baton work.
In the end, the starry performances, the thoroughly accomplished production values, the spectacular physical geography of the theatre, and the implausibly titillating story made for an M. Butterfly in which the audience was engaged and generous with their approval. If I feel an opportunity was missed, I also think there are stunning elements that would form the basis for a revised version that would take a sometime earthbound caterpillar and allow it to truly soar as a butterfly.
James Sohre
---
M. Butterfly
Music by Huang Ruo
Libretto by David Henry Hwang
Based on his stage play of the same name
Cast and production staff
René Gallimard: Mark Stone; Song Liling: Kangmin Justin Kim; Marc: Joshua Dennis; Shu Fang/Comrade Chin: Hongni Wu; Manuel Toulon/Judge: Kevin Burdette; Agents: Lucy Evans, Andrew Turner; Conductor: Carolyn Kuan; Director: James Robinson; Ser Design: Allen Moyer; Lighting design: Christopher Akerlind; Projection Design: Greg Emetaz; Choreographer: Seán Curran; Chorus Master: Susanne Sheston
Above image: (L-R) Kangmin Justin Kim (Song Liling), Mark Stone (René Gallimard), photo by Curtis Brown for the Santa Fe Opera