Thursday night performances of lesser-known works often spark memorable Met moments. So it was last week, at the revival of Mozart's Idomeneo. The house was far from full and a large number of young people (ostensibly holding reduced-price or hand-me-down tickets) fidgeted through to intermission before slipping off into the night. Those who remained, however, listening in rapt silence and exploded into cheers at the end.
At 25 years old, Mozart had already written a dozen operas, yet Idomeneo is generally considered the first mature work in this genre. Despite its opera seria form – dated already even in Mozart's day – it survives because it marks the first opportunity that the prodigiously talented composer from provincial Salzburg had to write for a world-class orchestra and singers. He grabbed it, and from the first chord, the score overflows with exceptional musical inspiration and energy.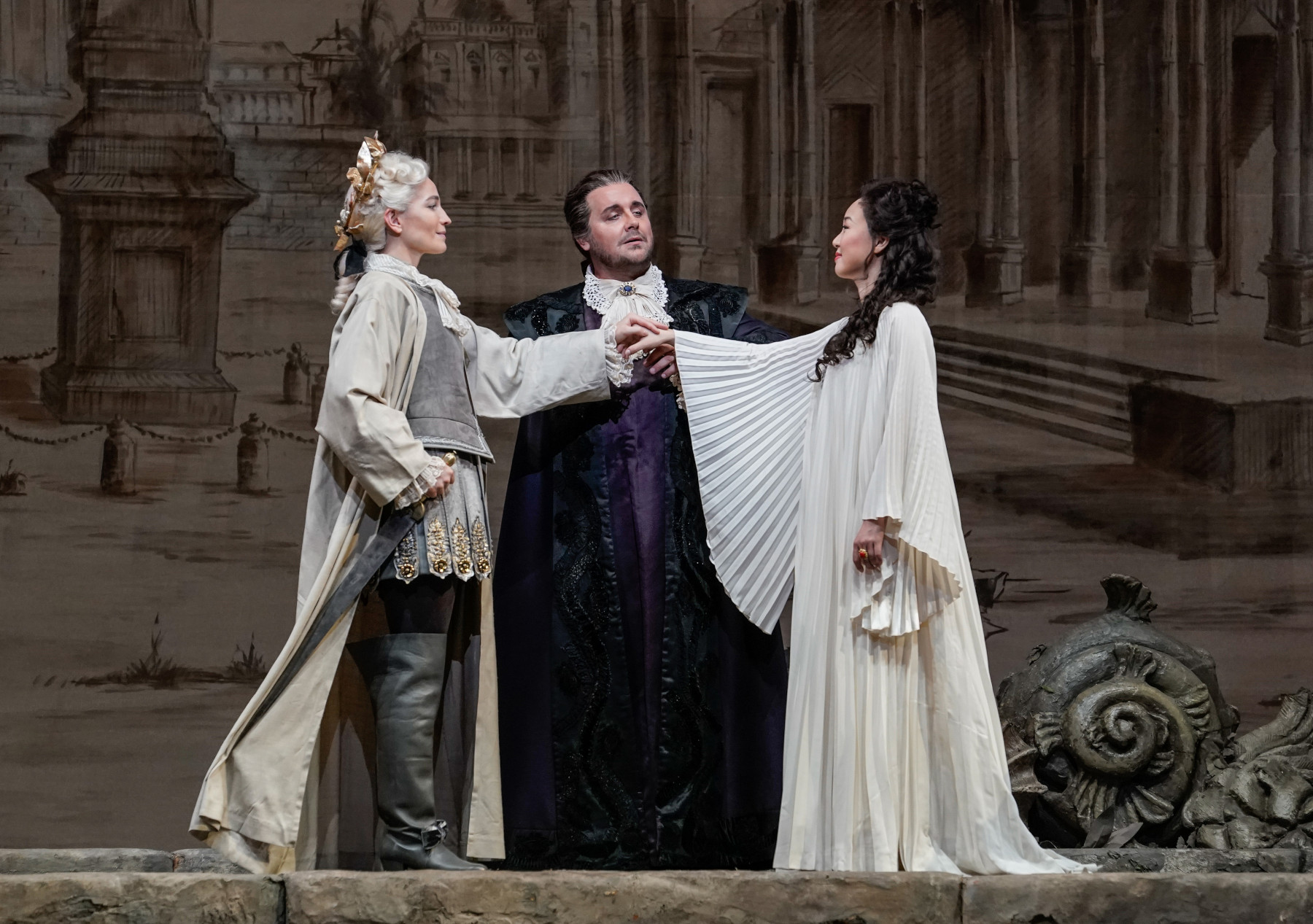 As is often the case when the Met presents lesser known works, it cast strong singers across the board. Idomeneo needs them – not not least in the title role. Since James Levine conducted the house premiere in 1982, great tenors have gravitated to it. I have heard Luciano Pavarotti, Plácido Domingo, Siegfried Jerusalem, Ben Heppner, and Anthony Rolfe Johnson.
Yet, even in this august company, Missouri-born Michael Spyres gave the most complete performance. Technically, he was astonishing. In his showpiece aria, "Fuor del mar," Spyres went for it all, choosing the ornamented version of the aria, pinging high notes, nailing coloratura runs, floating extraordinarily long phrases on a single breath, and even throwing in a genuine (and, today, nearly extinct) tenor trill – and all with perfectly intelligible Italian diction.
But what really differentiated his performance was its vocal and emotional resonance, achieved by employing timbral range that can only be compared to long-forgotten singers of a century ago. His recordings and videos (as well as marketing material heralding him as a "bari-tenor") just did not prepare me for the warmth of his voice when heard live. (We should not forget that – impossible though that seems – his repertoire also includes Wagner's Tristan!) At the same time, Spyres uttered his final, blissful words or recitative – "O me felice," celebrating his rebirth after deep trauma – in a boyish pianissimo head voice. Overall, the result is an emotionally vivid and musically creative portrayal of Idomeneo's paternal love.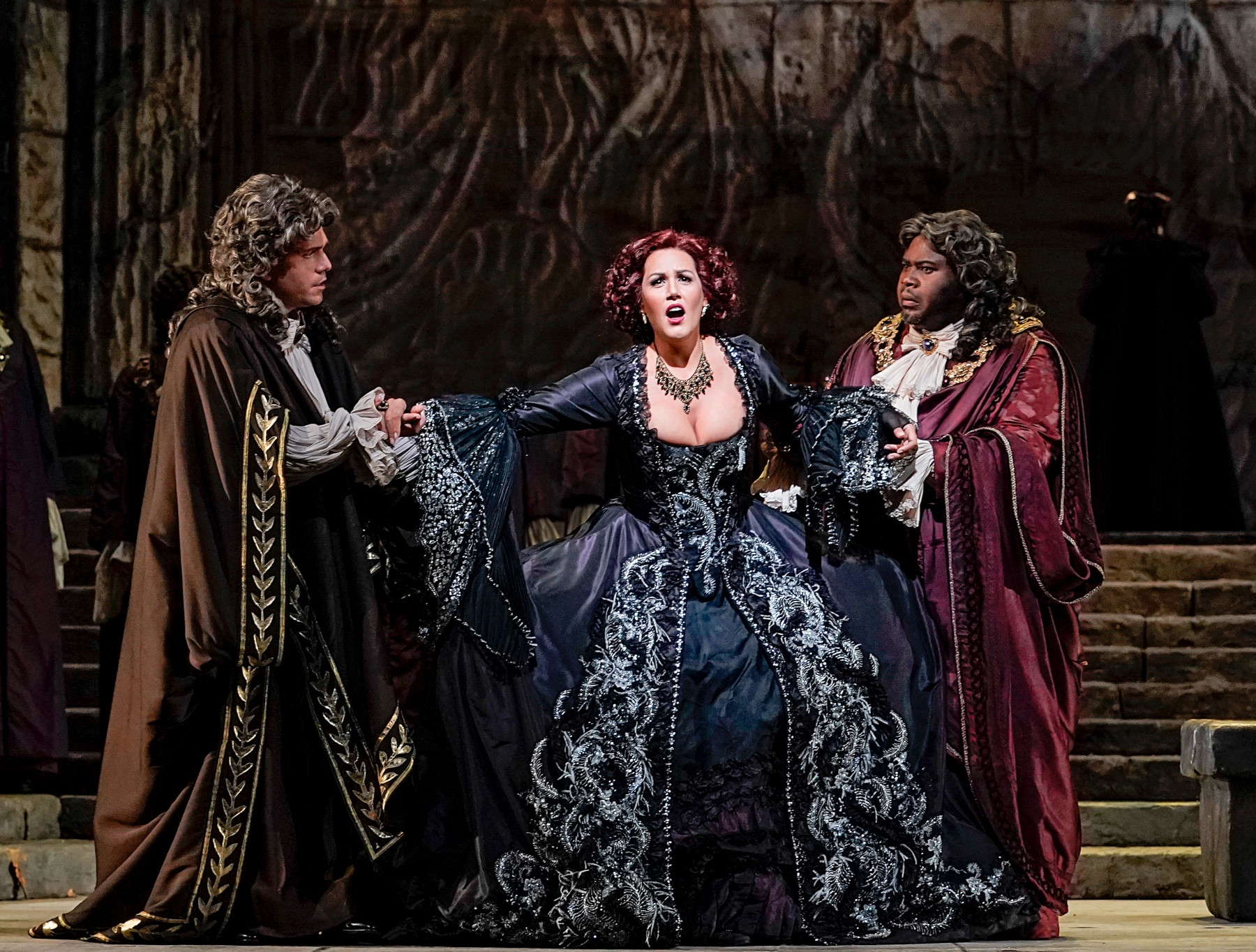 Alongside Spyres sang two of the Met's go-to Mozart sopranos of recent years. Ying Fang, born in the provinces of Chinese, sang a magical Ilia – a role for which she received acclaim earlier this year in Salzburg. She invariably finds musically intelligent and emotionally honest means of use an extremely delicate and sweet voice. Often dares to sing even more delicately and sweetly, as in her Act III aria, a reverie sung to the gentle breezes of quiet woodwinds. Even from the third row, the voice was occasionally barely audible. Yet to judge from the loud cheers she received from the balcony, it penetrated through the house.
Federica Lombardi, from Cesena in the plains of Emilia-Romagna, has the heaver and edgier soprano appropriate to the role of Elettra. Though the voice falls off sometimes at the bottom and sometimes loses focus when pressed, her passionate delivery, impressive breath control, native Italian, and vampish charisma added up to a memorable portrayal – without resorting to the absurdism some bring to this role.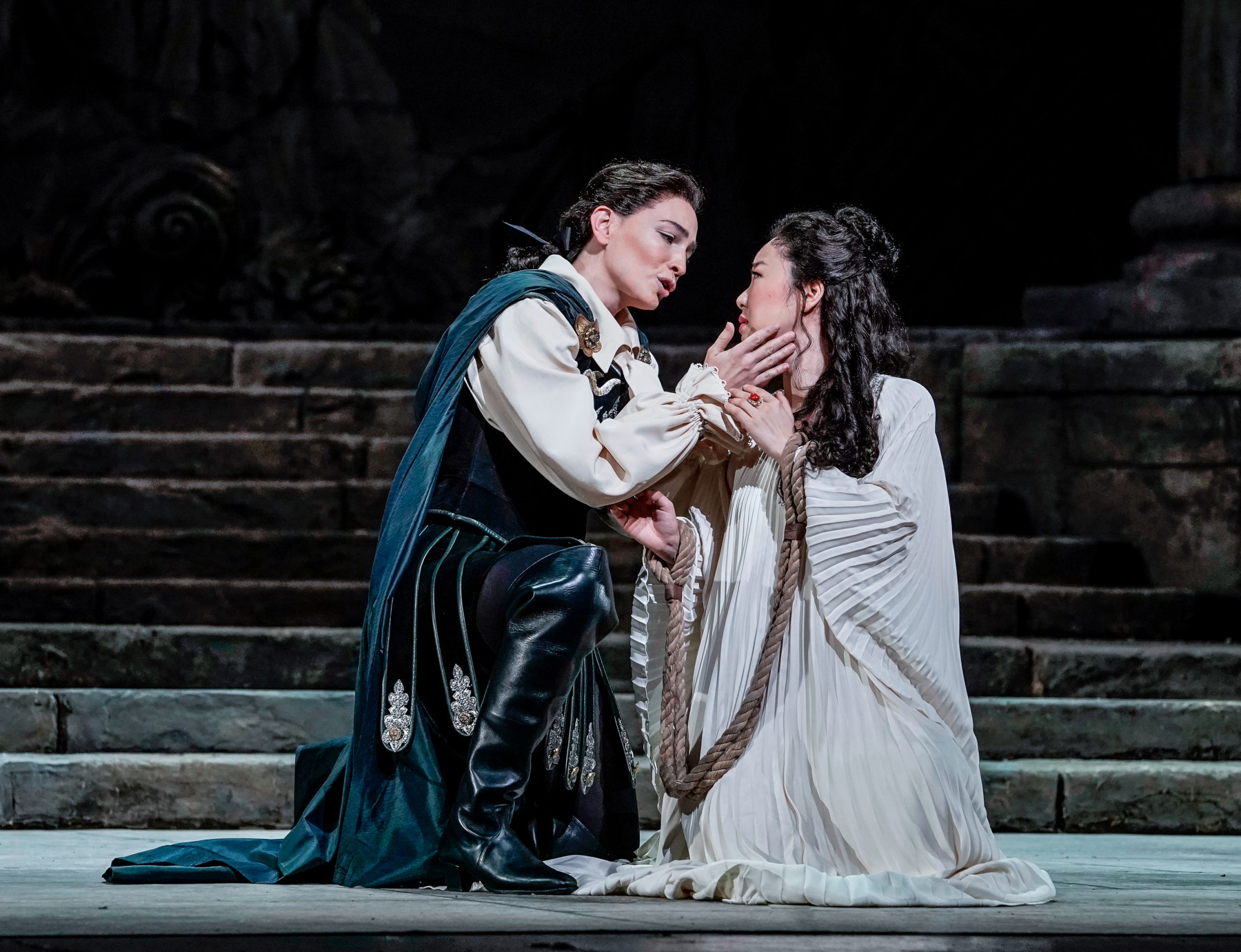 Mezzo Kate Lindsey's Idamante seemed an honest effort by a reputed singer: sincere, professional, and thoughtful, yet unaccountably diffuse. The tormented and confused son of a powerful father – an experience no doubt close to Mozart's own x – never emerged. Her voice, which does not pack pathos anyway, seemed neither to open up at the top nor project at the bottom. A bad night, perhaps.
Others offered solid support. As Arbace, Idomeneo's excessively loquacious confident, Paolo Fanale sounded uncomfortable with some of his Act II acrobatics but came through the more lyrical Act III. High Priest Issachah Savage used a large voice to admonish Idomeneo impressively, somewhat offsetting his lack of Mozartian finesse. Bass Scott Conner declaimed the divine will of Neptune through a microphone in a godly manner.
With its virtuosic orchestration, Idomeneo is often thought to be a "conductor's opera." As expected, the Met orchestra's performance under Pittsburgh Symphony conductor (and former Vienna Philharmonic violist) Manfred Honeck was a highlight. His reading was energetic and bright, unfailingly supportive of the varied singers, and rhythmically propulsive – even if one perhaps missed the stentorian grandeur that Levine used to bring to this score.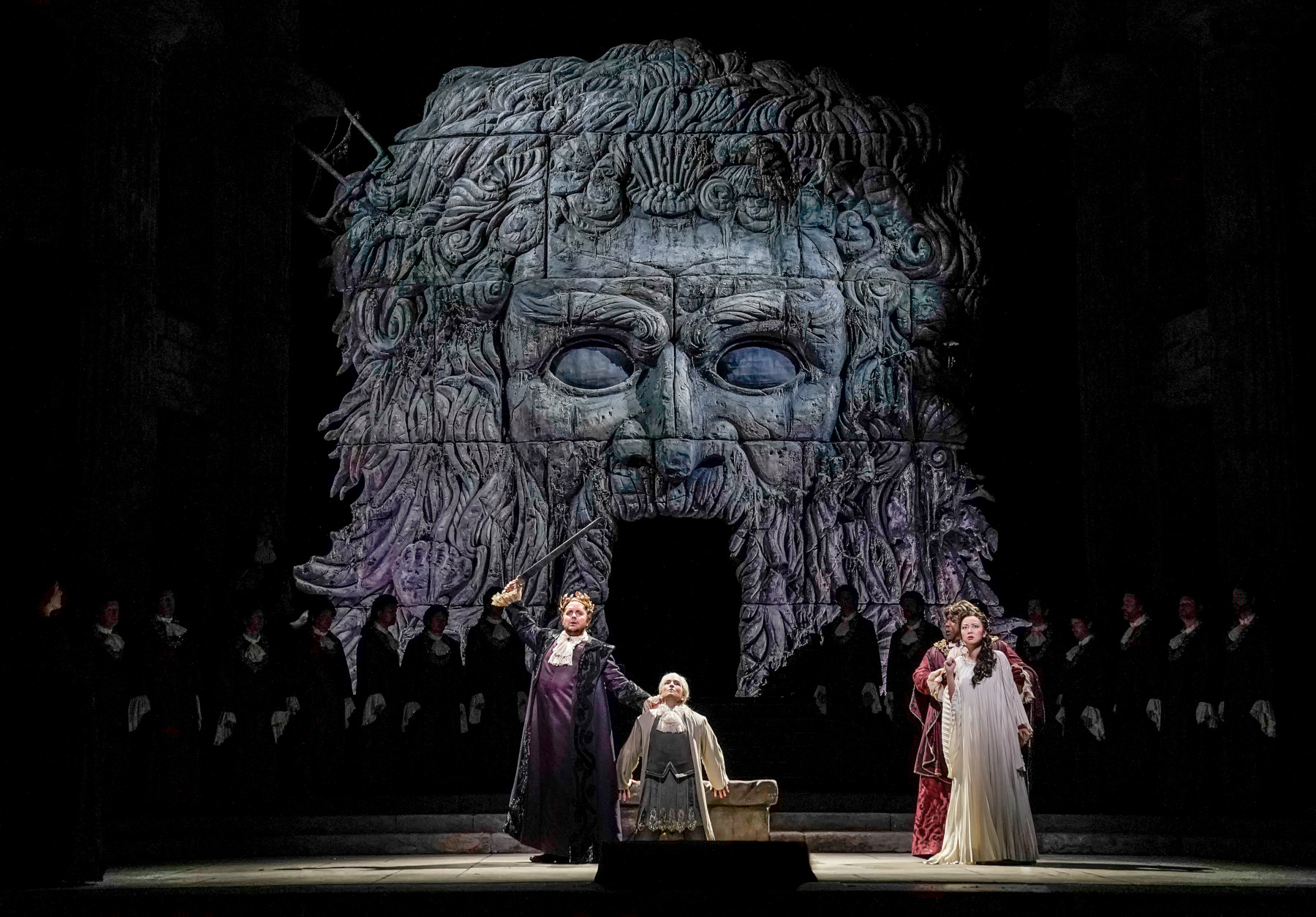 This staging of Idomeneo, designed 40-years ago by the late Jean-Pierre Ponnelle – one of the late 20th century's greatest opera directors – is today one of the Met's most beloved productions. The unit set of ancient columns in muted grey casts an appropriate image of archaic solidity. While some may have found the lack of movement and intimate interaction old-fashioned, I found that less was more. The static tableaus receded into a background and encourage each character to express their emotions, couched in Mozart's inspired score, directly to the listener.
Andrew Moravcsik
---
Idomeneo
Music composed by Wolfgang Amadeus Mozart.
Libretto by Giambattista Varesco based on a play by Crébillion père.
Cast and production personnel:
Ying Fang: Ilia; Federica Lombardi: Elettra; Kate Lindsey: Idamante; Michael Spyres: Idomeneo; Paolo Fanale: Arbace; High Priest: Issachah Savage. Conductor, Manfred Honeck. Chorus Master, Donald Palumbo. Production, Jean-Pierre Ponnelle. Set and Costume Designer, Jean-Pierre Ponnelle. Lighting Designer, Gil Wechsler. Revival Stage Director. Daniel Rigazzi.
Above image: Michael Spyres as Idomeneo and Kate Lindsey as Idamante. 
All photos by Karen Almond / Met Opera.