Annabel Arden's production of La bohème is ten years old now, but somehow I've contrived not to encounter it during my visits to the Birmingham Hippodrome during the last decade. So, this revival, directed by Caroline Chaney, was a welcome opportunity to visit a 'new' Parisian bohemia – one that Arden, in her straightforward retelling of free living and fated love, updates to the early twentieth century, the bleak action darkened further by the shadows of war.
We're greeted at the start by Nina Dunn's digital projection of a Parisian skyline sketched on the drop curtain; the latter opens out from a diamond-shape at the centre, and the repetition of this motif at the start of each Act sustains the story-telling mood.
The cityscape is a gauzy background to designer Stephen Brimson Lewis's grey-toned garret, the back wall dominated by a tall, cracked window and a suspended door, the side walls formed of mirror panels (they swivel back and forth at times, to no evident purpose).  Lewis offers the customary shabby penury: there's a threadbare armchair, in need of upholstering; a wooden chair, parts of which have presumably already been donated to the wood stove. The easel at which Marcello stands, paintbrush in hand, offers a slim hope that art might triumph over life's hardships, but Rodolfo's 'fiery' play is burned to provide heat of a more literal nature.  The bohemians retain some bonhomie, and enjoy joshing their landlord, Benoît (Howard Kirk), but the palette of their lives is washed out and weary.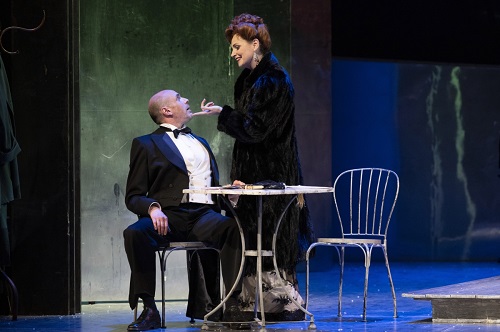 In the second Act, though, things come to life, Tim Mitchell's lighting floods Café Momus with red and green.  Revellers of all classes and predilections gather at the trellis tables.  Huw Llywelyn's Parpignol seems to have morphed into one of his toy animals, and dashes amid the excited crowd of carousers and children (the WNO Chorus in customary well-drilled mode) dressed in a garish checked jacket and monkey mask, like an over-excited chimpanzee.  The throng is teeming and the stage a little overcrowded, but perhaps that's 'authentic'; and, to add to the realism we see a bridge of the Seine in the distance.  In any case, choreographer Philippe Giraudeau makes the personnel dance deftly between and around each other.  The frenetic festivities come to a close when the partygoers pause to gaze up at fireworks against the night sky, as a flock of (digital) birds takes flight.  It's a moment both heartening and poignant – a foreshadowing, perhaps, of the battlefields to which the bohemians will travel – and bleakness returns when we gather at the city checkpoint, in misty swirling snow.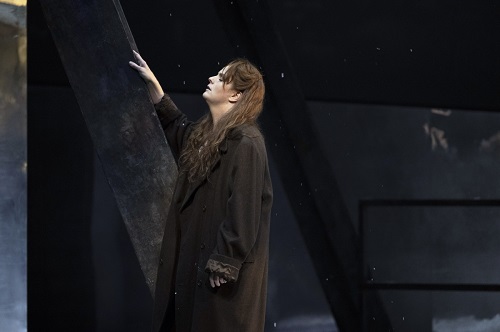 Elin Pritchard was a lovely Mimì, singing with a relaxed, easy upper register and generally good projection.  If sometimes she seemed to be holding back a little, then this just emphasised her frailty and when she did open up, as in Act 1's 'Sì, mi chiamano Mimì', she released a rich and vibrant soprano.  This Mimì seemed rather keen to get inside Rodolfo's room! Her arrival was hasty and rather than being flustered when her candle blew out, she deliberately snuffed it (the fumbling in the dark could have been finessed as sometimes the nascent lovers seemed to forget that they couldn't see each other).  Later, though, Pritchard emphasised Mimì's vulnerability and her evocation of both physical frailty and naïve hope in the closing Acts was persuasive and touching.
The Korean tenor Jung Soo Yun has a fairly light tenor, but one which is gentle and sweet.  He was a more sensitive Rodolfo than is sometimes the case – there was a tender moment in Act 2 when Rodolfo and Mimì retreated from the merry-making and snuggled up in a corner.  Soo Yun used his mezza voce expressively; but he had no trouble rising above the orchestra, reaching the top and staying there.  I wasn't entirely persuaded by the romantic chemistry between the two, though; in Act 3 especially, at times they seemed to be singing to themselves rather than to each other.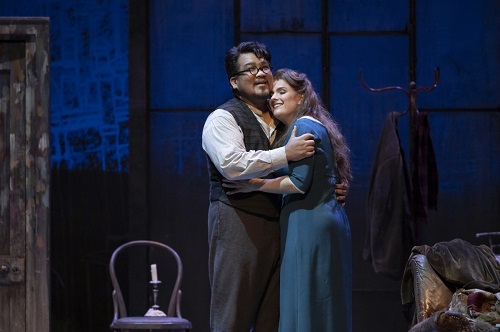 Northern Irish soprano Aoife Miskelly enjoyed herself as a glamorous Musetta, singing with jubilant vitality.  She was an exuberant diva, flirtatious and flighty in her Café Momus waltz, 'Quando me'n vo', irritating Rodion Pogossov's Marcello and worrying Alistair Moore's embarrassed and put-upon Alcindoro; but, her sincerity shone in the final Act.  Her relationship with Pogossov was engaging too, benefitting greatly from the Russian baritone's natural stage presence and confident, detailed acting, which complemented his appealing tone, wonderfully smooth delivery and terrific ringing high notes.  Pogossov made Marcello's anger, resentment and passion powerfully present, and the Act 3 exchanges between Marcello and Musetta were a highlight of the performance.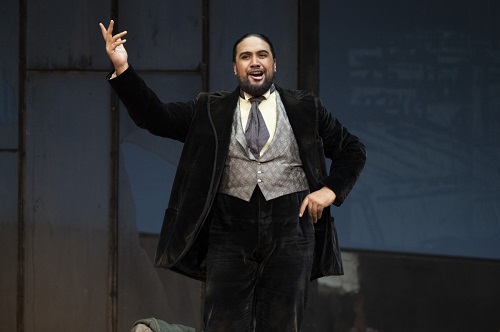 Making up the quartet of free spirits, New Zealand-born baritone Ben Wilson was a vivacious Schaunard, making a theatrical entrance in his black velvet jacket. He balanced flippancy with compassion, though, tenderly mixing Mimì's medicine only to discover when he held out the chipped mug that his ministrations were too late. Bass David Shipley gave a superb performance of Colline's resigned paean to his sacrificed coat; it was just a pity that Colline left the garret immediately the aria was over – it was a moment that needed to be held.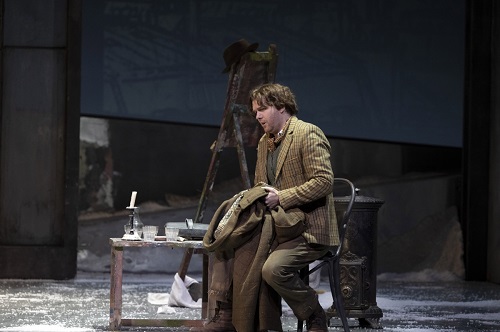 The conductor Pietro Rizzo drew excellent playing from the WNO Orchestra – the second night in a row where they really excelled.  Here, the general tone was bright and the symphonic textures were delineated with clarity.  Rizzo pushed the tempi forward though, and at times I felt that a little relaxation would have allowed the emotive impact of Puccini's expertly paced and sumptuously coloured score to more forcibly make their mark.
Overall, this was a lovely night in the theatre. Arden and Chaney tell a well-known tale convincingly and the cast form a balanced, amiable and engaging ensemble. They also add a further intimation of sorrow to Puccini's tragic denouement: when the four bohemians sombrely leave the garret one wonders if they soon will share the fate of the doomed Mimì, who body lies lifeless on the attic floor.
Welsh National Opera's autumn tour continues until 30th November, in Southampton and Oxford.
Claire Seymour
Puccini: La bohème
Rodolfo – Jung Soo Yun, Mimì – Elin Pritchard, Musetta – Aoife Miskelly, Marcello – Rodion Pogossov, Schaunard – Ben Wilson, Colline – David Shipley, Benoît – Howard Kirk, Parpignol – Huw Llywelyn, Alcindoro – Alastair Moore; Director – Annabel Arden, Revival Director – Caroline Chaney, Conductor – Pietro Rizzi, Designer – Stephen Brimson Lewis, Lighting Designer – Tim Mitchell, Video Designer – Nina Dunn, Choreographer – Philippe Giraudeau, Chorus and Orchestra of Welsh National Opera
Hippodrome, Birmingham; Wednesday 9th November 2022.
ABOVE: Welsh National Opera, La bohème (c) Richard Hubert Smith