Arminio was the first new opera in Handel's 1736-37 season at Covent Garden, performed for the first time on 12th January 1737. After six performances it was withdrawn and remained unheard until 1935, when it was staged in Leipzig. Grove tells us that the first British revival was in September 1972, by Unicorn Opera at Abingdon.
If Handel's libretti sometimes seem to veer towards the deranged, then Arminio is characteristically convoluted but somewhat dull.  The anonymous libretto, adapted from a text by Antonio Salvi, is based upon Tacitus's account of the war between the Romans and the Germans in 9 AD.  The victorious German chieftain and double agent, Arminius, has reneged on a treaty and been imprisoned by the Roman general, Varo, who is in love with Arminio's wife, Tusnelda. Segeste, a Roman ally, hopes that Arminio will be executed, so that Tusnelda, who is his daughter, can marry Varo.  But, eventually Arminio is freed through the courage of Tusnelda, his sister Ramise, and Segeste's son Sigismondo.  When he has escaped from prison, Arminio kills Varo, Segeste swiftly repents, Ramise marries Sigismondo, and Arminio dispenses clemency.
While its political rivalries, forbidden love and tests of family loyalty, Arminio might make for gripping drama; and, in adapting Salvi, Handel and his librettist greatly reduced the recitative, so the action should be pacy too.  But, essentially, the opera comprises a string of confrontations interwoven with many arias gloomily reflecting on melancholy matters. It never quite ignites.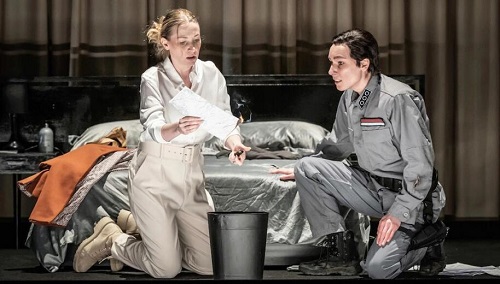 For this ROH Jette Parker Artists production in the Linbury, director Mathilda du Tillieul McNicol transfers ancient history to an unspecified modern setting and represents the power struggles and intrigues in the manner of a Netflix political thriller.  Noemi Daboczi's designs split the Linbury stage in half, one side for Segeste's office, the other for Arminio's bedroom.  The two rooms are sectioned off by motorised curtains which whir back and forth, incessantly, in a way that does not help the narrative flow.  There's a lot of coming and going, and wandering back and forth along the curtained passage that separates the two rooms.  The overall effect is more hospital ward than corridors of power, and neon strip-lighting (D.M. Wood) and prevailing shades-of-beige palette further distance the action. 
Handel's music doesn't particularly individualise the characters, but there's certainly no sense that he was just going through the motions – there are some ravishingly lovely arias, and they were sung with uniformly excellent musicianship by the cast of Jette Parker Artists, who were performing in their first collective programme. In the title role, which was originally sung by an alto castrato, the Lithuanian mezzo-soprano Gabriel Kupštyė cut a noble figure, even though Arminio spends much of the opera in and out of prison and being repeatedly condemned to death. No wonder he is prone to disconsolate reflections on mortality, one of which, 'Vado a morir' – in which Arminio somewhat oddly gives Tusnelda to Varo's care after his imminent execution – was sung by Kupštyė with dignified gravity. She made Arminio's fierce patriotism evident in 'Al par dell amia sorte', and her fioritura displays in Acts 2 and 3 were impressively secure.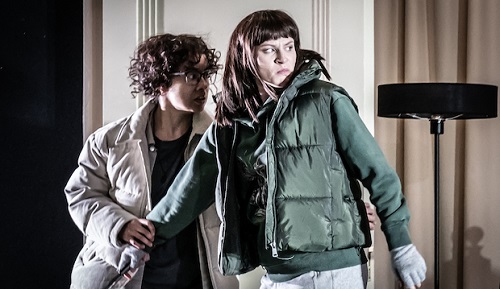 Canadian soprano Sarah Dufresne sang with beautiful grace, crystalline tone and luminosity as Tusnelda.  The latter's siciliana at the end of Act 2, 'Rendimi il dolce sposo', a humble plea for the return of her husband – which was expressively accompanied by the upper strings of the Early Opera Company Orchestra – was one of the highlights of the evening.  Torn between her duty to her father and her love for her husband whom her father hates, Tusnelda's conflicted loyalties were strongly conveyed when, in despair, she pondered the best method of suicide, dagger or poison – or, in this production, revolver or pills washed down by a whiskey shot. 
Tenor Michael Gibson was a strong Varo, capturing the Roman general's ambivalence, by turns noble then ruthless.  His showpiece aria in Act 2 was authoritatively delivered and the extended Act 3 aria 'Mira il ciel' well-shaped, complemented by some fine obbligato playing by the oboes (Katharina Spreckelsen and Sarah Humphrys), although the two horns included in the score were here omitted.  The part of Sigismondo, originally sung by a soprano castrato, was taken by soprano Isabelle Peters and she enjoyed the diversity of the conflicted character's arias, crafting shapely phrases and handling the more ornamented numbers with elegance.  Sigismondo and Ramise formed a rather quirky pair, with Kamilla Dunstan conveying the latter's strength of purpose and revolutionary fire.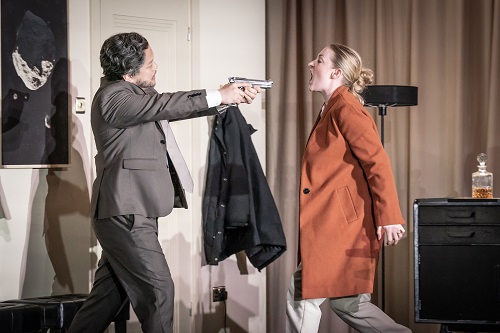 Though the Segeste's actions drive the drama, he has only one aria to sing and the Korean Josef Jeongmeen Ahn made the most of it, singing robustly and with strength.  The baritone acted well, too, capturing Segeste's bullying bluster. Soldierly and imposing, Kamohelo Tsotetsi also made a mark, as Varo's political advisor, Tullio – a role originally intended for a female mezzo.  Du Tillieul McNicol adds an extra (non-singing) German conspirator into the mix, too: Segismero (Rich Gittins, who, along with Jordan Clark, also played a Roman soldier).  André Callegaro drew immaculate playing from the orchestra of the Early Opera Company.
The denouement, as so often in Handel's operas, was swift – even 'explosive' here, as the shooting of Varo triggered a blackout and storm – and du Tillieul McNicol injected a twist on the tale, unsettling the hasty reconciliation of the finale.  All in all, this was a production that took itself very seriously.  A few touches of irony or playfulness might have been welcome, although the fine singing confirmed the charm of Handel's score.
Claire Seymour
Arminio – Gabriel Kupštyė, Tusnelda – Sarah Dufresne, Segeste – Josef Jeongmeen Ahn, Varo – Michael Gibson, Sigismondo – Isabelle Peters, Ramise – Kamilla Dunstan, Tullio – Kahohelo Tsotetsi, Segismero/Roman Soldier – Rich Gittins, Roman Soldier – Jordan Cork; Director – Mathilda du Tillieul McNicol, Conductor – André Callegaro, Set and Costume Designer – Noemi Daboczi, Lighting Designer – D.M. Wood, Movement Director – Sacha Plaige, Sound Designer – Florence Hand, The Orchestra of the Early Opera Company.
Linbury Theatre, Royal Opera House, Covent Garden, London; Wednesday 3rd May 2023.