There's nothing particularly Russian, or Slavic, about Paul Curran's new production of Tchaikovsky's The Queen of Spades at The Grange Festival, though it's heartening to see singers displaced from their native Ukraine and Russia coming together, alongside others in an international cast, to dramatise Herman's self-conflicting battle for Liza's heart and for the Countess's secret of the three cards.
But, if the ambience is more stately Edwardian than Eastern steppes, then Gary McCann's elegant sets cleverly evoke both inner and outer worlds – summer gardens and winter canals; drawing rooms and gambling dens; ballrooms, bedrooms and barracks – as the classical columns and glass-panelled walls spin and swivel, opening up pathways for the ensemble to smoothly negotiate.
And, there's something a little Chekhovian about the glimpses offered through the subtly misted windows – blurred snatches of distant trees, lamps and lounge chairs. All the more so when the back wall opens and Liza, horrified to discover that it is the answer to the riddle of the cards that Herman craves – and that he no longer recognises her, let alone loves her – wanders out, not towards a fated cherry orchard, but to eternal sleep among the reed beds. It's her tragedy too. Moreover, it's all beautifully lit by Johanna Town who conjures shadows which hint at the characters' inner darkness and secrets, as well as moments of social brightness – as during the masquerade divertissement, set against eighteenth-century pastoral scenes – which are sometimes slightly sickly, at other times superficially sparkling.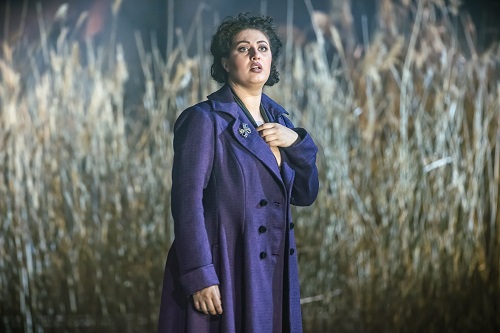 Curran tells the tale straight, which is no bad thing, though the dramatic gestures are fairly blunt. In the opening act, the children (the well-drilled Twyford Youth Chorus) in the Summer Garden at St Petersburg march their ceremonial steps and marshal their wooden, toy rifles with military rectitude. In the Countess's villa, Liza and her friends lounge about in languorous idleness. The masquerade ball is a rich rococo delight, with a cameo appearance from Catherine the Great herself, concluding with wig-tossing aplomb. Lucy Schaufer relishes the regal exuberance just as she cherishes the hankering and chiding of the governess who breaks up the young ladies' 'partying'.
In his barracks, Herman goose steps, squat thrusts and issues himself a press-up challenge as he seeks to keep his soul-encroaching obsession at bay. Is Curran trying to suggest that Herman's 'Germanic' self-control is threatened by his Russian passion and imagination? Why is Chekalinsky's traditional gamblers' song in the final Act (sung with brio by the Siberian tenor Alexey Dolgov) presented as a shimmying 'knees-up', which disrupts the tragic tone and trajectory?
Curran doesn't always capture the psychological ambiguity of the work. As John Cordingly asks in his 2015 book, Disordered Heroes in Opera, of the Pushkin tale which Tchaikovsky adapts with liberal amendments (made by his brother, Modest), 'Does the vision of the dead Countess emanate from Hermann's nature or is he in contact with another world, one of evil spirits? Or is he just drunk?' Curran's characterisation and concept don't enter into dialogue with such complexities.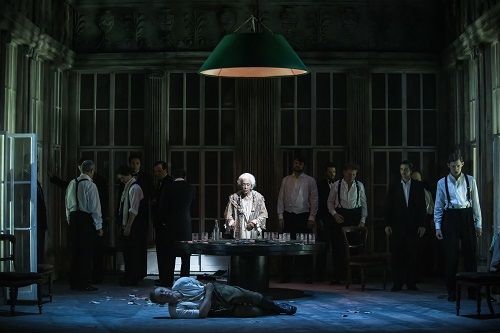 The director does, though, guide the Ukrainian tenor Eduard Martynyuk to convey the monomaniacal fixation which makes Herman seem an outlier to his fellow officers. Martynuk's eyes are cold and expressionless from the first, as if numbed by his obsessions. But, if he is able initially to interact, albeit it in a limited way, with others – and there is no outright raving or delirium, until Act 3, when his ego breaks down in the face of the Countess's duplicity and his own failure – one feels that this breakdown could be a bit more 'slow-burn'.
Thus, in many aspects of this staging, one could have wished for a little more subtlety at times. And, pre-interval, this applied to the singing and instrumental playing, too. One might describe Martynyuk's Herman as earnest, ardent and resonant but there was nothing very 'Byronic' about his singing – no elegance or dignity to the phrasing. I confess that, after his first account of his love for the aristocratic girl whose name he does not know, I wondered how Martynyuk would or could ratchet up the intensity. In fact, post-interval he lessened it, which did wonders for his phrasing, intonation and expressiveness. If his acting was somewhat wooden – the realisation that, after his revolver brandishing, the Countess had expired of shock, had all the nuance of a 1920s silent movie – then perhaps that did convey the limitations of Herman's engagement with reality. And, the Ukrainian tenor was far from alone in misjudging how much he had to 'give' in this small-ish house; I guess this interpretation, and the whole production, will settle as the run continues.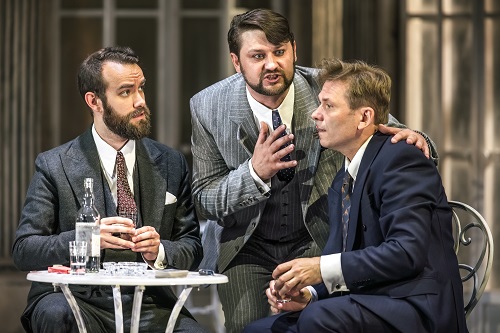 The shift after the interval was, I feel, entirely a result of Josephine Barstow's portrayal of the Countess, and her reminiscences of her youth and operatic successes before the French court. Quite simply, Barstow presented a masterclass in singing-acting. Barstow's steeliness of gaze, gait and vocalism transfixed. Her delivery has a penetrating darkness with is both chilling and wonderful. She's not afraid to spit out the Russian text at times – there's never any loss of fluidity or musico-dramatic momentum.
As Count Tomsky, Ukrainian baritone Andrei Kymach demonstrated why he won the BBC Cardiff Singer of the World in 2019.  His narration of the Countess's history in Act 1 and the entertainment his offers the gaggle of gamblers in Act 3 are superbly characterised and delivered with controlled artistry.  At the curtain calls, the largest cheer of the night when to the Russian baritone Ilya Kutyukhin, whose reassurances to Liza in Act 2 – as her betrothed, Prince Yeletsky – of his love and understanding, are some of the most sincere and dignified utterances of the evening.  He confronts Herman with considerable authority and distinction in the final scene, too.
The British-Armenian soprano Anush Hovhannisyan's portrayal of Liza would have benefited from more detailed direction from Curran, but, while Hovhannisyan sounds a little mature – no naïve, girlish vulnerability here – she does create a powerful sense of brooding presence and anxiety. Her Act 3 arioso was a superb portrayal of wearied grief and disillusionment, the notes precisely placed but always bathed in lyricism. Arlene Belli has a lovely, engaging mezzo, and she sang Polina's Act 1 romance stylishly but not always with a secure focus. The Portuguese soprano Isabel Maria Araujo was convincing, vocally and dramatically, as Masha.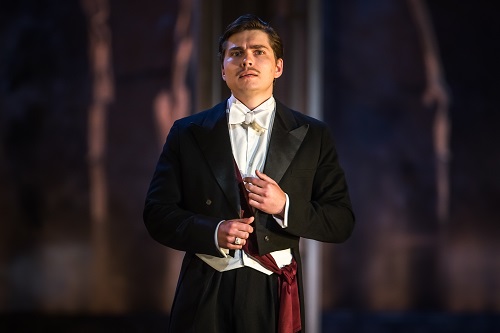 Paul Daniels drew fervent playing from the Bournemouth Symphony Orchestra – too much so initially, however much one enjoyed the vibrant woodwind, harp and timpani contributions. They, too, settled into the Romantic groove subsequently.
Much of the power of Tchaikovsky's opera depends on how far the audience empathise with Herman. Initially Martynyuk does not make this easy. But, his delirious interjections in the Act 3 gambling scene expose a vulnerability with is touching – and a philosophy which is terrifying, "What is life? A game! Good and evil … no more than dreams … seize upon the moment of success! Let the loser weep, cursing his fate!" At his death, the other gamblers plead for peace for his turbulent, troubled spirit. It's a cathartic moment.
Claire Seymour
Herman – Eduard Martynyuk, Count Tomsky – Andrei Kymach, Prince Yeletsky – Ilya Kutyukhin, Chekalinsky – Alexey Dolgov, Surin – Edwin Kaye, Chaplitsky/Master of Ceremonies – Christopher Gillett, Narumov – Armand Rabot, Countess – Josephine Barstow, Liza – Anush Hovhannisyann, Polina/Milovzor – Arlene Belli, Governess – Lucy Schaufer, Masha/Prilepa – Isabel Maria Araujo; Director – Paul Curran, Conductor – Paul Daniel, Designer – Gary McCann, Lighting designer – Johanna Town, Bournemouth Symphony Orchestra, Grange Festival Chorus, The Twyford Young Chorus (Chorus master, David Hall)
The Grange Festival, Northington, Hampshire; Friday 23rd June 2023.
ABOVE: Josephine Barstow (The Countess), Eduard Martynyuk (Herman) © Craig Fuller