Opera-in-the-garden can be rather a hit-and-miss affair, given the vagaries of an English summer. One night the sky is blue, the sun is benevolently warm, the breeze brushes gently and all is beatific. The next, clouds lower, the wind howls, the rain buffets and one needs to beat a retreat.
Such was the case back in July when the first night of Bampton Classical Opera's 2023 UK premiere production of Salieri's La fiera di Venezia (At the Venice Fair) basked in summer balm, and the next evening, which I attended, saw cast and audience huddled inside St Mary's Church, to escape the sudden onslaught of winter.
It was, of course, of no matter. Bampton Classical Opera's brilliant young cast exploited the energetic charm of Salieri's well-paced score and overcame the challenges of the reduced space with admirable adaptability. It was a pity, though, that the small dimensions of the church meant that we lost much of director-designer Jeremy Gray's pretty set, though some choice props – gondoliers' striped poles, traders' advertisements, and a pulpit-perched seagull – along with Ian Chandler's warm lighting, and costumes which contrasted glitzy glamour with polka-dot playfulness, all served to conjure the sights and delights of Venice.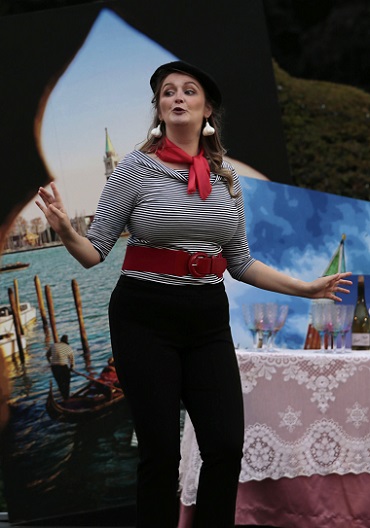 It was very pleasing, therefore, to be able to see the production unfold from those damp-July confines when the production travelled to St John's Smith Square. A montage of picture-postcard charm backed the performance space, offering glimpses of La Serenissima – both heritage chic and tourist tat. The columns of St John's Smith Square provided an apt touch of spiritual grandeur and secular self-importance. As the nippy overture tripped along, the petty Venetian merchants had room to spread out their wares and use their wiles to win over the punters. The latter included the audience as the weasel-like Grifagno wended his way through the SJSS ranks, tempting, touting and tricking.
Antonio Salieri was 21 years old when his three-act commedia per musica, La fiera di Venezia, premiered at the Vienna Burgtheater in 1772. It proved as successful as the composer's Armide had been the previous year. In the following decades it was taken all over Europe – Haydn staged and conducted it at the Esterhazy court theatre in 1782 – though not, it seems, to Venice itself. Nor to England.
The 'Fair' of the title is not, as one might expect, the Carnival – though there's a carnivalesque wildness about much of the opera's action – but rather the Festa della sensa, or Ascension Day Festival: a civic and religious holiday during which the Doge was symbolically wedded to the sea. It provides the context for bringing together three couples of contrasting social rank: the aristocratic Duke Ostrogoto and his fiancée, the marchioness Calloandra; the bourgeois Falsirena (the Duke's new amour) and her jealous suitor Belfusto; and the keeper of the Black Ox inn, Rasoio, and lace seller Cristallina – with amorous muddles and mayhem ensuing.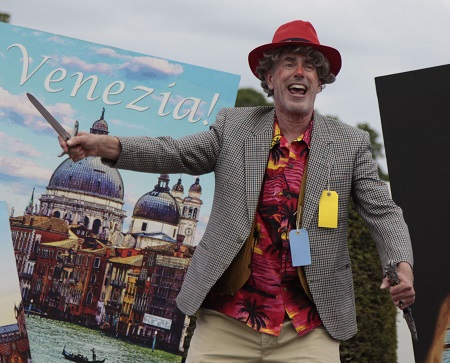 The festival also presents an excuse for animated ensemble scenes, and it was a joy to see these busy, bustling scenes – laced, by turn, with impish glee and intrigue – open out: the neat choreography of the piazza market generated a palpable buzz; the raffle with which Act 1 concludes had a theatrical pulse and wit; the celebratory masked ball, with its stately minuets and elaborate interplay and exchanges – brilliantly choreographed by movement director Karen Halliday – seemed to anticipate the first-act finale in Don Giovanni, and thus reminded one of the Goldonian commedia traditions within which Mozart was working. The neatness of the interlockings and interweavings, characterfully lit by Chandler, was a delight.
In Act 1, the cast initially seemed a little too aware of the spaciousness of the venue, with its tricky sightlines and difficult acoustic – though one certainly couldn't complain about their exemplary collective effort to make the text crisp and clear. But, if there was a bit of over-singing and over-egging at the start, things settled down from Act 2, and relaxed theatricality and vocal panache, particularly from the ladies, was the name of the day. Once settled into the groove, they revelled in both the grace and agility of Salieri's vocal writing.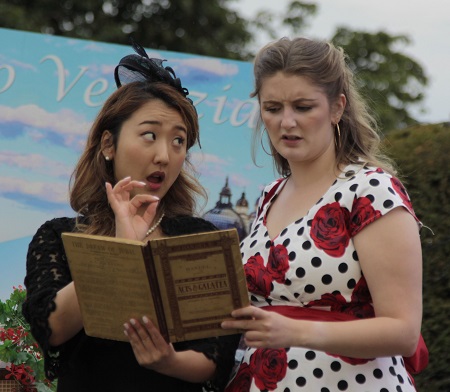 Falsirena – clever, resourceful, and with a penchant for disguise – is determined to have fun, and her own way, leading on the hapless Ostrogoto all the while her affections are really for Belfusto. The soprano Ellen Mawhinney sailed breezily through Salieri's short phrases and rapid vocal lines, quick to take advantage of every nuance, and to add many of her own. This middle-class minx had attitude aplenty, and a full arsenal of eyebrow-jiggling gestures up her sleeve.
Posing as a down-on-her-luck opera singer seeking to raffle her watch, Mawhinney switched deftly from 'leaden' seria parody to stylishly light buffo, topping her aria with a raging conclusion of jealous frenzy. Whether impersonating a French soap-seller, a sea-sick German baroness, or disrupting the masked ball disguised as a gondolier – and switching languages with aplomb – Mawhinney spanned the gamut from coquettish to crude, charming to infuriating. Unwaveringly unsentimental, sometimes cynical, this Falsirena clearly delighted in 'playing the game'.
The soprano Sarah Chae beautifully conveyed the tragic sentiment of Calloandra's ornate entrance aria, bringing welcome poise to the proceedings. But, she showed that Colloandra could stir things up too. 'Troppo l'offesa è grande' was a classic seria rage aria of fire and fury, and Chae's coloratura showpiece in Act 3, 'Vi sono sposa', a model of vocal control and diamanté dazzle, complemented by expressive flute and oboe obligatos – a striking moment of seria intensity amid the prevailing frothiness. Chae has considerable vocal stature and her confident, crystalline negotiation of Salieri's curlicues impressed.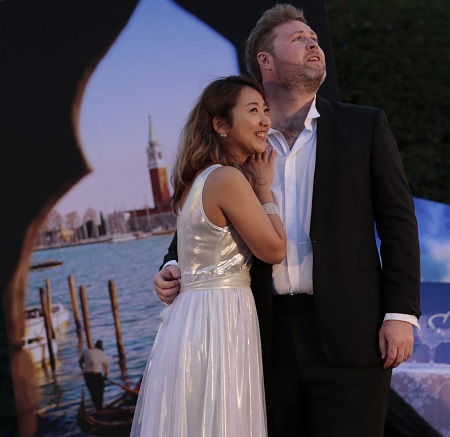 As the two-timing Duke, the tenor Andrew Henley sang with refinement, addressing Falsirena with lyrical elegance in 'Il pargoletto amabile', though Ostrogoto's presentation of himself as a 'victim' of Love did not fool us, or Falsirena. And, Henley was gently self-mocking in the simile aria in which the Duke compares Falsirena's smile to a clear sky after a storm, and himself to a helmsman who forgets the tempest when he sees his reflection in the tranquil sea. The Duke's Act 3 duet with the flirty Falsirena, 'Scordati o Donna ingrata', was a winningly wry parody of the conventional final act lovers' duet.
Complaining of the general untrustworthiness of women, Aaron Kendall's Belfusto had a touch of Masetto's masculine pride and temper. His diction was excellent, especially in the 'catalogue aria' in which Belfusto sprints through a list of the diverse international wares on sale at the fair. As Grifagno, Falsirena's foolishness father, Philip Sheffield blustered self-interestedly, ridiculed by the market-traders, riled for his rigging of the raffle, and finally arrested along with Belfusto by the aggrieved, duped Duke.
Singing with lovely directness, the tenor Guy Beynon and the soprano Iúnó Connolly captured the fresh style of Rasoio and Cristallina, which contrasts with the aristocrats' high-flown seria rhetoric. Connolly's happy acceptance of Rasoio's marriage proposal rose sweetly above the deceptions and disorder, and her vibrant tone and characterful projection was to be admired throughout.
Conductor Thomas Blunt displayed an impressive command of pace and detail. This was wonderfully deft playing – nifty, nuanced and dramatically expressive – from the musicians of CHROMA, and intonation-secure and stylistically spot-on.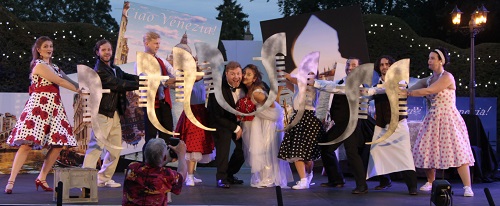 Leopold Mozart was disparaging of Salieri's opera, condemning its 'commonplace' musical ideas as 'antiquated, forced, and rather lacking in harmony'. But, his son paid it the honour of writing a set of six keyboard variations on the ball scene minuet. Perhaps, too, we might hear in Calloandra's wistful first aria a hint of the Countess's soulfulness in 'Porgi amor'; in Falsirena's soubrettish ingenuity a blueprint for the feminine feistiness of Susanna or Despina.
Bampton Classical Opera's UK premiere productions of La scuola de' gelosi (in 2017) and La grotta di Trofonio (in 2015) were highly acclaimed. With this lovely staging of At the Venice Fair – which closed with the perfect photo-shoot – Bampton Classical Opera once again confirmed both Salieri's status as a skilful composer of sprightly music which brings comic situations to life most satisfyingly, and the company's own musico-comic nous and neatness.
Claire Seymour
Antonio Salieri, At the Venice Fair (La fiera di Venezia)
Andrew Henley (Duke Ostrogoto), Sarah Chae (Marchioness Calloandra), Ellen Mawhinney (Falsirena), Andrew Kendall (Belfusto), Philip Sheffield (Grifagno), Guy Beynon (Rasoio), Iúnó Connolly (Cristalina), Harriet Cameron (Caterina), Tilly Goodwin (Valentina), Osian Clarke (Checco), Owain Rowlands (Orlando); Jeremy Gray (Director/Designer), Thomas Blunt (Conductor), Harvey Evans (Associate Director), Karen Halliday (Choreography and movement), Pauline Smith/Anne Baldwin (Costumes), Ian Chandler (Lighting).
St John's Smith Square, London; Wednesday 13th September 2023.