One often hears that Berlin has three opera houses.  In fact, it has many more.
Among the most engaging is the Neuköllner Oper. Situated in a funky Berlin neighborhood, it performs in a former ballroom seating just over 200. Over the years, this company's programming has included obscure operas, revues, adaptations, children's nights, musical theater, collaborations with Berlin's music conservatories, and the premiere of nearly 150 new works.
Yet few of these productions could possibly have been as unlikely on paper as 20 performances of a chamber adaptation of Richard Strauss's Die Frau ohne Schatten – one of the grandest and most musically demanding, as well as most socially reactionary, operas in the canon. For it to be viable in an intimate modernist setting, changes have to be made.
Strauss's nearly four-hour score has been slimmed down to 110 continuous minutes, while his massive orchestra has become a dozen players.  Hugo von Hofmannsthal's plot, with its anachronistic glorification of childrearing as the destiny of all women, has been twisted to end with one of the two women choosing childless autonomy.  Finally, the fairy tale setting on a distant stage becomes a gritty modern kitchen table in the middle of the performance space, with the audience all around, some in and amongst the performers.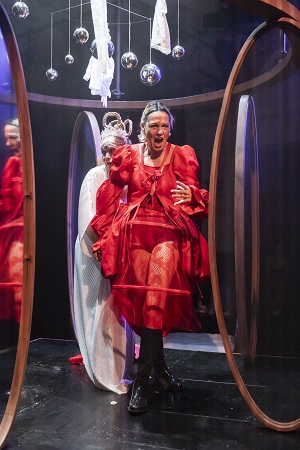 The result is glorious – musically, at least.  Operatic polymath Tobias Schwnecke's orchestral arrangement conveys the essence of the score and some of its original colors, while highlighting new elements.  Under his direction, the instrumentalists (largely recent conservatory graduates) play with astonishing technical finesse, elegant phrasing, and tireless momentum.  Only a few grandiose moments lack the punch one desires.
In Berlin, like London and New York, young vocal talent abounds. Every member of this cast responds with extraordinary artistry and commitment, despite being on stage almost continuously, some in more than one role.
Icelandic (now Berlin-based) soprano Hrund Ósk Árnadóttir's silvery high notes and full-throated passion lower down remind me a bit of the greatest of all Empresses, Leonie Rysanek. Her big moment of redemption in Act III, sung to individual spectators one by one, had a direct and simple humanity that often eludes singers on larger stages.
Similarly, Seoul-born and now Berlin-based tenor Chunho You (still in his 20s, as are most of his colleagues) brings more beauty of voice and clarity of diction to the punishing tenor role of the Emperor than one ever hears in conventional performances. He may be headed to the big houses.
Swedish Baritone Joa Helgesson's career is flourishing at the European regional level. While at times he lacks the vocal heft Barak really should receive, he more than makes up for it with a Lieder-singer's subtlety of expression and believable acting.
German Mezzo Catrin Kirchner sings the Nurse in a style poised between opera and musical theater, which seems just right for this role yet, again, not really attainable in conventional productions. Swirling around the stage in a bright red dress, she embodies some of the temptations of a life without children.
Tenor David Ristau as the Messenger (and Keikobad, as well as one of the three brothers) sings with firm resonance while acting well and, in particular, moves with assurance on stage.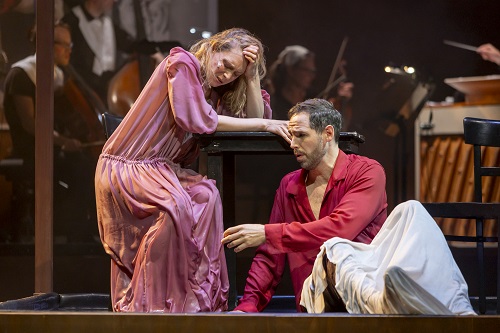 Less convincing is the plot reversal, whereby the Dyer's Wife leaves her husband and embarks on a life without children—the opposite of the original libretto. Obviously, one sympathizes with the ideal, but the radical changes required to realize it come at a high aesthetic price.
A more traditional stage actress plays the Dyer's Wife here, with some semi-sung passages, all through a microphone. Though Franziska Junge acts with uncommon energy, her character seems incongruous by comparison to the others. And, of course, the lovely music Strauss wrote for the Dyer's Wife is lost. It might seem needless to hammer the political message in any further, but during musical interludes Director Ulrike Schwab nonetheless adds some disembodied voiceovers through speakers reciting earnest homilies about a women's right to control their lives. This touch has all the charm and originality of an NGO or political party meeting.
The only other serious misstep comes at the very end. Schwencke has the promising idea of employing the trio of watchmen that normally ends Act I – perhaps the traditionally Romantic and viscerally beautiful music in the score – to conclude the opera.  Yet to have it sung by the orchestra rather than professional singers, and over the babbling voices of the characters, is at musically underwhelming and dramatically chaotic.
No matter. Whereas a few bewildered audience members left early, the bulk of the audience –clearly people who knew this work – responded with a loud and richly deserved standing ovation.
Andrew Moravcsik
Die Frau ohne Schatten: Ein MusikTheaterabenzzd nach Richard Strauss und Hugo von Hofmannsthal von Ukrike Schwab und Tobias Schwencke
Empress – Hrund Ósk Árnadóttir, Emperor – Chunho You, Barak – Joa Helgesson, The Nurse – Catrin Kirschner, Keikobad – David Ristau; Direction – Ulrike Schwab, Conductor and Composer/Arranger – Tobias Schwencke; Staging and Costumes – Pia Dederichs and Marina Stefan.
Neuköllner Oper, Berlin; 20th September 2023.
ABOVE: Hrund Ósk Árnadóttir (Empress) and David Ristau (Keikobad) (photo courtesy of Neuköllner Oper)