The International Opera Awards has today [11 October 2023] announced the shortlist for this year's Awards, which will be held at Teatr Wielki, Polish National Opera, Warsaw on Thursday 9 November. The International Opera Awards celebrate operatic talent from around the world, as well as raising funds and awareness for the Opera Awards Foundation which supports aspiring operatic artists.
The shortlisted nominees revealed today come from over 26 countries, reflecting once again the true collaborative and international nature of opera and the Awards. Artists, productions and companies from across Europe and North America are joined by those from Australia, Democratic Republic of Congo, Guatemala, Korea, Mexico and South Africa.
Harry Hyman, founder of the International Opera Awards, said: "This year's International Opera Awards shortlist once again celebrates talent from around the world and proves that opera is truly the most international of artforms. Huge congratulations to all our nominees and I look forward to celebrating with them at the magnificent Teatr Wielki in Warsaw."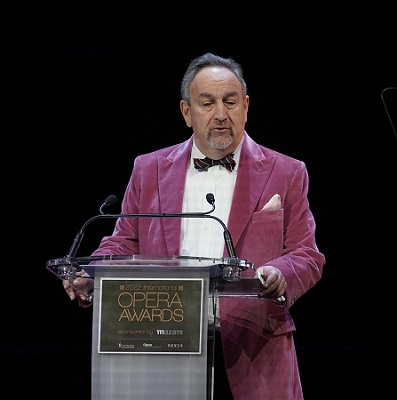 The Award categories cover the entire scope of opera – from singers, conductors, directors and designers to productions, festivals, recordings and sustainability. The shortlist was compiled by an international jury of opera critics, administrators and performers and chaired by John Allison, editor of Opera magazine (the Founding Media Partner of the Awards) and classical music critic of The Daily Telegraph.
Voting is also open for the Opera Magazine Readers' Award, the only award to be decided by the public. This year's nominees are Piotr Beczała, Nicholas Brownlee, Freddie De Tommaso, Michael Fabiano, Sally Matthews, Lisette Oropesa, Sondra Radvanovsky and Nadine Sierra. Voting is open until 16 October, and votes can be cast on the International Opera Awards website.
Special Awards including Leadership, Philanthropy and Lifetime Achievement will also be announced at the Awards ceremony.
The full shortlist of nominees can be found below.
John Allison, Chair of the Jury, said: "I'm very gratified by the huge number of nominations received for this year's International Opera Awards, and am excited by the shortlists, which reflect the truly cosmopolitan nature of the art form. It's clear that 2022-3 was a strong season for the operatic world, despite ongoing challenges, and we'll celebrate this with our outstanding winners in Warsaw."
BBC Radio 3's Petroc Trelawny will again host the Awards, which will feature live performances from Award winners and stars of the opera world – further details will be announced in due course. Tickets for the Awards are available from Teatr Wielki's website.
The Awards, founded by philanthropist Harry Hyman in 2012, aim to raise the profile of opera as an art form, to recognise and reward success in opera and to generate funds to provide bursaries for aspiring operatic talent from around the world. Since 2012 over £500,000 has been raised by the Opera Awards Foundation, going to more than 125 bursary recipients.
International Opera Awards 2023 – Full Shortlist
CONDUCTOR
Susanna Mälkki; Marc Minkowski; Antonio Pappano; François-Xavier Roth; Nathalie Stutzmann; Keri-Lynn Wilson
DESIGNER
Lizzie Clachan; Charles Edwards; Christof Hetzer; Boris Kudlička; Christian Schmidt; Katrin Lea Tag
DIRECTOR
Vasily Barkhatov; Lotte de Beer; Tatjana Gürbaca; Andreas Homoki; Barrie Kosky; Keith Warner
EQUAL OPPORTUNITIES & IMPACT
Asian Opera Alliance; La Monnaie De Munt; National Opera Studio; Opera for Peace; Tapestry Opera; The Atlanta Opera
FEMALE SINGER
Aigul Akhmetshina; Eleonora Buratto; Elīna Garanča; Ermonela Jaho; Golda Schultz; Corinne Winters
FESTIVAL
Bayreuth Baroque; Festival d'Aix-en-Provence; O. Festival, Rotterdam; Grange Festival; Handel Festival, Halle; O23 (Opera Philadelphia)
MALE SINGER
Mika Kares; Tomasz Konieczny; Luca Salsi; Ryan Speedo Green; Michael Spyres; Michael Volle
NEW PRODUCTION
War & Peace (Bayerische Staatsoper/Tcherniakov); Les contes d'Hoffmann (Opera Australia/Michieletto); Nixon in China (Opera national de Paris/Carrasco); Wozzeck (ROH/Warner); The Greek Passion (Salzburg Festival/Stone); Orfeo (Santa Fe Opera/Sharon); Il trittico (Scottish Opera/McVicar); Il turco in Italia (Teatro Real/Pelly)
OPERA COMPANY
Bayerische Staatsoper; Grand Théâtre de Genève; Opera Comique; San Francisco Opera; Teatro dell'Opera di Roma; Volksoper Wien
OPERA READERS' AWARD
Piotr Beczała; Nicholas Brownlee; Freddie De Tommaso; Michael Fabiano; Sally Matthews; Lisette Oropesa; Sondra Radvanovsky; Nadine Sierra
RECORDING (COMPLETE OPERA)
Dessau: Lanzelot (Audite); Franck: Hulda (Bru Zane); Lully: Psyché (Chateau de Versailles Spectacles); Mercadante: Il proscritto (Opera Rara); Puccini: Turandot (Warner Classics); Rimsky-Korsakov: Christmas Eve (Naxos)
RECORDING (SOLO RECITAL)
Cyrille Dubois: So Romantique! (Alpha); Javier Camarena: Signor Gaetano (Pentatone); Jodie Devos: Bijoux perdus (Alpha); Lisette Oropesa: French Bel Canto Arias (Pentatone); Marina Viotti: A Tribute to Pauline Viardot (Aparte); Sonya Yoncheva: The Courtesan (SY11 Productions)
REDISCOVERED WORK
Salieri: La fiera di Venezia (Bampton Classical Opera); Raff: Samson (Deutsches Nationaltheater Weimar); Massenet: Le Roi de Lahore (Dorset Opera); Moniuszko: Jawnuta (Poznań Opera House); Corselli: Achille in Sciro (Teatro Real); Weingartner: Orestes (Theater Erfurt); Tournemire: La légende de Tristan (Theater Ulm)
SUSTAINABILITY
17h25 Collective; Dutch National Opera; English National Opera; Theatre Green Book; Glyndebourne; La Monnaie De Munt
WORLD PREMIERE
Alexander Raskatov: Animal Farm (Dutch National Opera); George Benjamin: Picture a Day Like This (Festival d'Aix en Provence); Raquel Garcia-Tomas: Alexina B. (Gran Teatre del Liceu); Soren Nils Eichberg: Oryx and Crake (Hessisches Staatstheater Wiesbaden); YevhenStankovych: Terrible Revenge (Lviv Opera); Kevin Puts: The Hours (Metropolitan Opera); Gabriela Lena Frank: El Último Sueño de Frida y Diego (San Diego Opera); Sheila Silver: A Thousand Splendid Suns (Seattle Opera); David Hackbridge-Johnson: Blaze of Glory! (Welsh National Opera)
YOUNG SINGER
Sara Blanch; Andrzej Filończyk; Adriana González; Laurence Kilsby; Young Woo Kim; Gabriele Kupšytė; Josh Lovell; Blaise Malaba; Marigona Qerkezi; Beth Taylor
ABOVE: Teatr Wielki, Polish National Opera, Warsaw