In its century-spanning traversal of sacred music, this recent issue from Hyperion and the Choir of Westminster Abbey – the last recording from the recently retired Director of Music James O'Donnell – features another trio of British composers. Each of the composers here are revered for their individual approach to composition and each known for their distinctive religious beliefs. Vaughan Williams famously defined himself as a 'cheerful agnostic', yet faith remained an important aspect of his life and never hampered his commitment to church music. A shift from Presbyterianism to the Eastern Orthodox Church became a formative influence for John Tavener, later absorbing the concept of religious universalism that integrated Sufi, Hindu and Jewish thinking. The Catholic Church has been a guiding force for Sir James MacMillan, who has been a trenchant commentator on a wide range of political, social and religious issues.
Many of the works chosen here, though by no means all, are associated with Westminster Abbey and Westminster Cathedral. Vaughan Williams's Mass in G minor was written for Westminster Cathedral as a commission from Richard Terry who, in acknowledging the work's modern idiom and ancient liturgical spirit, confessed 'it is the work one has all along been waiting for'. The composer's O taste and See was first performed in the Abbey for the coronation of Queen Elizabeth II. Tavener's Song for Athene, while not written for or premiered at Westminster Abbey, was elevated to iconic status after it was performed at the funeral service of Diana, Princess of Wales in the Abbey in 1997. Of MacMillan's works, his Mass of St Edward the Confessor (recorded here for the first time) is the latest in a collection of liturgical masses of which there are now five. It was first performed in the Abbey in June 2022 with a dedication to the Abbey's Choir School. His a cappella motet What man is he that feareth the Lord? (another premiere recording) was also for the Abbey, and was commissioned to celebrate the 500th anniversary of the birth of William Cecil, Lord Burghley. MacMillan's Who shall separate us? was sung for the funeral of Queen Elizabeth II in the Abbey in September 2022.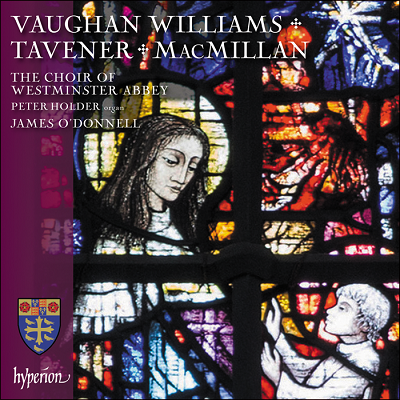 Certain commissions will outlive their original purpose and become an established part of the repertoire. Such is the case with O taste and see.  Tavener's 'Collegium Regale' canticles, commissioned by King's College, Cambridge, have had an extended life within cathedral and college cloisters largely because they 'say' something different, most notably through the use of the Orthodox refrain beginning with the phrase 'Greater in honour than the cherubim'.  There can be few Magnificat settings partly inspired by hearing a Greek folk song from a taxi radio!  Within MacMillan's ever-expanding choral catalogue, there are now several classics embedded in the repertoire such as O Radiant Dawn, A New Song and his Miserere.  How well his new pieces will fare remains to be seen.  But in time, I suspect, his unaccompanied Mass of St Edward the Confessor may prove popular.
So, what of the performances? Vaughan Williams's Mass in G minor is given a magisterial outing, showing off the voices' depth of tone and range of expression. There's a wonderfully rich, full fat tone from the choir that Hyperion capture admirably, a sound that reverberates handsomely around the church of All Hallows, Gospel Oak where much of the music was recorded. Sonorous basses add gravitas to the 'Gloria', trebles sparkle in the 'Sanctus', and the closing bars of the 'Agnus Dei' are magical. Overall, the pacing is convincing, and the soloists are uniformly excellent, the treble James Tweedie outstanding at 'tu solus altissimus' in the 'Gloria'.
The Magnificat from Tavener's evening canticles is sung with dazzling brilliance, its repetitions never sounding wearisome, the work's fluctuating weight and dancing rhythms deftly held in balance, the whole marvellously anchored by nine basses. While I recognised its grandeur, it's a work I never enjoyed singing, but this performance brings a compelling opulence and solemnity.
Echoes of Tavener might be heard at the beginning of Who shall separate us?, but the anthem's unfolding drama is pure MacMillan, his flowing Alleluias glow with ardour in both music and performance. What man is he that feareth the Lord? is no less gratifying, its central panel of cluster chords for trebles and wordless ATB voices especially rewarding. There is much to enjoy in the Mass of St Edward the Confessor, its movements variously penitential and declamatory, rhythmically buoyant, florid, and lastly, an arabesque-dominated 'Agnus Dei'. 'Cum Sancto Spiritu' is oddly disappointing for its lack of inspiration –
mirrored too by singing that sounds a little ordinary. But MacMillan's response to texts is more often boldly imaginative and none more so than in his socio-political 'mini sacred opera', A special appeal. It was written as a commemorative work to mark the life of the Salvadorean prelate Oscar Romero who was shot by an assassin while celebrating Mass in 1980. Clearly intended as a shock and awe type work with a dramatic organ part (Peter Holder here is superbly assured), this piece is the highlight of the disc, its dramatic impact fabulous.
Throughout, James O'Donnell shapes sumptuous performances, with choir and sub-organist on exemplary form, the whole aided and abetted by excellent sound quality and scholarly booklet notes. In short, this is a disc to treasure!
David Truslove
Vaughan Williams – Mass in G minor, O Taste and see; MacMillan – What man is he that feareth the Lord?, Mass of St Edward the Confessor, A special appeal, Who shall separate us?; Tavener – Magnificat and Nunc dimittis 'Collegium Regale', Song for Athene.
The Choir of Westminster Abbey, Peter Holder (organ), James O'Donnell (conductor)
Hyperion CDA68420 [72:17]