When you enter the auditorium for the performance of Mark Tutino, Fabio Ceresa and Luca Rossi's La ciociara (Two Women), the darkened stage is fronted on the far left apron by a spot lit director's chair bearing the stenciled name: V. De Sica
That, of course, is the perch of the famed Vittorio De Sica, who directed the Academy Award-winning film of Two Women, and his presence throughout the performance in the guise of actor Peter McCamley is a framing device for stage director Rosetta Cucchi's riveting production. Rather than trying to rival the movie, her inventive concept tellingly pays homage to it.
Tiziano Santi has crafted a marvel of a set design, at once both structurally realistic and theatrically fantastical. The environment perfectly captures the menace, destruction, and deeply personal impact of international strife. Mr. Santi's moody interiors and facades often revealed important inset scenes when areas behind painted scrims were lit, approximating a cinematic "cross fade" effect.
The entire proceeding was flawlessly lit by Daniele Nalda, whose brooding washes were paired with well-chosen area highlights, and dedicated specials that pinpointed the action. His selective use of side lighting was also chilling in its intensity, no more so than in the initial rape scene, a misdeed we experienced visually through brutal shadows. Costume Designer Claudia Pernigotti assembled a masterful array of period dress for the huge cast, running the gamut from spot on military attire, lower and middle class citizenry, Moroccan traditional dress, and an ominous specter.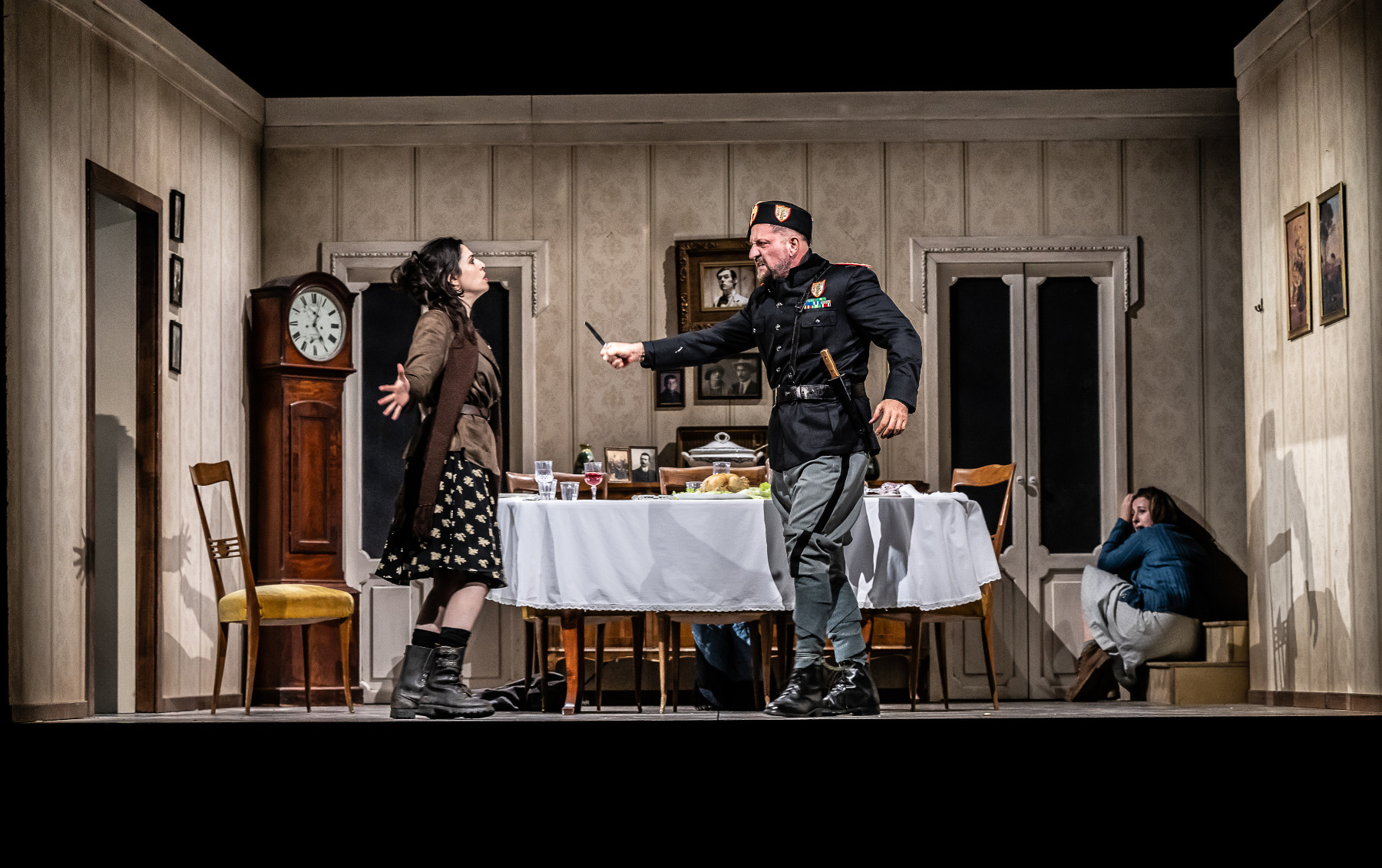 Given this physical production that is a trove of visual riches, director Rosetta Cucchi has achieved near perfection in realizing this thought-provoking, emotionally raw, anti-war tale. These are not just the travails of two women, but also all humankind. Ms. Cucchi created superb character relationships that were marked by clarity and emotional truth. She was equally adept at ennobling moments of growing tenderness, and ably supervised believable (but controlled) brutality.
Moreover, in addition to the numerous personalized smaller scenes, she was able to manage large crowd gatherings with the aplomb of an air traffic controller at Heathrow. Every character on stage was appropriately engaged, and the large crowds were meticulously focused. When the town folk finally turn en masse on the duplicitous Nazi in their midst, silently pointing his guilt out to the liberating allies, the effective stage picture was intensely redemptive.
I very much like that it was decided to bridge the scene changes' rhapsodic orchestral interludes by projecting black and white recreations of key scenes from De Sica's movie. They were filmed right in Wexford. I was also intrigued by the mysterious appearance of an ominous figure in the staging's opening bars. Her symbolic reappearances, punctuating key dramatic shifts throughout the night, made her part specter, part refugee, and perhaps part symbolic throwback to De Sica's movie, to suggest that the horrors of that specific era have not gone away.
In the final extended orchestral interlude of the score, instead of the recurring film projections, the mysterious figure played by Yiaimara Gomez Fabre, shed her ominous cloak, and achingly danced out her/our grief among the prison setting of a vengeful murder, and the chapel that witnessed the story's second brutal rape. As Ms. Gomez Fabre lithely writhed, kicked, and whirled, she seemed to perform a desperate Tarantella as if to rid the world of a venomous poison.
The silent De Sica was omnipresent, not to "direct" the proceedings but rather to observe what he had wrought (or perhaps inspired), and his many forays into the area of the action were brilliant connective touches. In an ingenious, final coup de théâtre, during the final bars, the entire set disappears into the flies, leaving a quizzical, spot lit De Sica center stage, imaging how we will go forward confronted with this blank canvas. Blackout. Profound.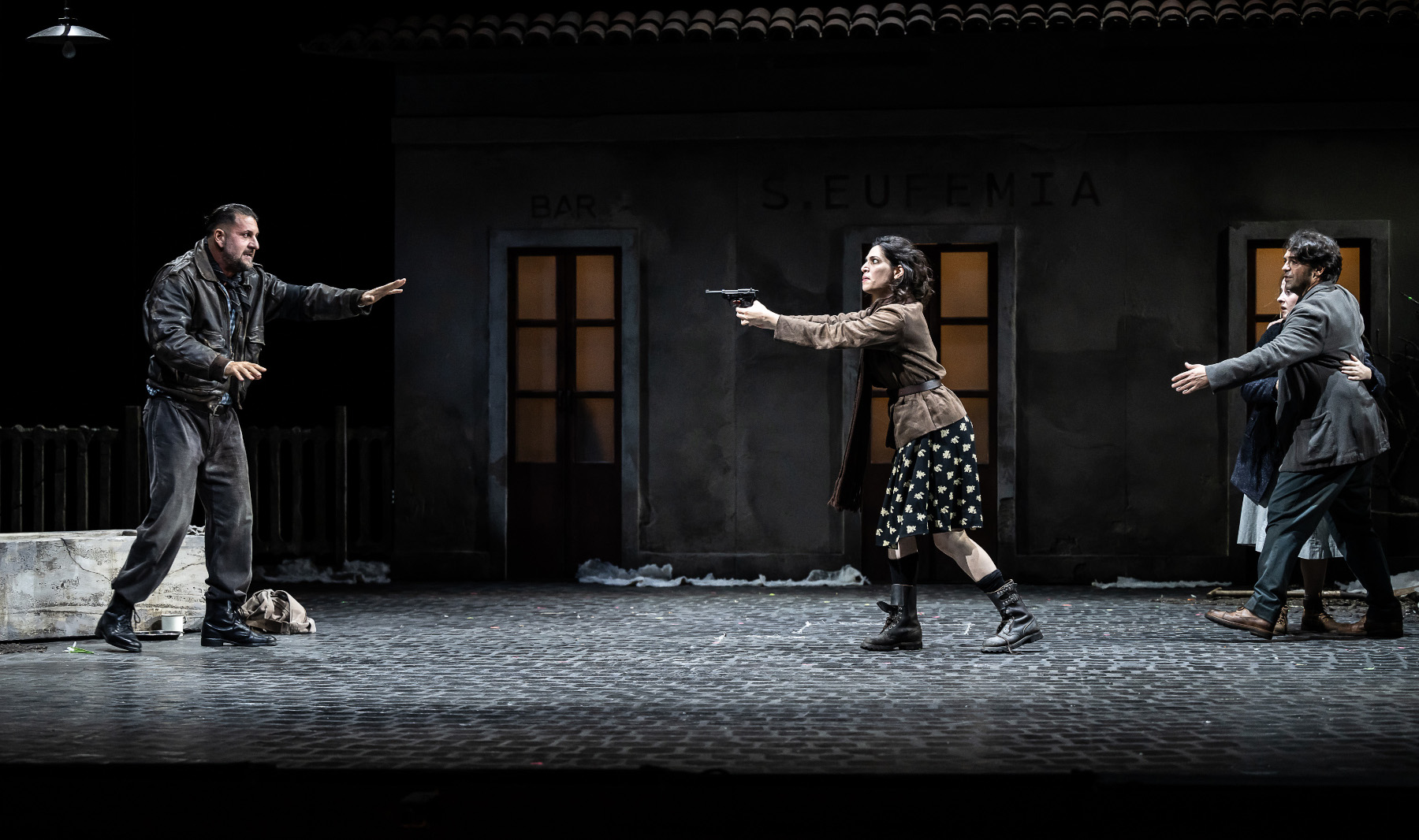 The cast could not have been bettered. The central role of Cesira is a Big Sing, and Na'ama Goldman more than proved up to the task. Her substantial mezzo had power and beauty from bottom to top, and despite being onstage through almost all of the running time, her musicianship and stamina never flagged. In addition to the glorious searing dramatic high passages, Ms. Goldman also brought nuance and subtlety to more lyrical and playful utterances such as her growing affection with the pacifist Michele.
Her lower register also had good presence, and speaking of presence, her alluring physique du rolewas appropriate to the suggestive come-ons that are initially part of her personality. From first to last there was total commitment to not only the vocal execution of this demanding role, but also to the unending embodiment of the character's torturous journey. A true star turn, indeed. Add to this that she is Israeli, and I cannot imagine the difficult resonance this war story must have for her at this difficult time.
As the second "woman" of the title, Jade Phoenix more than held her own as Cesira's daughter Rosetta. Her polished lyric soprano was at first alluring and full of girlish gleam, but Ms. Jade was later able to command a commendable amount of steel and darkness as her fate took a punishing turn. Her character has the most complex journey of the entire piece, from a dependent, innocent daughter to traumatized victim of sexual abuse. Vocally and dramatically, Ms. Phoenix dazzled.
The role of the stalwart, anti-violence professor Michele was assumed with great aplomb by Leonardo Caimi. While his peacenik presence among all this carnage may seem too good to be true, Mr. Caimi's gleaming tenor was conversely the real deal. His lustrous vocalizing was alternately sweet and potent, as required, and his pleasant stage demeanor was perfect for this personage who really wants to calm the waters. The scene of his arrest, when his goodness is methodically demonized by Nazi's, was a heart-wrenching highpoint of the piece.
Enacting pure evil can be exhausting, but as the Nazi Giovanni, David Cecconi poured out tireless torrents of imposing sound. Mr. Cecconi's booming baritone and towering stature made him a perfect match for this unrelenting symbol of evil incarnate, although he managed to ably convey a pitiable moment when he is finally caught in his own web of deceit. Lanky Alexander Kiechle has a handsome demeanor and equally attractive, well-tutored bass which exudes oily entrapment, as his character Field Marshall Fedor von Bock calmy exposes Michele's "aid to the enemy" by helping a wounded US Soldier escape capture. That serviceman, John Buckley, is well portrayed by Allen Boxer, whose buzzy baritone and all-American looks prove a perfect fit.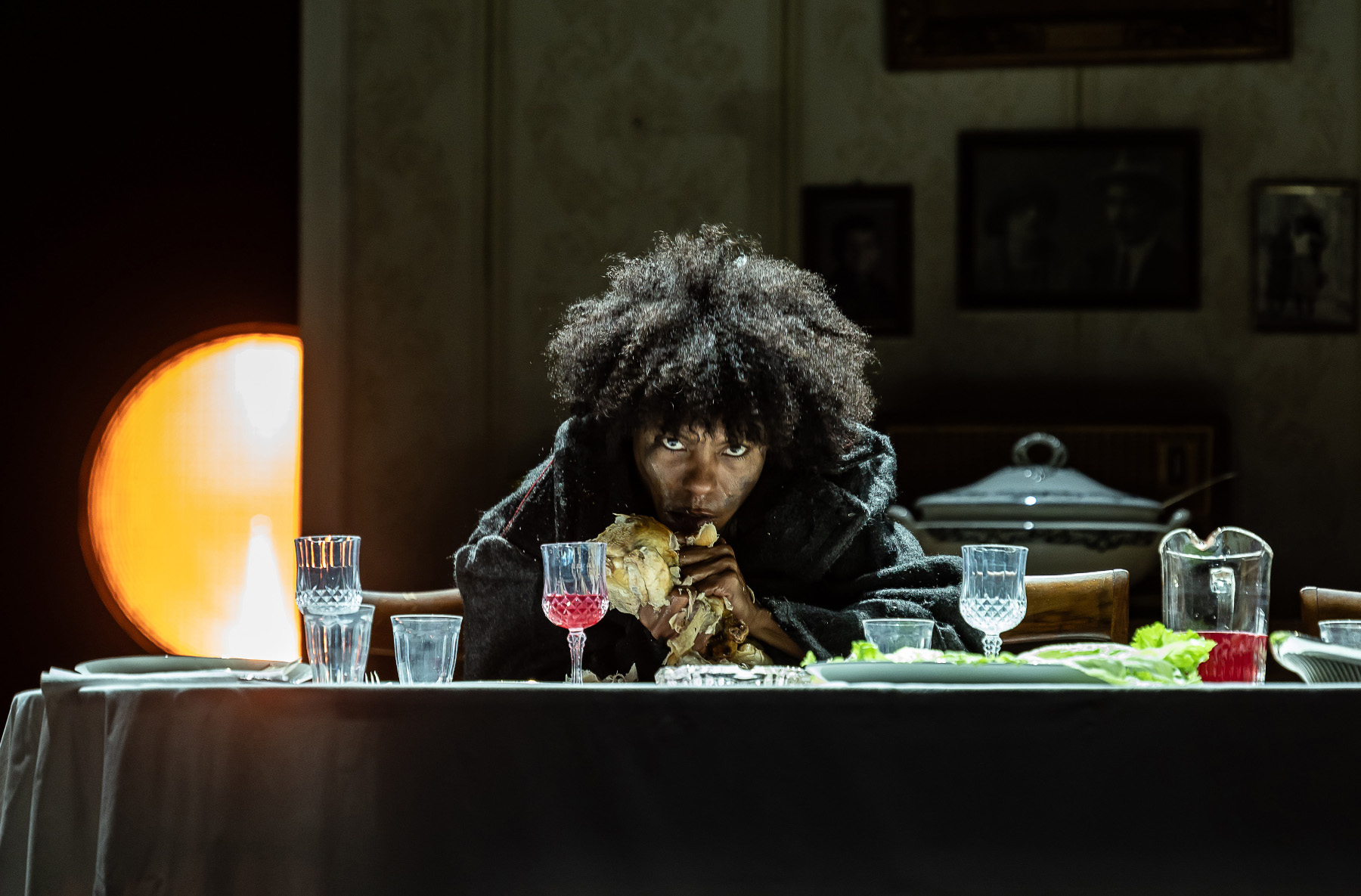 In smaller roles, Carolyn Dobbin's plummy mezzo, and cagey acting informed the snide, then chastened character of Lena. The milquetoast turncoat, Pasquale Sciortino was well served by Conor Prendiville's attractive lyric tenor and savvy stage presence. As his wife, Maria, who is in clueless complicity with the Nazi's, Erin Fflur sports a warm mezzo and sound comic instincts.
Francesco Cilluffo led a highly charged reading in the pit, and the accomplished Festival orchestra has never sounded better. From glowing strings, to assured wind solos, to shimmering folk passages, to crackling brass licks, to throbbing percussion effects, this was a thrilling musical presentation. Maestro Cilluffo not only understands the dynamics of each scene, but also created an inexorable arc to the entire evening. Adding to the musical achievement, Chorus Master Andrew Synnott's ensemble was beautifully prepared.
And what of the piece itself? While I think that composer Tutino does give a mighty nod to the likes of Max Steiner, Maurice Jarre, Samuel Barber, Leonard Bernstein, and even the lyrical gifts of musical theatre's Andrew Lloyd Webber, he nevertheless manages to put a personal stamp on his opus with some minimalist effects, unique instrumental colors (accordion, guitar, percussion), and faux folk elements. Mr. Tutino is not interested in cerebral, mathematical, or discordant construction. He wants to engage the emotions by pleasing the ear, and in that he overwhelmingly succeeds.
Messrs. Ceresa and Rossi have created a straightforward libretto, based on Alberto Moravia's novel, that provides convincing dialogue and clear definition of the action, conflict, and resolution. If the daughter Rosetta's abrupt recovery from her post-rape PTSD is a bit pat, it comes at the end of a longish evening and provides the seed for reconciliation with her mother, Cesira.
La ciociara (Two Women), is part of Wexford Festival's Women & War theme events and is it arguably its crown jewel. In a post-performance elevator ride at my hotel, two excited locals shared that they have regularly attended Wexford for many years, and they enthused that this was the very best production they have ever seen at the Festival. I could heartily second that.
James Sohre
---
La ciociara (Two Women)
Music by Marco Tutino
Libretto by Fabio Ceresa and Luca Rossi
Cesira: Na'ama Goldman; Rosetta: Jade Phoenix; Michele: Leonardo Caimi; Giovanni: David Cecconi; Fedor von Bock: Alexander Kiechle; John Buckley: Allen Boxer; Lena: Carolyn Dobbin; Pasquale Sciortino: Conor Prendiville; Maria Sciortino/Una Donna: Erin Fflur; Vittorio De Sica: Peter McCamley; Principal Dancer: Yiaimara Gomez Fabre; Conductor: Francesco Cilluffo; Director: Rosetta Cucchi; Set Designer: Tiziano Santi; Costume Designer: Claudia Pernigotti; Lighting Designer: Daniele Naldi; Chorus Master: Andrew Synnott
Top Image: Conor Prendiville (Pasquale Sciortino), Leonardo Caimi (Michele), Na'ama Goldman (Cesira), Jade Phoenix (Rosetta), Erin Fflur (Maria Sciortino), Alexander Kiechle (Fedor Von Bock) in La ciociara (Marco Tutino) .
All photos by Clive Barda courtesy of Wexford Festival Opera.